Another apparently locally grown Zika virus case has been added to the list in Florida, state health officials said Tuesday, raising the number to 15 — all of them in the Miami area.
"Active transmission" of the mosquito-borne virus, which causes microcephaly and other birth defects, is still going on in a 1-square-mile area of the Wynwood arts neighborhood north of downtown Miami, said health officials, who advised pregnant women to stay away.
Overall, the U.S. Centers for Disease Control and Prevention has confirmed 351 Zika cases in Florida, 336 of them involving people who traveled to the state from elsewhere, the state Health Department said.
Home-grown Zika cases didn't begin showing up until last Friday, when the first four were confirmed — the first mosquito-to-human transmissions known to have occurred in the United States.
Eleven others have now been added in the last four days, and the CDC said epidemiologists expect more.
"We're not seeing the number of mosquitoes come down as rapidly as we would have liked," Dr. Tom Frieden, director of the CDC, told The Associated Press.
The difficulty controlling the mosquitoes is "a reflection of the fact that, in this country, we really dismantled the mosquito monitoring and control infrastructure over the past few decades," Frieden said.
"We have blind spots where we don't know where the mosquito populations are and what the susceptibility is to different insecticides," he said.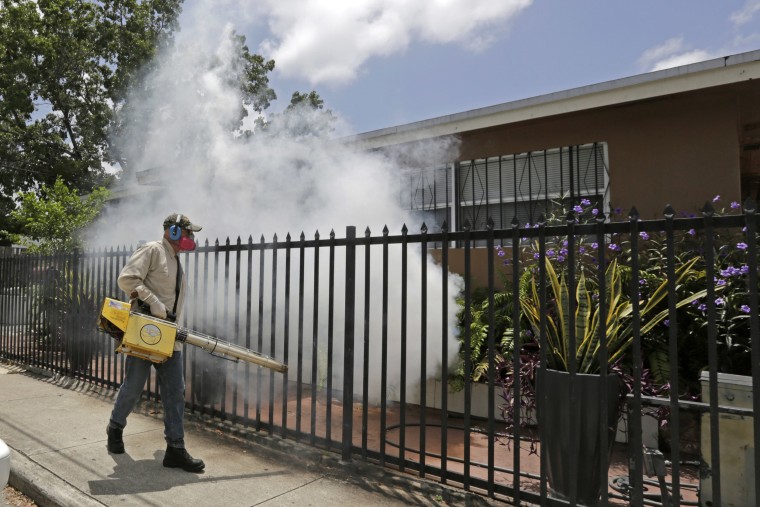 Meanwhile, yours and other events have been canceled as businesses wait to hear whether mosquito eradication efforts are successful.
Vanessa Amor, 38, who works in the Wynwood neighborhood and lives nearby, is trying to get pregnant and is so worried that she called her doctor to ask about testing.
"It's definitely a scare," Amor, the manager of Museo Vault, told NBC Miami on Tuesday. "I knew it was just a matter of time, because I'm a native to South Florida and I know how prevalent mosquitoes are here. You cannot avoid them."
NBC Miami: Life in Miami's Arts Neighborhood Shaken by Zika Virus