The failure of Congress to approve any money to help fight Zika is "simply inexcusable" and a "dereliction of duty," senators said during a hearing Wednesday, with just two days left before a long break means no money before autumn.
As senators traded accusations at the hearing, Texas reported a baby was born in Houston's Harris County with microcephaly, the disturbing birth defect that's become the hallmark of Zika virus infection.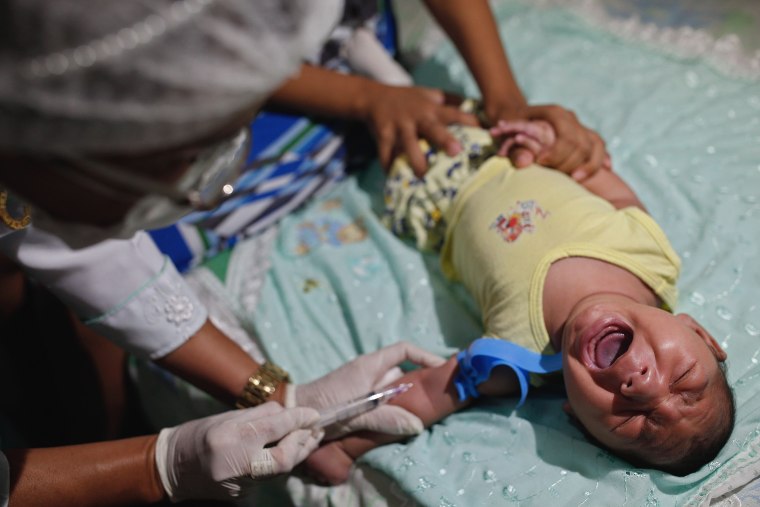 "I strongly believe that inaction on Zika is simply inexcusable," said Florida Senator Marco Rubio, a Republican who chairs the subcommittee holding the hearing. Florida is one of the states most at risk of local Zika spread, because it is home to the Aedes mosquitoes that can transmit the virus. Florida also gets plenty of travel from Latin American countries hardest hit by the infection.
Related: Answers to Your Questions About Zika
Public health officials have been begging to be funded for months now to prepare for, study and fight Zika, which is spreading rapidly across Latin America and the Caribbean. The Centers for Disease Control and Prevention says more than 1,100 travelers have shown up infected in the continental U.S., including close to 400 pregnant women.
"I am so disgusted with this situation."
One more joined that count Wednesday, a woman who gave birth to a baby with microcephaly in the Houston area.
"The mother traveled from Latin America, where she was likely infected, and the baby acquired the infection in the womb. Neither baby nor mother are infectious, and there is no additional risk in Texas," the Harris County health department said in a statement. "This is the first Zika-related microcephaly case in Texas."
Treating a child with such a severe birth defect can cost $10 million or more over a lifetime, CDC director Dr. Tom Frieden told Wednesday's panel.
It's not clear who will have to pay the bill for the child born in Texas, said Dr. Umair Shah, who heads the county health department.
"We don't collect insurance information, but regardless of the type of coverage she has, we know there will be a significant cost associated with sustained care, which is more reason we need those federal dollars," Shah told NBC News.
"It will be professional malpractice on our part if we leave here for seven weeks and have not done this."
President Barack Obama asked for $1.9 billion back in February and Democrats in Congress immediately backed that. Republicans, wanting more accountability, balked, and a bipartisan compromise was worked out in the spring. But that went nowhere.
"It disappeared down a black hole of partisanship," said California Sen. Barbara Boxer, a Democrat.
"I am so disgusted with this situation," she added. "I am, as you can see, a little worked up."
Republican leaders instead offered a bill loaded with "poison pills" — provisions known to be unacceptable to the other side in politics.
"A bill that actually restricts funding for birth control in the United States and Puerto Rico," Boxer said. "Even though they know…it's part of the first line of defense (against Zika)."
Congress leaves for a long summer break Friday and many health leaders have given up on hope that the money will come.
"This is why people hate Congress. This is why people hate Washington," said Sen. Tim Kaine, a Virginia Democrat.
Related: Bracing for Zika- the Mosquito Hunters
"Time has run out," a group of 50 organizations led by the March of Dimes, the American Academy of Pediatrics, the American Public Health Association and others said in a letter to leaders in Congress.
"If only 10 percent of Zika infections among pregnant women cause some degree of brain damage – and estimates are that microcephaly alone could occur in up to 13 percent of cases, not to mention other birth defects — this translates to more than 50 infants who will be impacted just among the currently known cases."
Frieden says the money is needed to test people for Zika, especially pregnant women; to study how the virus affects babies; to help eradicate mosquitoes and to develop new pesticides; to develop a vaccine and to care for the babies that area affected.
Federal agencies have already shifted funds from other programs they also consider vital.
"This is why people hate Congress."
"We had dollars that we had planned to use starting in October to continue fighting Ebola in Africa," he said. The epidemic that infected 28,000 people and killed 11,000 is over, but the virus keeps flaring back up and the CDC says it will almost certainly continue to do so.
As summer mosquito season hits its peak, public health officials say it's just a matter of time before a traveler infects a mosquito in the U.S. and there's a local outbreak of Zika.
Related: Invisible Zika Epidemic Frustrates Officials
Inevitably, more pregnant women will be affected. "You find out today they're pregnant. Nine months from now you find out if there's a problem," said Sen. Johnny Isakson, a Georgia Republican.
"We must begin to meet the Zika virus with a sense of urgency we have not seen up to now," he added. "It will be professional malpractice on our part if we leave here for seven weeks and have not done this."