Angry protesters repeatedly interrupted a meeting of the city council in Miami Beach Wednesday, shouting "No more naled" and demanding an end to spraying to fight Zika-carrying mosquitoes.
The fight to stop the spread of Zika has pitted the city of Miami Beach against Miami-Dade county and the state of Florida, and doctors worried about pregnant women against residents fearful about pesticides.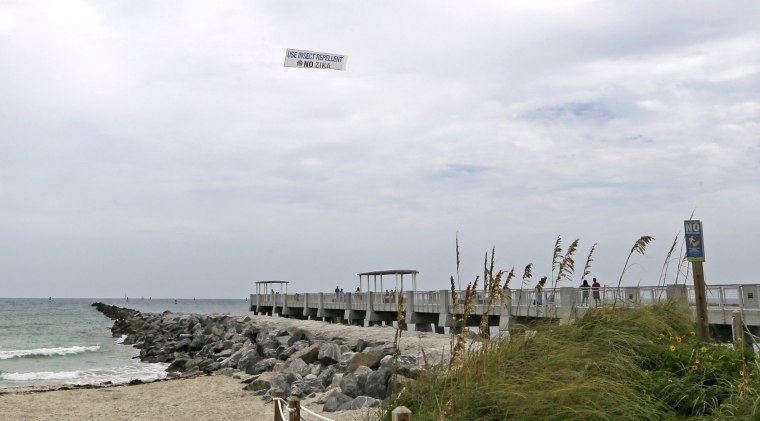 The emotional and restive meeting shows how controversial the fight against Zika can be and demonstrated a deep mistrust of both science and the government felt by some residents of the popular tourist destination.
The city council urged the county to stop spraying the controversial pesticide and to pursue alternatives, even as several scientists told the meeting that few alternatives are available.
Related: Miami-Dade County Starts Mosquito Spraying
Miami-Dade County began spraying the pesticide naled last week. The Centers for Disease Control and Prevention has recommended using both pesticide sprays that kill adult mosquitoes and larvicides that kill newly hatched insects, as well as low-tech mosquito control efforts such as dumping standing water.
Opponents of spraying say they are afraid for their own health, the health of children and the pesticide's effects on bees and marine life. Naled can kill most flying insects and can be toxic to aquatic life. In large doses, it can sicken people.
"We do not want to have another spraying on Sunday."
A few of the protesters also questioned whether Zika really causes birth defects and some questioned whether Zika was even still spreading.
"We do not want to have another spraying on Sunday," city council member Michael Grieco said to loud applause and cheering.
Related: What Tools Do We Have to Fight Zika?
Audience members, some wearing garish gas masks, booed loudly as several experts testified.
Florida health officials said Tuesday they found six new locally transmitted cases of Zika virus, plus one more Wednesday, bringing the state's count to 71 cases. Florida has tracked 634 cases of Zika linked to travelers, and says 86 pregnant women are infected.
One doctor at the University of Miami said she'd spoken to pregnant women who may have become infected with Zika in Florida.
"There are four women who I have spoken to in the last weeks who have not left Florida and who are suspected to have gotten their infections here," Dr. Christine Curry, an obstetrician and gynecologist at the University of Miami Health System, told the meeting.
"Even within the last week I have had to make a phone call to a pregnant patient. She was infected because we are struggling to get a handle on this," Curry said to loud catcalls from the audience.
If the cases are confirmed, they would be the first non-travel related cases of Zika seen in pregnant women in the continental United States. The Florida Department of Health declined to provide any more information on the cases.
"She was infected because we are struggling to get a handle on this."
Zika virus has spread explosively across the Americas and the Caribbean and is also spreading in parts of Asia. There's now no doubt it directly causes severe birth defects when pregnant women are infected by it. It can cause a paralyzing side-effect called Guillain-Barre syndrome and also, possibly, other very rare neurological conditions. And there are hints the virus can sometimes affect the brains of babies after they are born, as well as adults.
The Aedes aegypti mosquito spreads Zika, and it's a permanent resident of South Florida and other southern regions, especially along the Gulf Coast. The mosquito, which breeds well in and around houses and buildings, is especially difficult to fight.
Related: Zika Money Running Out Across Federal Agencies
Zika can also spread sexually, and with 40 percent of U.S. pregnancies being unplanned, the CDC and outside doctors are worried about an increase in birth defects as women who may not even know they are pregnant become infected.
The CDC and Environmental Protection Agency both say it's acceptable to use naled where mosquitoes are a problem. "Naled is currently being applied by aerial spraying to about 16 million acres within the mainland United States as part of routine mosquito control, but it can also be used following natural disasters such as hurricanes and floods," the EPA says.
Not everyone in Miami Beach opposes spraying.
"I don't think we should stop the cycle of spraying. I think it's irresponsible. I think someone has to be the grownup here," City Council Member Rosen Gonzalez told the meeting, which was webcast on the city's site.
City Council Member Ricky Arriola added that, "You might not like the medicine, but you may have to take a little of it to get the Zika under control."
"You might not like the medicine, but you may have to take a little of it to get the Zika under control."
Lillian Rivera of the Florida Department of Health said if no new infections are found to have occurred in Wynwood, a neighborhood north of Miami where the first Zika outbreak was seen, the outbreak there may be declared over on Monday. Many of the 71 local cases that have been reported in Florida were found using blood tests that show past infection, not current infections.
But Miami Beach is not in the clear, she said. "We are seeing active transmission [in Miami Beach]," Rivera told the meeting. Wednesday's new case was in Miami Beach.
"We are in an emergency. There is transmission occurring right now," CDC medical entomologist Janet McAllister told the meeting.
Related: Who Needs to Worry About Zika
Several people called for simply using larvicides in the form of bacteria that kill the developing mosquito larvae. But McAllister said that method can take weeks to bring a mosquito population under control on its own. And she said there are few alternatives to pesticides.
"There are a lot of technologies that are just on the horizon but they are not here yet," she said.
And several experts testified that although naled is a toxin, if used correctly, it doesn't endanger people, sea life or even beneficial insects.
"EPA has concluded that use of naled for mosquito control would pose a negligible risk to the general public," said Davis Daiker of the Florida agriculture department, to loud protests from the audience.
When it's sprayed at very low concentrations and sprayed before dawn and after sunset, he said, it can help kill mosquitoes but would affect fewer people and bees.
"The dose makes the poison. It takes a lot less to kill a mosquito than it does to make any effect on a human," agreed Susan Jennings of the EPA's pesticide office.