Florida has a new Zika zone — a one square mile area where the Zika virus is actively infecting people, state officials said Thursday.
The Centers for Disease Control and Prevention warned pregnant women to stay out of the neighborhood if possible.
It's the third established outbreak in Miami, a hot zone for Zika because it has both the Aedes mosquitoes that spread the virus, and an influx of travelers from other areas where Zika is spreading.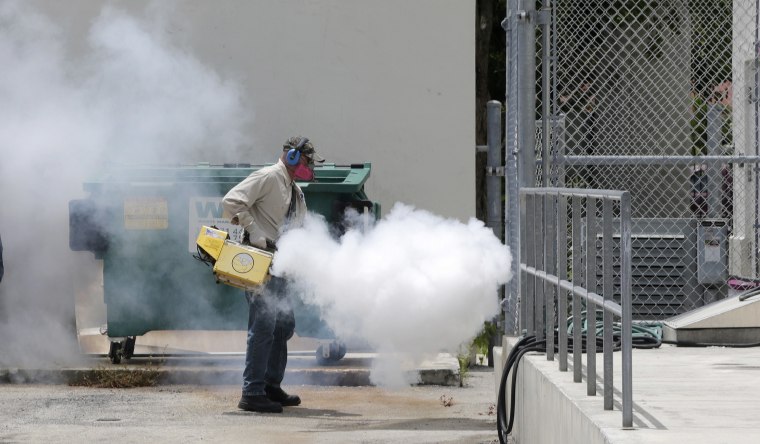 Florida remains the only U.S. state with verified local transmission of the virus, which causes severe birth defects when pregnant women get it, and which can cause rare but often severe neurological effects.
Related: Zika's Damage Can Fool Parents
"Today's announcement of a new area in Miami of ongoing local transmission of the Zika virus underscores the urgent need for federal funding to combat the Zika virus," Florida governor Rick Scott said in a statement.
The mostly residential Little River neighborhood is north of the other affected areas.
Related: See Full NBC Coverage of Zika
Miami Beach also has an ongoing outbreak, although the state's first Zika outbreak, in the Wynwood Arts District, was declared over after an intensive anti-mosquito spraying campaign.
"(The department of Health) has identified five people, two women and three men, in the new area," Scott said.
"Three live in this one square mile area. The other two either work in or have visited this area."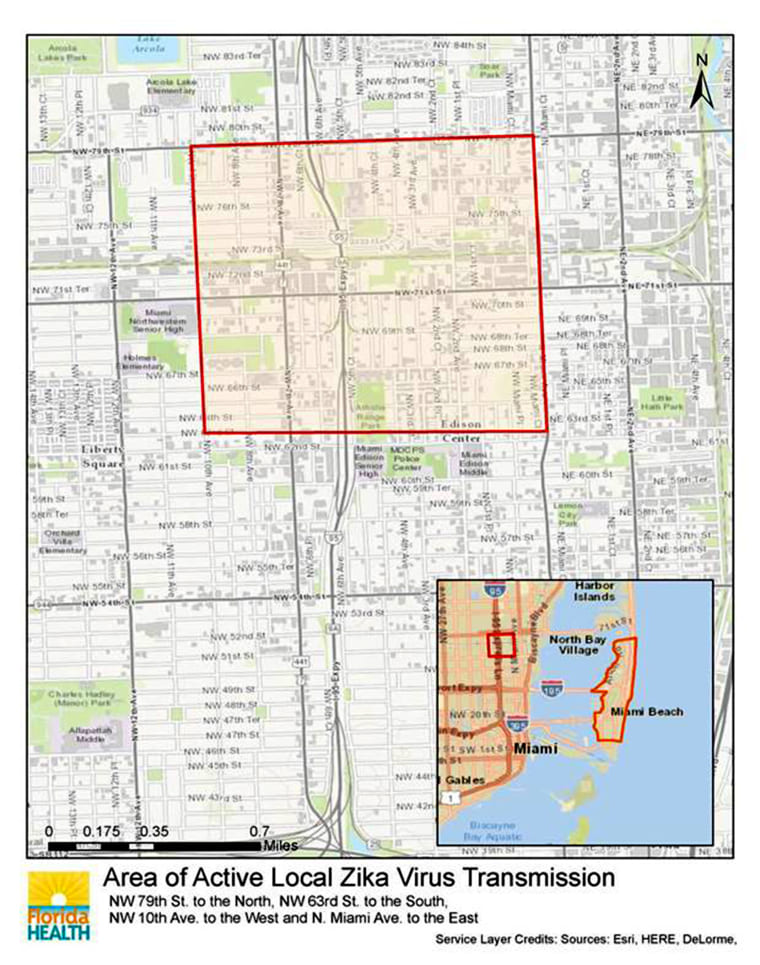 Related: Bug Spray and Bravado Keep Miami Beach Bustling
Florida has more than 1,000 verified cases of Zika infection, most carried in by travelers, but 174 of them caught locally. The state health department says 106 of the cases are in pregnant women.
The state announced two more home-grown cases Thursday. "One case is linked to the new area of local transmission in Miami-Dade County. The other case is a Broward County resident and the department is investigating to determine where exposure occurred," the health department said.
"Pregnant women should avoid travel to the newly designated area."
The CDC issued a reminder of its travel advisory for pregnant women, those who might become pregnant, and their partners.
"Pregnant women should avoid travel to the newly designated area, in addition to the previously identified designated areas in Miami-Dade County, because active local transmission of Zika has been identified," it said in a statement.
"Pregnant women and their sexual partners who are concerned about potential Zika virus exposure may also consider postponing nonessential travel to all parts of Miami-Dade County," it added.
"All pregnant women in the United States should be evaluated for possible Zika virus exposure during each prenatal care visit. Each evaluation should include an assessment of signs and symptoms of Zika virus disease (acute onset of fever, rash, joint pain, conjunctivitis [red eyes]); their travel history; as well as their sexual partner's potential exposure to Zika virus and history of any illness consistent with Zika virus disease to determine whether Zika virus testing is indicated."
The CDC and other health experts say the best way to prevent Zika infection is to avert mosquito bites by using repellent, covering up and staying inside as possible. There's no vaccine against Zika and no treatment for the infection, which is usually mild.
"We have seen that aggressive mosquito control efforts have worked in areas like Wynwood and we hope the county also aggressively sprays in this area so we can limit the spread of this virus and protect pregnant women and their growing babies," Scott said.