The first official outbreak of Zika virus infection in the continental U.S. may be over as soon as next week, officials say.
But the Miami Beach outbreak is going strong and Florida health officials reported seven more locally acquired cases of Zika Thursday. One involves an out-of-state visitor, the department said.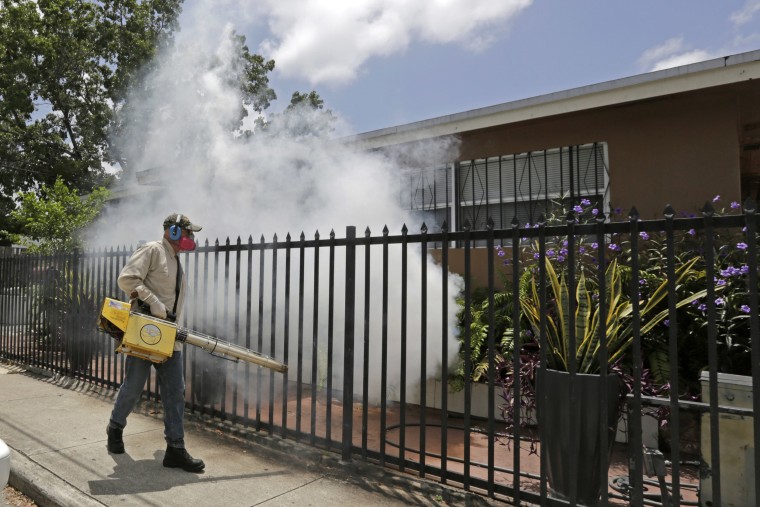 In all, the state has 20 active Zika investigations going. So being able to close one outbreak investigation will be a relief.
It's been almost 45 days since Zika started spreading locally in the Wynwood district of Miami.
If no one new is found to have been infected since that time, that will mean Wynwood is free of active Zika transmission, said Lillian Rivera of the Florida Department of Health.
"It's easy to imagine the world watching the news and deciding not to travel."
"The clock is ticking," Rivera told a Miami Beach City Council meeting Wednesday.
Dr. Anne Schuchat of the Centers for Disease Control and Prevention confirmed that countdown Thursday.
"Barring any new local transmission in the affected area…we are expecting to be able to update guidance early next week," Schuchat told reporters in a telephone briefing.
Related: Miami Beach Residents Wary of Mosquito Spraying
The 45 days represents three full incubation periods for Zika virus. It takes people a while to become infected after they are bitten by a mosquito, then to develop symptoms. And it takes a while for a mosquito to bite someone, become infected, and for that mosquito to then bite someone else and infect them.
Wynwood, an up-and-coming district popular for its art galleries and restaurants, was hit hard by the outbreak. The CDC cautioned pregnant women to stay away if at all possible and business owners said they saw tourism plummet.
"Our revenue dropped by 75 percent over the previous year," Owen Bale, director of the R House Restaurant, told reporters on a call organized by the Health and Human Services Department as part of its campaign to get Congress to fund anti-Zika efforts.
"It's easy to imagine the world watching the news and deciding not to travel," said Roger Dow, president and CEO of the U.S. Travel Association.
Zika almost certainly arrived in Florida carried by a traveler from another Zika-affected zone. Florida is home to the Aedes aegypti mosquitoes that spread the virus and health experts believe one or more mosquitoes bit someone who was actively infected and then bit others.
Because most people in Florida stay inside behind screens and air conditioning, Florida has not had epidemic spread like other countries – notably Brazil, Colombia and Caribbean nations – have had.
The CDC says a campaign combining aerial spraying of pesticides, use of larvicides and encouraging property owners to empty even the smallest sources of standing water helped control Zika-bearing mosquitoes in Wynwood.
"Right now it's Florida. It could be south Texas or other Gulf states soon."
Zika can also spread through sex, and perhaps –- rarely—through contact with bodily fluids. The biggest danger is to fetuses infected in the womb. Zika can cause catastrophic birth defects.
Related: Who Should Worry About Zika?
The cases are not tested and reported in real time. Some tests can detect an active infection, while others find Zika days or weeks after someone's recovered. And many, if not most, people infected with Zika never even know it because it usually causes mild symptoms.
Florida now has 77 locally transmitted cases as well as 650 travel-related cases. Of all cases, 86 involve pregnant women and 10 affected people from other states or abroad who got infected in Florida. The state health department will not say whether any of the pregnant women got infected while in Florida.
At least 25 other U.S. states have Aedes aegypti mosquitoes for at least part of the year, and officials are bracing for other local cases.
"Right now it's Florida," Schuchat said. "It could be south Texas or other Gulf states soon."
Across the U.S., the CDC reports, more than 3,000 people have been diagnosed with Zika, 731 of them pregnant women. Another 17,000 cases, mostly in Puerto Rico, are reported in the territories, including more than 1,000 pregnant women.
The CDC has sent seven staffers and Zika test kits to Florida to help health officials keep track of infections there.