Yessica Flores is not sure where she caught Zika — on her visit to Honduras, or at home, in Miami's Wynwood neighborhood.
All she knows is that for now, her developing baby is normal and healthy.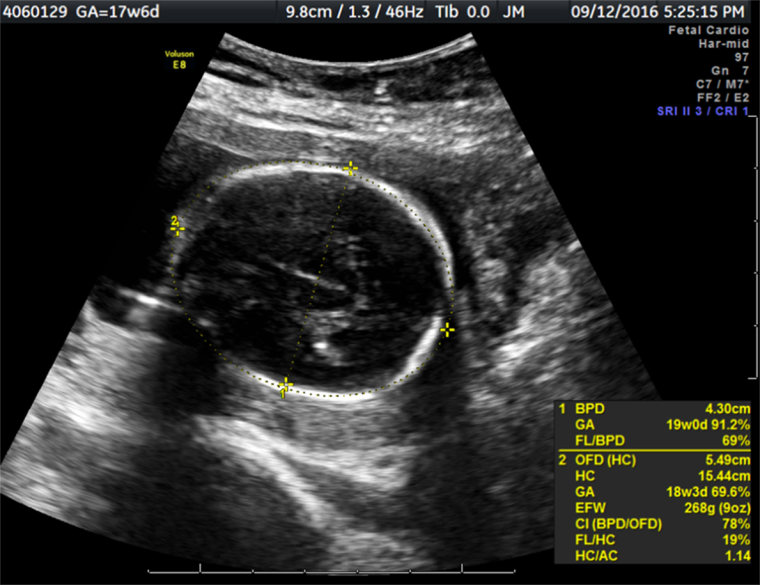 Flores, 38, is 24 weeks pregnant. She and her Guatemalan-born husband spent the first few weeks of her pregnancy in Flores' native Honduras.
"We don't know if she got the infection in that country or in Miami-Dade (County) because both places have ongoing local transmission of Zika virus by the mosquitoes," Dr. Christine Curry told NBC News. Curry leads a team treating Flores and other Zika-infected pregnant women at the University of Miami.
Related: Full NBC News Coverage of the Zika Virus Outbreak
It's possible that Flores was among the first pregnant women to become infected with Zika on U.S. soil, but she will probably never know for sure.
"The way that the test works, it just gives you a positive," Curry said. "It doesn't tell you the type or location or necessarily the timing of infection. So in her circumstance, she has two different risk locations, but we know that in one of those, she was infected with Zika."
Now all Flores can do is wait and hope that her baby is OK.
"We do know that there are pregnant women who have been tested and tested positive for Zika and have not left Miami-Dade during their pregnancy."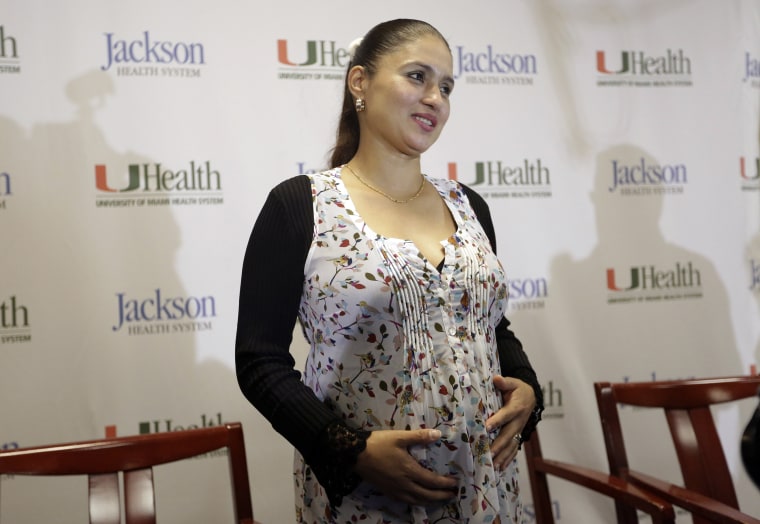 The Zika virus causes no symptoms in most people. Flores is one of them. She didn't even realize she had been infected until Curry's university team gave her the test that's now routine for pregnant women in Zika-infected areas.
"I didn't have a fever. They say that your chest hurts a lot, the legs, that your eyes become inflamed like symptoms of conjunctivitis, they swell and get red," Flores said at a news conference sponsored by the hospital.
"I didn't have anything like that," she added.
Related: CDC Warns of Zika Virus Red Zone in Miami
She knew about the risks of Zika and had taken steps to protect herself.
"I called my husband. I told him, 'The test came back positive,'" Flores said. "And he told me, 'Don't worry, my love, don't worry. Nothing is going to happen to you. Everything is fine. Leave it with the Lord, everything is fine.'"
She was already 16 weeks pregnant, Curry said.
"We don't know how many weeks prior the infection started," Curry said. "We've been finding we want to see these patients really quickly."
Flores came in and got an ultrasound the same day she received her positive diagnosis.
Both Flores and Curry said that so far, the baby's head looks normal.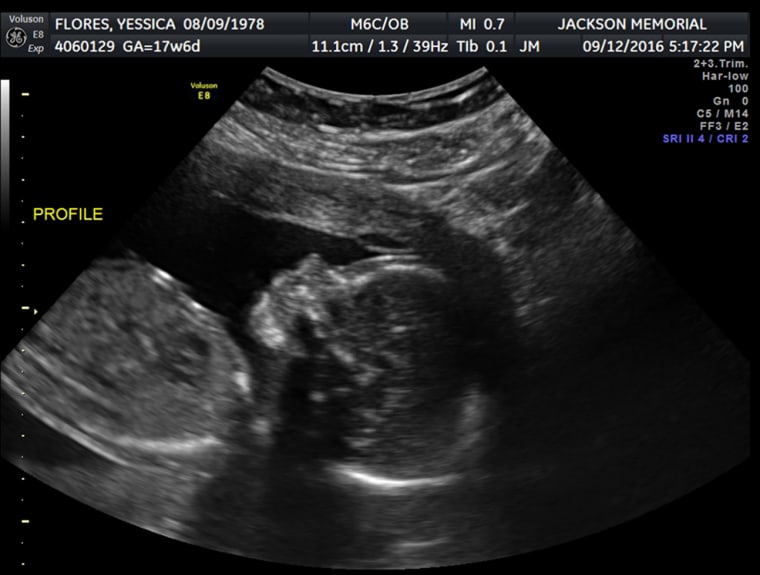 "She is due in February and so we still have several months to go of repeated ultrasounds and repeated blood tests. But all the information we have on the growth and development of the baby thus far is the baby is normal," Curry said.
Zika rarely makes adults seriously ill, but it can get into the brains and bodies of developing fetuses and cause catastrophic damage. The best-known symptom is microcephaly, the small head caused by a badly damaged brain, but doctors say there are a range of other birth defects, too.
"In the United States, we had no excuse to say we didn't see this coming."
What is not known is how many women infected while pregnant will have babies with birth defects. It's not 100 percent of babies, but no one can say what percentage will be affected.
Doctors also cannot yet tell women if it's a good sign that they did not have symptoms. Studies are going on now to get information about whether severe symptoms mean a baby is more likely to be affected.
And no one knows how long babies will have to be watched for evidence of Zika-related birth defects. It may be years before some symptoms become apparent.
"This is something that's unprecedented, to have a mosquito-borne illness, a sexually transmitted illness, that also causes birth defects," Curry said.
Related: Study Shows How Zika is Sexually Transmitted
Curry says Flores is not the only victim.
"We do know that there are pregnant women who have been tested and tested positive for Zika and have not left Miami-Dade during their pregnancy," she said.
The Florida Department of Health will not release details of how many pregnant women were infected with Zika in Florida. Florida is the only U.S. state with homegrown cases of Zika — 188 cases at last count. Florida also has 752 cases of Zika in people infected during travel or by their sexual partners. The total includes 113 pregnant women.
"In the United States, we had no excuse to say we didn't see this coming," Curry said.
"It has been over a year since the outbreak in Brazil, and at the beginning of this year it became clear that the infections were in countries outside of Brazil. Throughout 2016, we've watched one country after another declare local transmission, and so it was not surprising, in fact expected, that this summer we would have local transmission in Miami," she added.
Related: How Does Zika Affect Pregnant Women?
But Congress waited eight months to approve federal funds to prevent and fight Zika, and then granted about half of what was requested.
"The fact that funding didn't match expectations and that our Congress was able to go to recess without providing funding for states like Texas and Louisiana and Florida, which we know are at very high risk, was delinquent — and has allowed us to be in a situation where we're behind the eight ball," Curry said. "We have continued local transmission, even two to three months later."
At the press conference, Flores, who is having a girl, talked about her faith and praised Curry for her care.
"I want people to have faith in God and in the doctors, because they are the ones that do the work," Flores said.