With Florida Governor Rick Scott at his side Thursday afternoon, CDC Director Dr. Tom Frieden pulled no punches in describing the health threat that homegrown Zika presents to Miami and the country at large.
"Zika is unprecedented," Frieden said at a news conference in Doral, Florida. "We have never had a mosquito-borne disease that causes birth defects. It is key that we protect pregnant women."
After a day with the governor touring the Wynwood neighborhood believed to be the epicenter of Miami's local Zika outbreak, Dr. Frieden credited Florida's quick and coordinated response to the first 15 U.S. cases of the virus transmitted via mosquito bites, highlighting the state's efforts at mosquito control, testing, and education.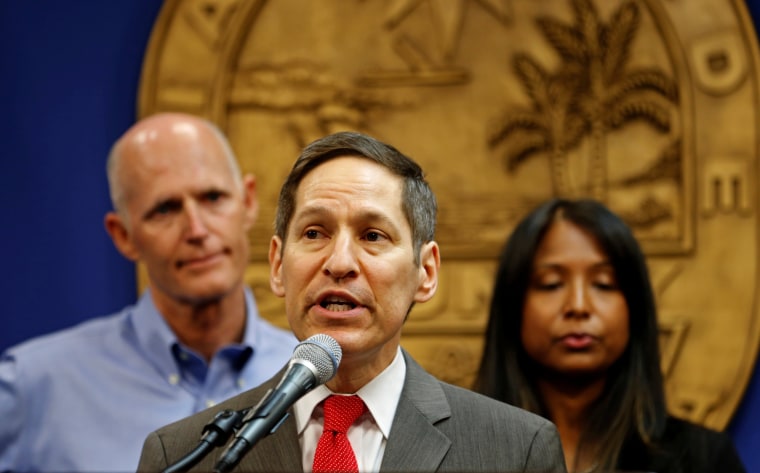 "We're doing everything we can and we will continue to be aggressive," the governor said, reporting that the state has allocated $26.2 million as part of the emergency response for Zika.
The governor also announced that the Florida Department of Health has cleared a 10 block area in the Northwest corner of the area of Miami with local Zika transmission.
"The DOH has concluded that no local transmissions have been detected in that 10 block area," Scott said. "I am hopeful that we will be able to continue to clear other areas in the one square mile as testing continues."
The CDC will continue to monitor the entire one square mile area of Wynwood, just north of downtown Miami.
For the first time during this local outbreak, aerial spraying with the insecticide naled was done, officials also announced. This measure complements the spraying efforts on the ground.
To dispel concerns about the safety of this insecticide, Dr. Frieden explained that "naled is used on 6 million acres in Florida each year. It can kill mosquitoes very effectively in areas that other methods don't reach. No measurable exposure is seen in people."
Mosquito control teams are also evaluating the use of a larvacide that would be used in aerial spraying this weekend.
"We have a safe state. We are working together. We ask people to continue to come to Florida." Scott said.
A travel advisory for pregnant women to a one square mile area in Miami, however, still stands.