A new study provides more evidence that the Zika virus spreads sexually, and it might be just as dangerous for babies as if a woman got bitten by a mosquito.
The study was done using mice, but doctors say it's a good model for how Zika infects people. And the news isn't good.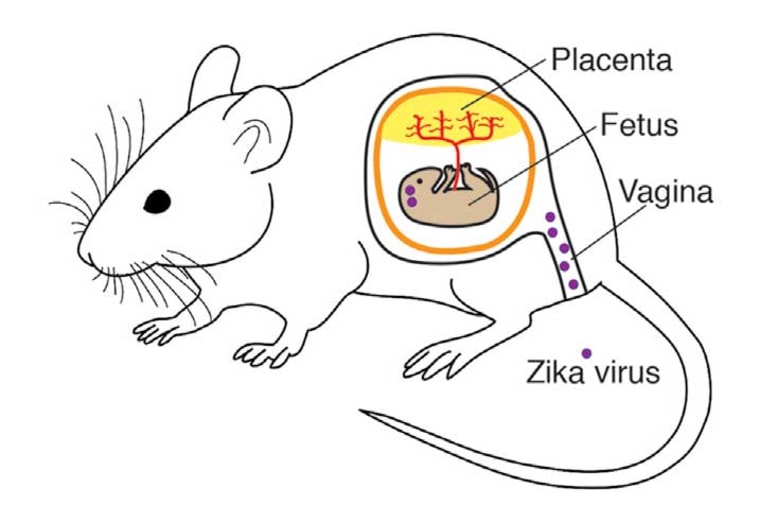 Not only does the virus live and replicate in the vagina, but it can then infect a fetus directly, the researchers report in the journal Cell.
"The Zika virus appears to have a niche within the vagina," said Akiko Iwasaki, an immunobiologist at Yale University who led the research team.
"We see from our model that it's a place where the virus can replicate for an extended period of time, and in pregnant mice, vaginal infection can lead to brain infection of the fetus and growth restriction."
Related: Expect More Zika Virus Cases, Experts Say
Zika is known to infect people sexually. It can stay in a man's semen for months and many people who never went near a Zika zone have been infected by sex partners who traveled to one.
The Centers for Disease Control and Prevention and the World Health Organization both say pregnant women need to avoid getting infected through sex, and caution men who have even a chance of having had Zika to use a condom throughout a sex partner's pregnancy.
"It can infect a kid. It answers some questions."
But it has not been clear what the risk is to a pregnancy.
"One of the pieces that has been missing for us is if a woman does acquire Zika through sexual transmission, is there an effect? Will it be the same as if she was bitten by a mosquito and the virus spreads across the placenta?" explained Dr. Jeanne Sheffield, director of the Division of Maternal-Fetal Medicine at Johns Hopkins University.
"It can infect a kid. It answers some questions," said Sheffield, who was not involved in the research.
Transmission sexually had the same effect as mosquito-borne infection, at least in the mice. Mice normally can't catch Zika, but the virus lived and replicated in the vaginas of the lab mice. It got into the brains of developing mouse fetuses. And when mice with weakened immune systems were infected, the virus infected the growing mouse pups and often caused the pregnancy to fail, the Yale team reported.
"This whole issue of sexual transmission threw us for a loop to begin with because is something that is very concerning," said Dr. Roberta DeBiasi, who helps head the Congenital Zika Virus Program at Children's National Health System in Washington, D.C.
"Is there a difference in the risk to the fetus? That is a really important question and very little was known until this paper."
In fact, sexual infections like these might be worse for the pregnancy. The virus may get straight to the developing fetus without even entering the mother's bloodstream.
"These data suggest a possible direct transmission route from the vaginal tract through the cervix to the intrauterine space. From there, the virus may enter the decidua and infect the placenta, thereby entering the fetus through the umbilical cord," Iwasaki's team wrote.
Related: Can I Ever Get Pregnant After Zika?
"The female genital tract represents a productive site of viral replication."
And it might be even more serious in humans.
"Humans are naturally more susceptible to Zika virus infection than mice," Iwasaki's team wrote.
"Consequently, we speculate that Zika virus introduced into the human vagina is likely to replicate more robustly than in the vaginal cavity of … mice."
On Tuesday, a Brazilian team reported on a baby that was born to a mom who caught Zika from her husband while pregnant. The baby seemed fine at birth, but had Zika virus in his blood and elsewhere — and the virus stayed in his blood for more than two months. As the child grew, it became clear that he had brain damage, including cerebral palsy.
"It is looking like a lot of Zika transmission is sexual in South America."
It's not clear at which point he became infected, and the study raised the question of whether the virus can damage a baby's brain after birth.
Other, similar viruses can infect babies at birth. Chikungunya, a cousin of Zika, in rare cases infected babies at birth. More notorious is HIV, the AIDS virus, which often infects newborns if the mother doesn't take HIV drugs.
"It has echoes of HIV. HIV, even when it cleared in blood, can still be found in semen and can be found in vaginal secretions," said Sheffield.
Scott Weaver is chair of the Global Virus Network's Zika task force and a virus expert at the University of Texas Medical Branch.
"It is looking like a lot of Zika transmission is sexual in South America," Weaver said. "That may be helping the virus to spread more efficiently."
Related: Zika Took Her Baby
The Yale team also found more evidence that Zika can do invisible brain damage.
"Our studies also indicate that Zika virus brain infection can occur in fetuses without causing gross growth defects or malformations," they wrote.
That means keeping a close eye on all babies born in Zika zones, especially if their mothers were infected during pregnancy, and even if they are born looking fine.