A tropical system brewing in the Caribbean could make Florida's fight against the spread of the Zika virus even more challenging.
Forecasters have pegged the tropical wave as only having a 40 percent chance of strengthening into a tropical storm over the coming days, and some models see it hitting the Gulf Coast states west of Florida. But whether it makes landfall in Florida or not, one thing is certain: the system will bring heavy rains to the Sunshine State, and that could create breeding grounds for Zika-carrying mosquitoes.
Related: Worrisome System in Atlantic Has 40 Percent Chance of Becoming Storm
"It's going to be a very, very wet weekend," said NBC's Dave Price, adding that some areas of Florida will get five or more inches of rain over the next several days.
That's causing concern among Florida officials. Zika is primarily spread through the Aedes mosquito, which is known as a "container-breeding" bug because it likes to lay eggs in and around standing water, according to the Centers for Disease Control and Prevention.
The more rain there is, the higher the chance the water will collect in containers.
Local officials and the state's governor urged the public to closely monitor any man-made containers in their yards and to be diligent about emptying them.
"When you get rain, you've got to get rid of the standing waters," Florida Gov. Rick Scott said.
Related: Can I Ever Get Pregnant? And Other Questions About Zika Virus
And Miami-Dade County Mayor Carlos Gimenez added: "Look at your property. Drain it, cover it, so that we don't have an excess number of mosquitoes."
Florida has seen more than 40 cases of Zika in four counties. While the vast majority of those who contracted it traveled outside the country to other Zika-prone areas, authorities have been bracing for localized outbreaks in the U.S. where the two mosquito species that carry Zika — Aedes aegypti and Aedes albopictus — are found.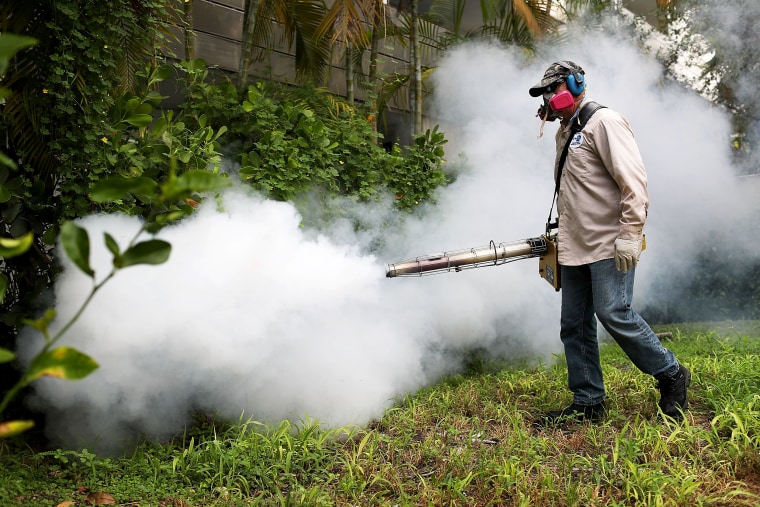 There are still more questions than answers about the virus, which can cause catastrophic birth defects in a fetus if a pregnant woman is infected — most notably microcephaly, a condition where the head is unusually small. It causes milder symptoms in other people, most commonly a raised rash.
Some babies born to infected mothers have no obvious Zika symptoms at birth. But a study out earlier this week in the journal Radiology warned even those with no apparent symptoms could have serious abnormalities later.