The World Health Organization cautioned pregnant women from around the globe to avoid travel to active Zika zones, warning the link with birth defects is troubling and growing stronger.
The U.S. Centers for Disease Control and Prevention issued a similar warning a month ago, while WHO had been more cautious. But the international organization said Friday there was more concern that the virus may cause microcephaly, a condition caused by brain damage to the fetus.
"We've got to the point now where we have to consider that Zika is guilty until proven innocent," WHO's Christopher Dye told reporters in Washington Friday.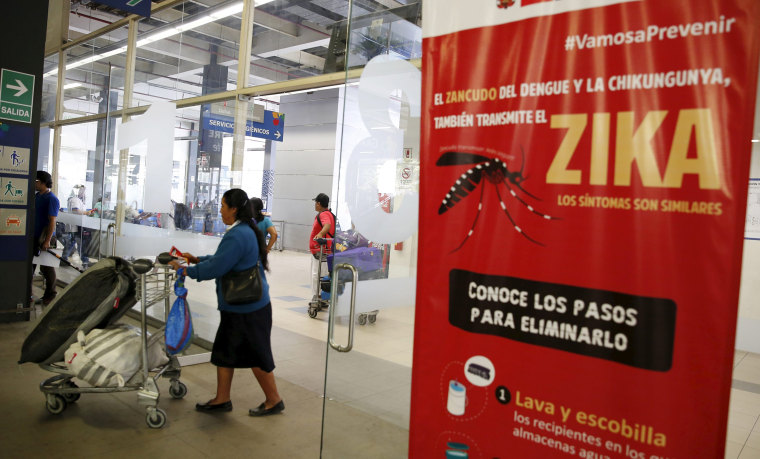 Related: Did Zika Cost This Woman Her Baby?
"Based on the latest evidence that Zika virus infection during pregnancy may be linked to microcephaly in newborns, WHO is issuing further precautionary travel advice to women who are pregnant and their sexual partners," WHO said in a statement.
"Women who are pregnant should discuss their travel plans with their health care provider and consider delaying travel to any area where locally acquired Zika infection is occurring."
WHO has declared Zika and the link to birth defects an international emergency. It is helping coordinate efforts to develop vaccine and better tests for Zika. Zika is also suspected of causing a rare but dangerous paralyzing condition called Guillan Barre syndrome.
There's no vaccine to prevent Zika infection, mostly because the virus had been considered harmless. But because it's closely related to dengue and yellow fever, it may be easier and quicker to make a vaccine, experts say. Yellow fever vaccines have been in use for decades and a dengue vaccine is in final testing.
Many companies are interested, said WHO's Dr. Marie-Paule Kieny.
Related: 5 Questions Everyone Still has About Zika
"About 15 companies/groups have been identified so far. Most have only just started work," Kieny said.
"At the same time, WHO is developing what is called 'target product profiles' for these medical tools – for example, what may be the best characteristics for a vaccine to immunize women of child-bearing age?" Kieny added in a statement.
"Two vaccine candidates seem to be more advanced: a DNA vaccine from the US National Institutes for Health, and an inactivated product from Bharat Biotech, in India. In spite of this encouraging landscape, vaccines are at least 18 months away from large-scale trials. "
One factor hampering research into whether Zika really does cause birth defects or Guillan Barre syndrome is the lack of a reliable quick test. The usual on-the-spot tests that look for an immune response to infection can get Zika mixed up with dengue, yellow fever and Chikungunya viruses — all of which are carried by the same mosquitoes and circulate in the same places.
But work is moving fast, Kieny said.
"Although it is difficult to predict the time for the first commercial and independently validated tests to be available, we are talking weeks and not years," she said.