Only about a quarter of babies born to women who were infected with Zika while pregnant are getting the recommended follow-up brain scans to make sure they're OK, a top government expert said Tuesday.
And confusion still reigns around the tests used to diagnose Zika in pregnant women — something that's already been shown to have falsely assured expectant mothers that they weren't infected with the virus, according to another government report.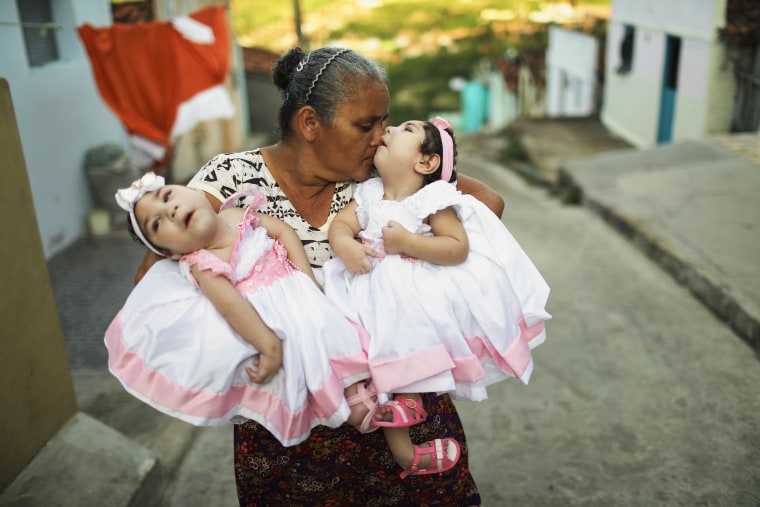 A House of Representatives hearing on Zika virus painted a picture of confusion as government agencies scrambled to respond to the overwhelming epidemic as it flashed across the Americas, causing thousands of birth defects.
Many more may be going undiagnosed, said Dr. Lyle Petersen, a Centers for Disease Control and Prevention expert on insect-borne diseases.
"Only about one in four babies born to women with Zika virus infection during pregnancy are receiving the recommended brain imaging after birth," Petersen told the hearing of the House Energy and Commerce oversight subcommittee.
"Some brain abnormalities are only identified with brain imaging, suggesting that the impact of Zika on babies born to mothers infected with the virus may be underestimated."
Related: Zika Raises Birth Defect Risk 20-Fold
Zika virus was almost unknown and considered boring by people who did know about until it showed up in Brazil and started causing birth defects in 2015. The most obvious and horrifying birth defect is microcephaly — a small head caused because of the damage the virus does to the developing brain.
But it's now been documented to cause others.
Zika has swept across much of Latin America and travelers have carried it around the world, especially to the U.S.
"Our most recent surveillance data show that we have documented 36,583 cases of Zika virus disease in the U.S. territories and 5,282 in U.S. states and DC," Petersen told the hearing.
"Of these cases, we have identified 224 cases of Zika in Florida and Texas due to local mosquito transmission," he added. That means local Aedes aegypti mosquitoes have bitten infected travelers and then spread the infection to someone else. Almost all of the other cases are among people traveling from affected areas.
Related: Zika-Affected Babies Lose Brain Size After Birth
"CDC has also documented 3,795 pregnant women with laboratory evidence of Zika virus infection in U.S. territories and 1,845 in U.S. states and D.C.," Petersen added.
"Of the nearly 1,000 births in 2016 recorded in the Zika pregnancy registries, 51 had a Zika-associated birth defect, mostly serious brain abnormalities and microcephaly."
At least 10 percent of babies born to women infected with Zika virus have been diagnosed with visible birth defects.
Zika is known to cause a range of other birth defects. For instance, sometimes babies born looking normal and healthy after a Zika infection are developing smaller-than-normal heads months later. And other, subtler defects could affect hearing, vision and learning ability.
Related: Congress Finally Passes Zika Spending Bill
The guidance from CDC is for women who were infected while pregnant to continue getting brain scans for their babies, even if they are born looking healthy. Petersen said that is not happening.
When the virus first showed up, there was no good diagnostic test. Now there are 16, but a report from the Government Accountability Office (GAO) says they have not been used effectively.
"The 16 Zika virus diagnostic tests authorized during the outbreak varied in their performance and operational characteristics. For example, they varied in their ability to detect the virus and provide accurate results," Timothy Persons, chief GAO scientist, said in testimony to the hearing.
Persons said the CDC and the Food and Drug Administration both often failed to provide clear information.
"Users of the tests also encountered challenges, including determining the most accurate test to use, having access to different tests, and obtaining equipment needed to conduct the tests," Persons said.
"Some manufacturers raised concerns about the difficulty in developing diagnostic tests that met the Food and Drug Administration's (FDA) requirements for Emergency Use Authorization and some users expressed concerns about selecting tests amongst those authorized," he added.
"GAO also determined that CDC and FDA did not consistently communicate sufficient information about diagnostic tests, including providing clear information that would have enabled users to more easily compare performance across different tests."
Related: Zika Vaccine Starts Wider Testing
Persons said the CDC also sometimes confused people about mosquito control and where risks really are — for instance, with maps that colored entire states at risk when the mosquitoes that spread the virus are really only found in certain parts of those states.
"Once again, GAO has shown that we were not fully prepared at the outset of the outbreak," said Tim Murphy, a Pennsylvania Republican who chairs the subcommittee.
Part of the confusion was caused because heads of the CDC, FDA, National Institutes of Health and other agencies were busy begging Congress to pay for the response, Democratic Colorado Rep. Diana DeGette said.
And proposed cuts made in President Donald Trump's budgetTuesday would only make things worse, she added.
"This is so counterproductive. Now is not time to make draconian cuts to the agencies tasked with fighting Zika or other health crises," DeGette said.
"We don't want to find ourselves in the middle of this summer scrambling to cobble together another supplemental [funding request]."
Petersen predicts more Zika cases and some more local outbreaks as mosquito season returns.
"Now is not time to make draconian cuts to the agencies tasked with fighting Zika or other health crises."
"Alarmingly, the emergence of mosquito-borne diseases appears to be accelerating," he said.
"Over the past few decades, we have seen a resurgence of dengue and the introduction and spread of West Nile virus, chikungunya virus, and now Zika virus into the Western Hemisphere."
Climate change is partly to blame, he said, as well as the growth of populations in cities in tropical regions and increased travel and trade.
"As we stand now, there are too many unanswered questions about the transmission of Zika and the medical consequences,' said Florida Rep. Kathy Castor, a Democrat. "Our families are at risk because of that. They are also at risk because we face a funding cliff for the Zika response."