Singapore reported another big batch of Zika virus cases Sunday, bringing its total count in just a week to 215, and World Health Organization officials said the spread of the virus definitely still constitutes a global health emergency.
Zika's apparent quick spread out of Latin America and in Asia and Africa has WHO officials worried. They have no idea if the virus will spread as explosively as it has in the Americas, and they cannot predict if it will cause a fresh wave of birth defects and side-effects such as the paralyzing Guillain-Barré syndrome.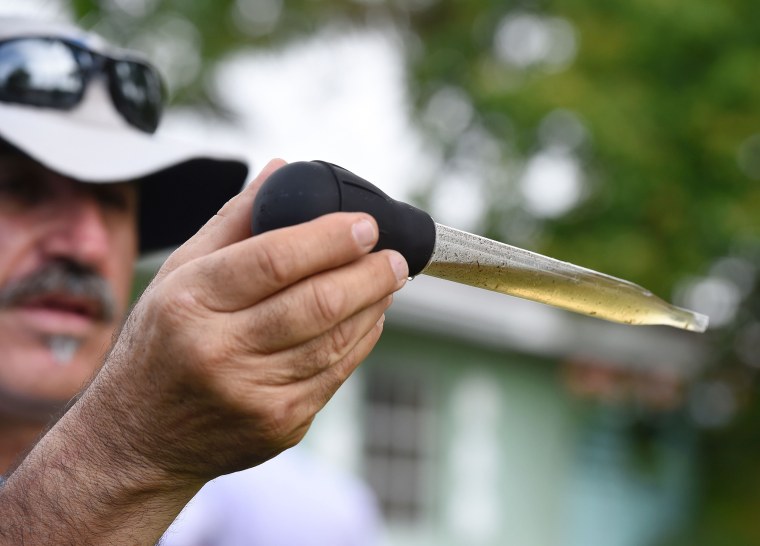 They don't even know if they can keep track of it if it spreads into countries with poor healthcare systems and little facility to test people for the virus.
"There's still an urgent need to continue global research and this still does remain an emergency of international concern," said Dr. David Heymann, chairman of WHO's emergency committee.
"Zika is beginning to spread, continuing to cause outbreaks in many countries around the world."
"This extraordinary event is rapidly becoming, unfortunately, an ordinary event. And Zika is beginning to spread, continuing to cause outbreaks in many countries around the world," Heymann told reporters.
Related: Zika Took Her Baby
Tiny Singapore — the city-state is only about two-thirds the size of Washington, D.C. — only first saw Zika a week ago. It's moved quickly to try to contain local spread of the virus, carried by the same mosquitoes that spread dengue virus. It has also quickly reported every case it finds to WHO.
"The way the government of Singapore has handled the outbreak really represents a role model," said Dr. Peter Salama, executive director of WHO's Health Emergency Program.
It's not entirely certain that the strain is the same one that swept across Latin America, causing at least two outbreaks in south Florida, Salam added. Singapore's Ministry of Health said genetic sequencing had shown the virus spreading there was of Asian lineage and that it was not from South America. But the South American strain was also shown to have originated in Asia and not directly from Africa, so it was not clear precisely what the ministry meant.
Experts are worried because they cannot predict what Zika will do. The virus was first identified back in 1947 and seemed relatively innocuous. When it did infect people, which appeared to be rarely, it didn't even cause symptoms in most of them and appeared to cause, at worst, a rash, muscle aches and fever.
But when it showed up in Brazil, authorities immediately noticed a giant increase in cases of microcephaly, a severe birth defect defined by a small head. It's caused when the virus attacks the brain cells in a developing fetus, killing them off and stunting the growth of the skull.
Related: Expect More U.S. Zika Cases
Now Zika has been shown to cause a range of other, sometimes less-visible birth defects. There's no doubt it's the virus causing them — it's been found in the damaged brain tissue of miscarried babies and lab experiments have shown that the virus zeros in on immature brain cells.
It's also causing a rare paralyzing side effect seen with other infections called Guillain-Barré syndrome.
The question no one can answer is whether all this is new. "A year ago, there wasn't a test for Zika," says U.S. Centers for Disease Control and Prevention Director Dr. Tom Frieden. Zika is closely related to dengue and chikungunya and tests mix them up.
There had not been a good test that could tell if someone was infected with Zika in the past, and no one can say how many people in Asia or Africa have been infected with Zika previously — or whether they will be immune if it comes around again. There are two known strains of Zika: One that originated in Africa, and the one that spread from Asia to Latin America.
"This is a new manifestation of an old disease," Salama said.
"This is a new manifestation of an old disease."
Added to all that, Zika is difficult to prevent. Most people don't show obvious symptoms when they are infected, making it hard to track. They can unknowingly spread it through sex, or infect mosquitoes that can then bite someone else.
The Aedes mosquitoes that spread Zika are very hard to kill, and the steady march of the virus illustrates just how easily travelers can carry it from one country to another.
"Even if they do not feel sick, travelers returning to the United States from Singapore should take steps to prevent mosquito bites for three weeks so that they do not spread Zika to uninfected mosquitoes," the CDC advises.
Related: Hiding in the Bushes: Florida Blames Bromeliads for Zika
The same advice goes for any country or territory with active Zika outbreaks — including parts of Miami.
"Travelers returning from Singapore who have a pregnant partner should either use condoms or not have sex for the rest of the pregnancy," the CDC adds.
"People who have traveled to Singapore should use condoms for at least eight weeks after travel to protect their sex partners. Men who have Zika symptoms or are diagnosed with Zika should use condoms for at least six months after symptoms start; women with symptoms should use condoms for at least eight weeks after symptoms start."
People in Zika zones should use mosquito repellent, cover up and stay inside behind screens as possible, the CDC and WHO both advise. And women who might become pregnant need full access to birth control, they both added.