The Zika virus not only causes severe brain damage, but also hearing loss in some babies, Brazilian researchers reported Tuesday.
The risk to hearing has been suspected. The latest report, released by the U.S. Centers for Disease Control and Prevention, finds 6 percent to 7 percent of babies with clear Zika brain damage also had some amount of hearing loss.
The findings suggest all babies born to women infected with Zika during pregnancy are at risk, Mariana Leal of Hospital Agamenon Magalhães in Brazil and colleagues said.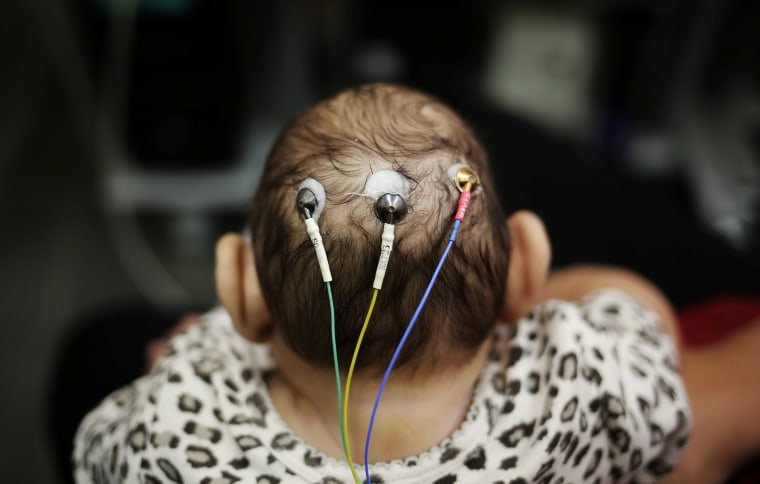 "Alll infants born to women with evidence of Zika virus infection during pregnancy should have their hearing tested, including infants who appear normal at birth," they wrote.
Related: Zika Funding Delay Puts Americans at Risk, Obama Says
Zika can cause a range of birth defects that doctors are starting to call Zika congenital syndrome. They include profound brain damage, deformed limbs and eye defects. Babies born to women infected during any stage of pregnancy are at risk.
Leal's team studied 70 Brazilian babies with the most severe birth defect -– a small head.
Five of the babies -– 7 percent of the total –- had hearing loss. One had been treated with an antibiotic known to damage hearing, so leaving that case out meant 5.8 percent of the babies were affected.
That's similar to the rates of hearing loss seen in other infections that damage fetuses, such as rubella, cytomegalovirus, herpes and syphilis.
Related: Images Show Zika's Path of Destruction
"It is often undetectable at birth, and sometimes it is progressive or fluctuating," the researchers said.
"It is possible that the full spectrum of congenital Zika virus infection includes children without microcephaly, but with auditory deficits, as occurs in congenital rubella and cytomegalovirus infections, in which children born with no apparent structural anomaly can be found to have hearing loss at birth or later in life."
Zika's spreading at epidemic speed across Latin America and parts of Asia and the Pacific. On Tuesday the CDC added the British Virgin Islands to its list of places where the virus is spreading locally.