Major airlines and cruise lines are offering free refunds or rebooking for pregnant women and their companions in response to growing concerns over travel to countries and regions affected by the mosquito-borne Zika virus.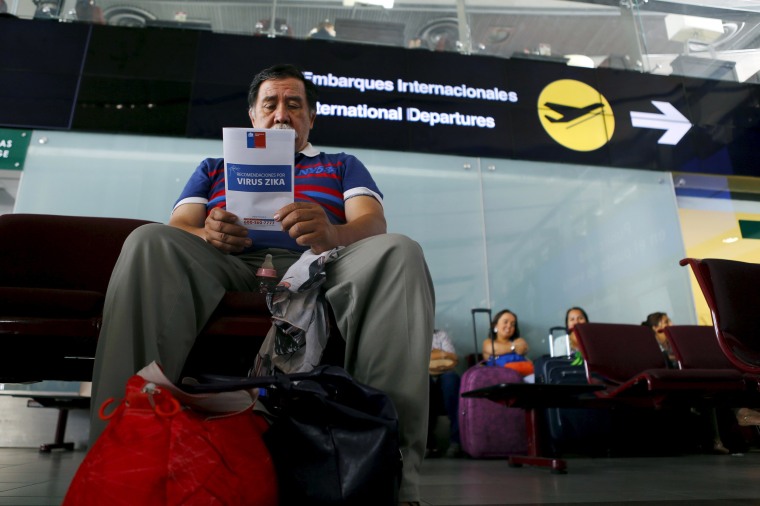 The virus, which may be linked to an increase in cases of a birth defect called microcephaly, is "spreading explosively" through Latin America and the Caribbean, a World Health Organization official warned Thursday. The U.S. Centers for Disease Control issued a travel alert on Jan. 15 advising pregnant women to consider delaying travel to affected areas to avoid the possibility of being infected.
Airlines contacted Thursday by NBC News would not provide figures on the number of cancellations they are handling as a result of the warnings. But they said they are trying to make it easy for affected travelers.
Five Things to Know About the Zika Virus
For "customers who are pregnant or who are attempting to become pregnant, and their travel companions," United Airlines is offering "the opportunity to rebook at a later date or receive a full refund," if their travel plans include any of the regions included in the CDC alert, said airline spokesman Charles Hobart.
While not yet an official airline policy, said Hobart, "It is a direction we are providing our agents to assist customers who contact us regarding travel to the affected area."
More information about United's Zika response is on the "Important notices" page of its website.
Delta Air Lines' Zika virus waiver policy states that "customers may qualify for a change to alternate destinations, travel dates or a refund" and can make fee-waived changes to their travel plans, provided they do so by Feb. 29, 2016.
CDC Alert for Zika Virus May Curb Caribbean 'Babymoon' Vacations
More details about Delta Air Line's Zika policy is posted on its "Alerts and Advisories" page.
American Airlines on Thursday posted its Zika virus policy on its website on the "Special Assistance/Children, infants and pregnancy" page.
"Pregnant travelers, along with their companions, who are concerned about travelling to a destination outside the United States that is affected by the Zika virus, can request a refund," said American spokesman Ross Feinstein. In order to do so, "They must provide a doctor's note confirming their pregnancy and stating that they are unable to travel due to the Zika virus," he said.
Instructions for requesting a refund from American Airlines are posted here.
Not all major airlines flying to the region had posted policies for fliers booked to travel to the affected areas on their websites, including JetBlue, Lufthansa, British Airways and Air Canada.
British Airways, JetBlue and Lufthansa all emailed statements to NBC News indicating they were in fact offering refunds or rebooking for pregnant women.
Air Canada did not immediately respond to email inquiries regarding its policy.
On JetBlue, which offers many flight between the U.S. and Caribbean, "Customers planning to travel should review the CDC alert, which recommends enhanced precautions rather than avoiding non-essential travel entirely. We will accommodate customers with concerns of traveling to Zika-impacted areas with a refund or rebooking," JetBlue spokeswoman Tamara Young said via email.
Lufthansa said in its statement that "medically certified pregnant women and their traveling companions" booked on international flights to Brazil, Colombia, Mexico and other affected Latin American and Caribbean countries will be permitted one rebooking free of charge. The policy applies to all flights from/to Latin/Central American and Caribbean countries from Jan. 28 through March 31, 2016, for tickets issued on or before Jan. 28 on Lufthansa group airlines, including Lufthansa, Austrian Airlines, Swiss, Brussels Airlines and Germanwings.
British Airways said pregnant customers "can change their booking free of charge and delay their journey or amend to an alternative destination" through Feb. 29.
"This applies to flights to Brazil, Mexico, Barbados and Dominican Republic​, and we will continue to review the situation," it said.
Chile-based LATAM, the major Latin American carrier, issued a statement saying it would offer ticket change options to pregnant passengers traveling internationally to Brazil, Colombia, El Salvador, Guatemala, French Guiana, Haiti, Honduras, Martinique, Mexico, Panama, Paraguay, Puerto Rico, Surinam, Venezuela, Barbados, Virgin Islands, Bolivia, Ecuador, Guadeloupe, Guyana, Dominican Republic, and St. Martin.
Zika Virus Outbreak: WHO Chief Calls Emergency Committee Meeting
The company said pregnant passengers currently traveling to the affected destinations could opt to return earlier than their original plans and that pregnant passengers who have not yet begun their trips could alternate destinations.
"In order to be eligible for these options," LATAM said in its statement, "the pregnant passenger must submit a medical statement from a doctor confirming the weeks of gestation. These options will also be extended to travel companions of the pregnant passenger who are booked on the same flight."
Several cruise lines are also responding to the CDC Zika virus travel alert with relaxed change- fee offers.
According to CruiseCritic.com, Carnival Corp. will allow a pregnant women to cancel trips and receive credit for future sailings. Norwegian Cruise Line will allow passengers who are before final payment to switch to an itinerary that does not visit a Zika-affected area and those who have made final payment to choose a future cruise credit. Requests are being handled on a case-by-case basis at Royal Caribbean.