Zika is now spreading in two places in Florida — in Miami Beach as well as an area north of Miami, Governor Rick Scott confirmed Friday. He said five people have been infected by Zika locally in Miami Beach, including three tourists.
The Centers for Disease Control and Prevention issued a new travel warning, telling pregnant women to avoid the popular tourist area if at all possible.
Florida health officials had earlier denied reports that Zika was spreading locally in Miami Beach. The local spread — meaning none of those infected had traveled to Zika-affected regions — strongly suggests that mosquitoes in the area have become infected with the virus and are biting people and spreading it.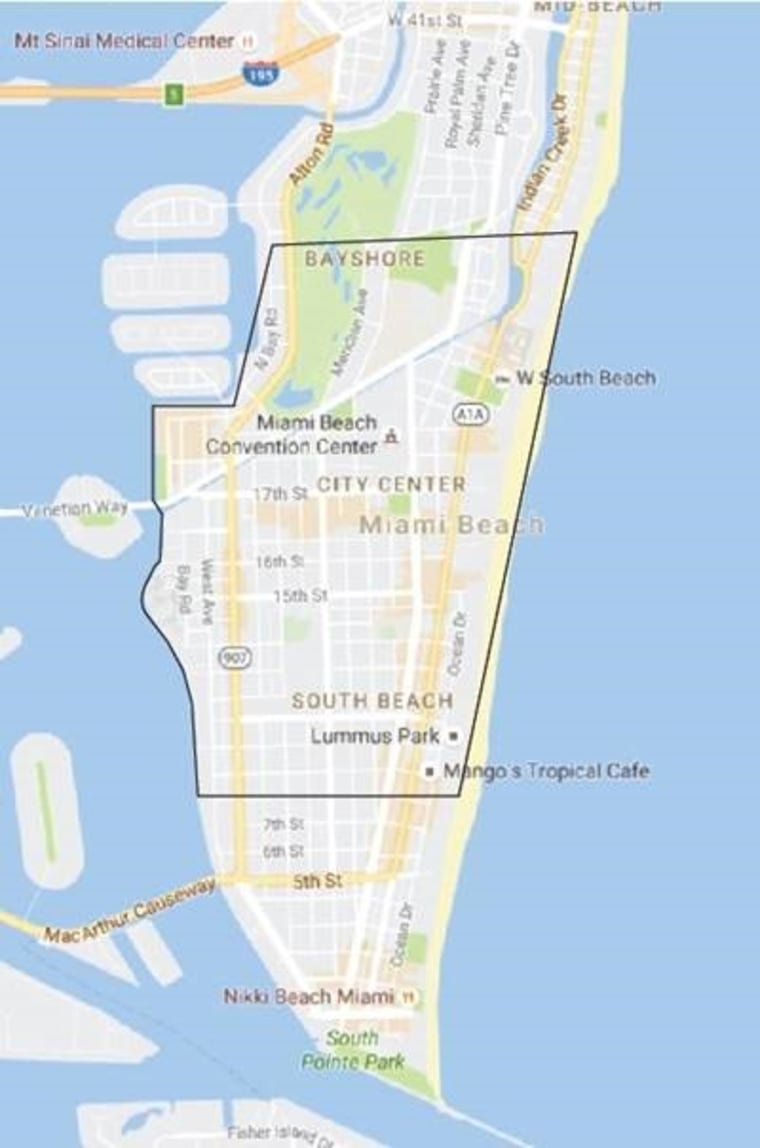 "We believe we have a new area where local transmission is occurring in Miami Beach," Scott told a news conference.
"Active transmission is happening between 8th and 28th streets, an area just under 1.5 (square) miles."
The area includes much of South Beach, the quirky beachfront district popular for its outdoor restaurants and sidewalk promenades.
Miami Beach is the heart of the city's tourist district and state officials have been keen to protect the No. 1 industry for the region.
Scott said three of those infected were visitors -- one from New York, another from Texas and a third from Taiwan. One visitor had been infected before, a Texas resident who carried the virus back home.
Related: Is DEET Safe? And Other Zika Questions
Zika's confirmed to have infected 36 people locally in Florida, state health officials say - most of the cases in an area north of Miami called Wynwood.
Local cases were fully expected in Florida, which is home to the Aedes aegypti mosquitoes that spread Zika and also hosts many travelers to and from Zika-affected regions in Latin America.
"There are undoubtedly more infections that we don't know about right now," CDC director Dr. Tom Frieden told reporters in a conference call.
"The big question is how much is it going to continue to spread in Floriday or other parts of the southern U.S. and nobody knows for sure," said Scott Weaver, Director of the Institute for Human Infections and Immunity at the University of Texas Medical Branch in Galveston.
"We are probably going to see more cases and we are probably peaking in terms of risk of transmission," added Weaver, who is also Chair of the Global Virus Network Zika Task Force.
"It becomes very difficult to control it once we see it spread into a larger area like Miami."
"Once transmission begins, we may not discover it for several weeks. It becomes very difficult to control it once we see it spread into a larger area like Miami."
Local outbreaks are caused when someone infected with Zika is bitten by a mosquito, which goes on to infect others. Only Aedes species of mosquitoes are known to spread Zika.
To spread, Zika needs infected people. The virus circulates in blood, semen and can also be found in saliva and urine.
Related: Zika Might Affect Adult Brains, Too
Most people are not at risk of serious disease from a Zika infection, but it can cause profound birth defects if a pregnant woman gets infected.
Scott was asked why the state had not confirmed the earlier reports about the spread of Zika.
"Straight-up answer, we're going to provide timely, accurate public health information. We want to keep our state safe," he said.
"Pregnant women should avoid travel to the designated area of Miami Beach."
The CDC updated its travel warning for Florida.
"Pregnant women should avoid travel to the designated area of Miami Beach, in addition to the designated area of Wynwood, both located in Miami-Dade County, because active local transmission of Zika has been confirmed," the CDC said in a statement.
Related: Can I Ever Get Pregnant? And Other Questions About Zika
"Pregnant women and their partners living in or who must travel to the designated areas should be aware of active Zika virus transmission and follow steps to prevent mosquito bites."
It said anyone who's been to the area since July 14 should think about the possibility they have Zika, which doesn't always cause symptoms.
"Pregnant women should see their doctor or other healthcare provider about getting tested for Zika; and people who have a pregnant sex partner should consistently and correctly use condoms to prevent infection during sex or avoid having sex for the duration of the pregnancy," the CDC said.
"All pregnant women in the United States should be evaluated for possible Zika virus exposure during each prenatal care visit."
This is a breaking news story. Refresh for updates.