Florida health officials said Thursday they found the Zika virus in mosquitoes trapped in the Miami Beach area, and blamed popular tropical plants known as bromeliads.
Florida also announced two more cases of locally acquired Zika, presumably spread by mosquitoes there.
That makes for 49 home-grown cases in Florida.
Miami Beach officials redoubled mosquito eradication efforts, imposing fines for people who leave standing water, ripping out the the moisture-loving bromeliads and asking residents to do the same.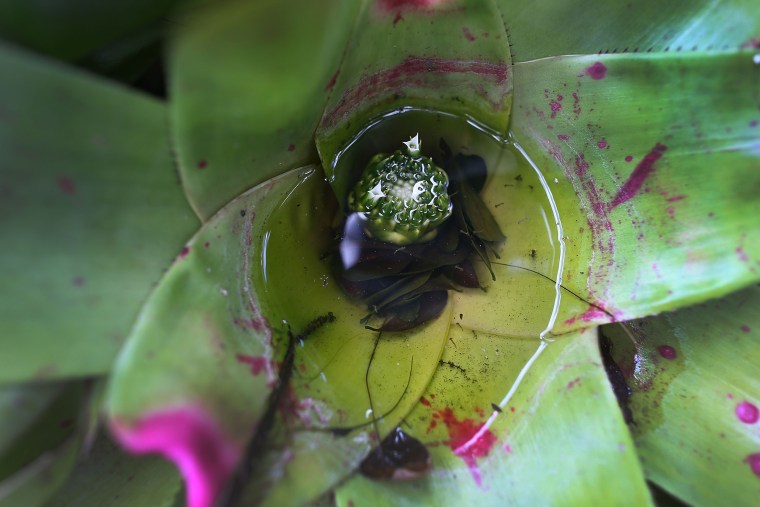 "These mosquitoes were trapped in the small area in Miami Beach where we believe local transmission has been occurring," Florida Governor Rick Scott told reporters.
It's not a surprise that mosquitoes would be found carrying Zika in an area where people have already been infected. Florida is home almost year-round to the Aedes aegypti mosquitoes that spread the virus.
"This means there's a significant amount of transmission going on in those areas."
And now Hurricane Hermine has washed through Florida. Depending on how much rain they bring and how much flooding they cause, storms can either worsen mosquito activity or dampen it down for a while, if violent rains and flooding wash them out of their breeding areas.
Related: Here's How You Hunt for Mosquitoes
The Aedes mosquitoes are difficult to kill because they live and breed in and around houses and in very small containers — potted plants, bottle caps, and, it seems, pretty tropical plants.
Centers for Disease Control and Prevention director Dr. Tom Frieden says aerial spraying for adults, combined with insecticide that targets the larvae, seems to be working best against one outbreak in the Wynwood area north of Miami.
"The CDC has recommended aerial spraying on Miami Beach via helicopter, and we have seen the effectiveness of aerial spraying in the Wynwood area," Scott agreed.
"(The Department of Health) has made available resources to Miami-Dade County to immediately conduct aerial spraying in Miami Beach. I also directed DOH to work with the commercial pest control companies they have already sent to the Miami Beach area to further increase spraying and abatement efforts."
The city of Miami Beach asked all residents get get rid of bromeliads and trash that can hold even small amounts of water.
"Miami Beach is taking a hardline approach in our fight against Zika, including having Code Compliance Officers scour the city to determine and rectify potential risks," the city said in a statement issued Thursday night.
"If code inspectors determine that visible conditions within private property are an immediate threat to health, safety or welfare of the public, he/she may order the immediate correction of the violation at the expense of the occupant, owner, or operator. This violation, known as forthwith, carries a fine of $1,000 for the first offense and $2,000 per each additional infraction."
Zika doesn't make most people sick, but it can cause an unpleasant rash and muscle aches in 20 percent of cases and, most worryingly, it can cause devastating birth defects if a pregnant woman is infected.
The CDC has cautioned expectant mothers to stay away from areas where Zika is spreading, which includes Miami Beach and Wynwood and much of Latin America and the Caribbean, as well as Singapore and other Asian and Pacific countries.
Related: Zika Mosquitoes Can Infect Their Eggs, Too
Zika can also lead to a rare paralyzing condition called Guillain-Barre syndrome.
Dr. Peter Hotez, dean of the school of tropical medicine at the Baylor College of Medicine, says it's very difficult to find Zika in Aedes mosquitoes.
"It's really like looking for a needle in a haystack," Hotez said.
"The percentage of mosquitoes testing positive is very low but this adds another piece to the puzzle," he added. "The fact that any mosquitoes have tested positive at all is important. In previous dengue outbreaks, no mosquitoes were recovered that tested positive. This means there's a significant amount of transmission going on in those areas."
"What we need is a bipartisan agreement. This is an emergency."
To carry Zika virus, a mosquito must bite an infected person. That's why officials are keeping track of travelers coming back infected with Zika. Health and Human Services Secretary Sylvia Burwell told reporters Thursday that the U.S. knows of 16,800 cases of Zika, including 2,700 travel-related cases carried to the 50 states plus 14,000 cases in the territories, mostly Puerto Rico.
Burwell confirmed that CDC, the National Institutes of Health and other agencies are just about out of money to fight Zika.
President Barack Obama asked for $1.9 billion in emergency funding last February but Congress has been unable to agree on a bill that would allocate the money.
Related: Images Show What Zika Does to a Baby's Brain
Frieden said CDC has spent nearly all of the $222 million it was given to fight Zika and Burwell said she's moved money from other vital programs to give stopgap coverage to Zika programs, including vaccine development projects at the National Institutes of Health.
"We took money from the NIH for the NIH. That was cancer, heart and lung, things like that," she said.
"I made the choice and it was not a good choice."
Senate Majority Leader Mitch McConnell has said he'll try to bring up Zika again Tuesday, when Congress gets back from a seven-week break.
"What we need is a bipartisan agreement," Burwell said. "This is an emergency."