Texas reported its first home-grown case of Zika virus infection Monday — making it the second U.S. state with mosquitoes spreading the virus.
It's a long-feared development but not a surprising one. Like Florida, South Texas is home to the Aedes aegypti mosquitoes that spread Zika and also hosts many travelers to and from countries where the virus has been spreading.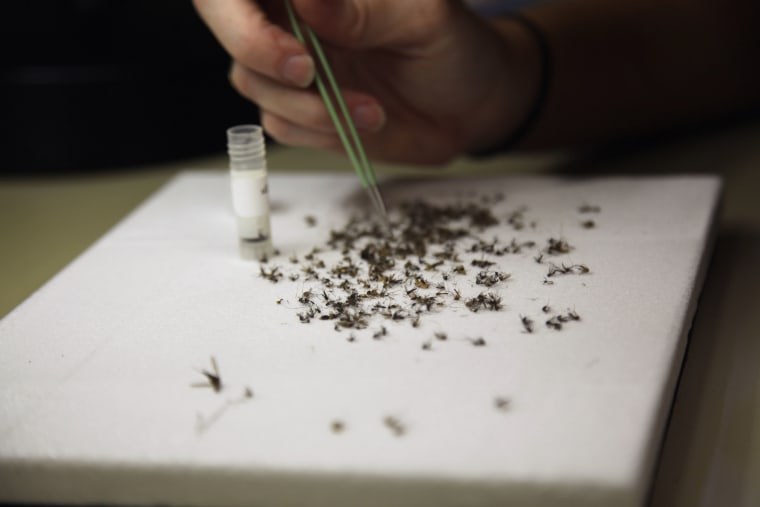 "The patient is a Cameron County resident who is not pregnant and who was confirmed last week by lab test to have been infected. She reported no recent travel to Mexico or anywhere else with ongoing Zika virus transmission and no other risk factors," the Texas Department of State Health Services said in a statement.
Related: Could Texas Become a Zika Hotspot?
"Laboratory testing found genetic material from the Zika virus in the patient's urine, but a blood test was negative, indicating that the virus can no longer be spread from her by a mosquito. There are no other cases of suspected local transmission at this time, but health officials continue to conduct disease surveillance activities as part of the state's ongoing Zika response."
Related: NBC's Full Coverage of the Zika Virus Epidemic
Zika has spread far and wide across Central and South America and the Caribbean. Florida has reported more than 200 locally acquired cases.
It causes a mild infection in most people but can cause severe birth defects if a pregnant woman gets it.
"We knew it was only a matter of time before we saw a Zika case spread by a mosquito in Texas," Texas State Health Commissioner Dr. John Hellerstedt said in a statement.
"We still don't believe the virus will become widespread in Texas, but there could be more cases, so people need to protect themselves from mosquito bites, especially in parts of the state that stay relatively warm in the fall and winter."
"We knew it was only a matter of time before we saw a Zika case spread by a mosquito in Texas."
The Centers for Disease Control and Prevention is helping the state investigate. The Brownsville area has had outbreaks of dengue, a virus closely related to Zika and carried by the same mosquitoes.
"Residents, especially pregnant women, should take steps to protect themselves from mosquito bites," the CDC advised.
Related: Who Should Worry About Zika?
"They should use an insect repellent registered by the Environmental Protection Agency (EPA) containing one of the following ingredients: DEET, picaridin, IR3535, oil of lemon eucalyptus or para-menthane-diol, or 2-undecanone, wear long-sleeved shirts and long pants, use or repair screens on windows and doors, use air conditioning when available, and remove standing water inside and outside where mosquitoes can lay eggs."
The CDC says it's got reports of more than 4,400 cases of Zika in the U.S., including more than 1,000 among pregnant women. All, with the exception of the local cases in Florida and now the single case in texas, have been related to a traveler bringing the virus back. Because Zika doesn't usually cause severe symptoms, the CDC says many more cases are unreported.
Now Texas state health officials, local officials and the CDC will be testing people and mosquitoes near where the woman lives and works to see if any other people may have had Zika and not been diagnosed.
The CDC advises pregnant women to stay away from places where Zika is actively spreading if at all possible. That included parts of Miami as well as Puerto Rico, a U.S. territory heavily hit by Zika.