Zika virus is going to start spreading in the U.S. and the country's not ready for it, experts said Tuesday.
It probably won't spread much — most U.S. areas don't have the right conditions for widespread transmission of the virus — but even a little is too much, the officials said.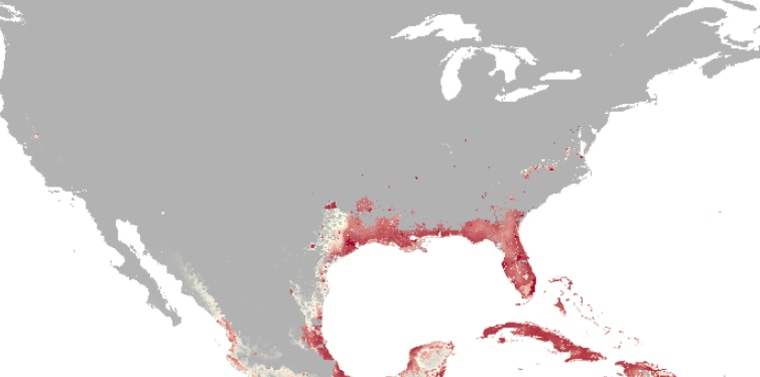 And preparations are uneven, said Scott Weaver of the University of Texas Medical Branch.
"One of the problems in the United States is that we have a patchwork of mosquito control programs that are generally run at the county level," Weaver said at a news conference at the end of a meeting of Zika experts at Emory University in Atlanta.
"We have nothing at the national level other than advice from the CDC and most states do not even coordinate their programs at the county level very well so. Some very poor communities have virtually nothing available. Some wealthy counties have very sophisticated programs."
Related: U.S. Isn't Ready for Zika
Zika is spread mainly by the Aedes aegypti mosquito, which also spreads yellow fever, dengue virus and chikungunya virus. There's a vaccine against yellow fever, but none against Zika, dengue or chikungunya and there have already been several small outbreaks of dengue and chikungunya in the southern U.S.
Plus the virus spreads sexually, although mosquitoes spread it faster.
"It's not just enough to put signs in the airport."
Hundreds of travelers have also brought Zika back with them from areas where it's spreading fast – central and South America, the Caribbean and parts of the South Pacific. Once mosquito season starts, the U.S. could have small, local outbreaks.
"Very likely we will," Dr. Anthony Fauci, director of the National Institute for Allergy and Infectious Diseases, told a separate briefing at the Pan American Health Organization's headquarters in Washington, D.C.
Related: Zika Virus Birth Defects May be Tip of the Iceberg
Zika can also be spread by Aedes albopictus mosquitoes – the Asian tiger mosquito that is becoming far more common in northern states.
"In the U.S., the range of Aedes albopticus occupies more states than Aedes aegypti," Fauci said. But he doubts it will spread Zika much. Aedes aegypti has usually been the main spreader of Zika, he said.
"I think that the risk of Zika virus beginning to circulate in the United States in the mainland — it's already in Puerto Rico of course — is going to be peaking during the next few weeks," Weaver said.
"That's because the number of travelers coming into the U.S. with Zika is very high, the temperatures are permissive now for mosquito transmission and populations of mosquitos are growing. With rainy seasons coming on in central America and the Caribbean, that could even increase the number of imported cases more."
Related: Should I Worry About Zika?
The Centers for Disease Control and Prevention, National Institutes of Health and their parent Department of Health and Human Services say they need money to help state and local governments prepare. They need money for better Zika tests, for research on treatments and to help develop a vaccine.
"It's not just enough to put signs in the airport," said Emory University's Dr. Raymond Schinazi.
They also need to study Zika, which causes often catastrophic birth defects as well as neurological problems such as the paralyzing Guillain-Barre syndrome. Zika killed a man in Puerto Rico last week.
But the White House is in a battle with Congress over paying for all this. President Barack Obama has asked for $1.9 billion in emergency funding for the work. Republicans in Congress say they don't think that's the best way to do it and want more accountability for the money, perhaps through the regular appropriations process, which can be extremely slow.
"This is absolutely essential," Fauci said. "We need the $1.9 billion."
Fauci has said he is raiding other funds for now, but may have to cut back on spending to fight malaria, tuberculosis and other diseases if Congress doesn't approve the money soon. One bit of progress: a Zika vaccine could start being tested in people in September.
"Unfortunately a lot of the scientists in the United States are waiting for the floodgates to be opened with funding because a lot of the work that has been done so far has been done with a shoestring budget," Schinazi said.
Much of the immediate effort should focus on getting rid of mosquitoes, the World Health Organization says.
Brazil, where the epidemic is worst, had eliminated the Aedes mosquitoes in the middle of the last century. But it required heavy use of DDT to do it, and the effects on wildlife were devastating. DDT spraying is no longer done in the United States.
Related: Baseball May Postpone Puerto Rico Series Due to Zika Fears
And Weaver says current mosquito-control methods just don't work well against Aedes aegypti, which live very close to people. They tend to breed in homes and yards.
"If you just spray an aerosol of insecticides up and down the streets, like we typically do in the U.S. or out of airplanes in some locations, those insecticides are not likely to penetrate into people's houses where the mosquitoes are resting," Weaver said.
"We need the $1.9 billion."
"So we have to use very different strategies. We have to first of all get people to remove standing water containers from their yard," Weaver added.
"The best kind is to go inside people's houses and spray residual insecticides on the walls and their closets in dark places where mosquitoes like to rest, which is extremely labor intensive."
Plus the CDC says the mosquitoes have developed resistance to some of the insecticides.
"Aedes aegypti is a very difficult mosquito to control and eliminate. It will require a very aggressive and concerted effort," Fauci said.