HOUSTON — Congress starts its final week of the summer Monday with no Zika legislation in sight.
Six months of battling has ended with little agreement on how to prepare the country for a virus that causes horrific birth defects — and that doctors, public health experts and scientists universally agree is certain to come to U.S. shores.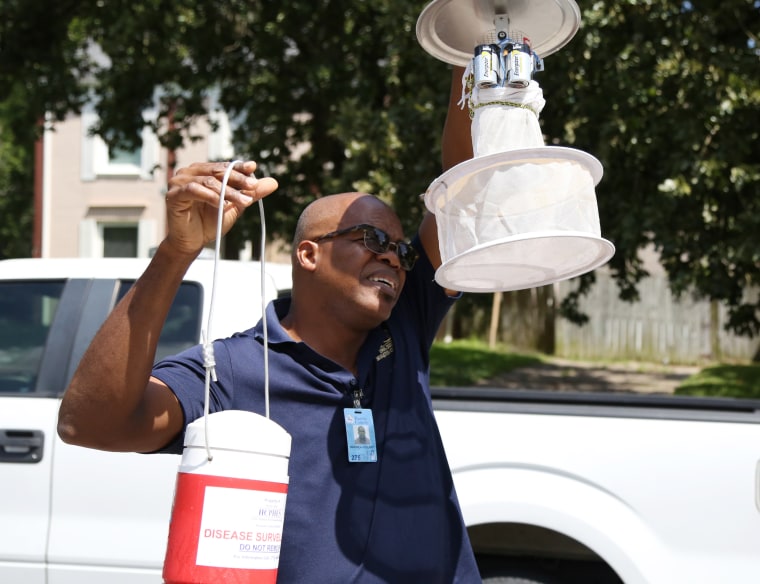 And in Houston, there's little hope that help is coming.
"I am concerned that the goose is cooked. This funding is done. It's not coming to us," Dr. Umair Shah, executive director of the Harris County public health and environmental services department, told NBC News in an interview.
"This funding is done. It's not coming to us."
Mosquito season is now in full swing across the United States. The Centers for Disease Control and Prevention has registered 1,133 cases of Zika infection — all brought by travelers from Zika-affected areas. The CDC now counts 320 pregnancies affected by Zika in the states, and another 279 in Puerto Rico and the U.S. Virgin Islands.
Related: Is DEET Safe" What Happens if You Get Zika?
And the first Zika patient has died in the continental U.S. — a patient reported on Friday by officials in Utah.
With so many cases being carried to the U.S., it's only a matter of time before there are local outbreaks, predicts Dr. Mustapha Debboun, the director of mosquito control for Harris County, Texas.
"It only takes one mosquito to take that blood meal and catch Zika from a person," Debboun told NBC.
A CDC map shows the Aedes aegypti and Aedes albopictus mosquitoes that can carry the Zika virus are found in 40 states and in Washington, D.C.
All it will take, Debboun said, is for someone actively infected with Zika to be bitten by one of these mosquitoes and for the insect to live long enough for the virus to build up in its salivary glands. Then, if it bites someone else, there's local spread of Zika.
"The question is not if, but when."
"The question is not if, but when," Debboun said. "The dynamics are there. The agent is there."
Zika rarely kills and rarely causes serious disease. The big threat is to unborn children. Like many other viruses, Zika can cause serious birth defects.
President Barack Obama asked for $1.9 billion at the beginning of February to develop vaccines, to study the effects of the virus and to help get the country ready by eradicating mosquitoes as much as possible and educating people about how to protect themselves.
Republicans in Congress repeatedly stalled bills that would have supplied at least some of the funding, forcing the administration to cobble together $500 million from other programs to get started. Then last month, Republicans offered a $1.1 billion plan as part of another bill, but Democrats said it was full of "poison pills" that attacked Planned Parenthood and eased pesticide regulations.
RELATED: 'No Way to Handle an Epidemic'
Federal health officials have been privately expressing doubts for weeks that the money is coming, while publicly urging Congress to approve the cash now.
Even if Congress voted to approve the money tomorrow, it would still take weeks and months to get to the federal agencies, the cities and the counties that need it, Shah pointed out.
"It has to go through the Health and Human Services Department and then through the CDC — do you think this is going to happen in a couple of minutes? It's too late. Mosquito season is here," he said.
"We don't need the Thanksgiving turkey. We need the money now."
"It's too late. Mosquito season is here."
And so Harris County, like counties across the South, has started shifting money and people away from other already overstretched programs.
"Here we are, robbing Peter to pay Paul," Shah said. "Diabetes doesn't stop. People are still having strokes. The last time I checked, tuberculosis had not been eradicated. Now we have to pull people from other places because Zika is so important."
It's a huge undertaking for a county bigger than Rhode Island and home to 4.6 million people.
"In the absence of federal funds, it all falls on state and county authorities," said Dr. Peter Hotez, dean of the school of tropical medicine at Baylor College of Medicine in Houston.
Like most of Texas, Harris County already has a giant mosquito control program aimed at West Nile virus. But the mosquitoes that carry West Nile are Culex species — the typical night-biters that breed in open pools of water.
The Aedes species that spread not only Zika but yellow fever, dengue and chikungunya, are different. They breed in and around homes and bite during the day. They need a completely different approach.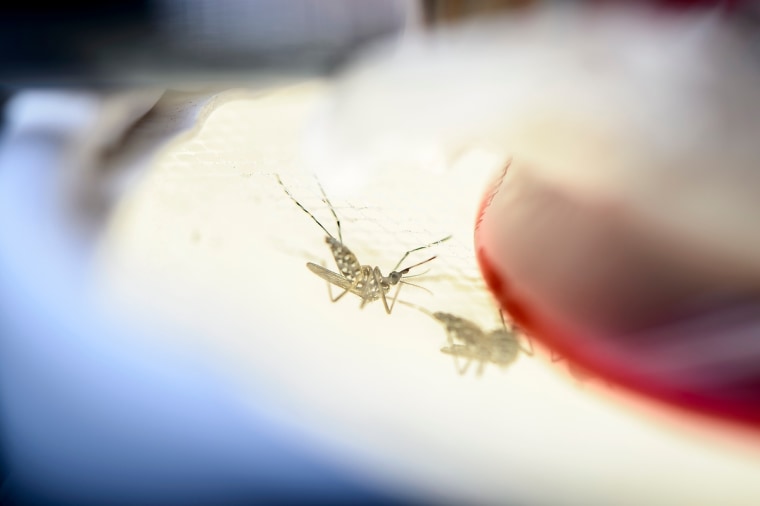 "We cannot spray our way out of this situation," Shah said. Instead, piles of trash must be cleaned up, people need to be shown how to remove the tiny containers around their homes where the Aedes mosquitoes breed, and a whole new surveillance approach must be put into place.
"We need more trucks, more equipment, more educational materials," Debboun said.
The county's upgrading its central mosquito control lab so that staff there can test mosquitoes to see if any are carrying Zika. Right now, the lab must send samples to the University of Texas Medical Branch in Houston, the nearest lab that has the sensitive tests that can detect Zika. Turnaround time is two weeks at the fastest, often longer.
That means Zika could start spreading before anyone even knows.
"Transmission might already have started on the Gulf Coast and we would have missed it," Hotez said.
"We are at peak mosquito season," he added. "It's a delayed catastrophe. This is why we need the federal funds."
"You really could see the whole thing play out in a tragic way after the election. You may see things play out in the spring."
Many of those most at risk have no medical care. Texas has the most people in the U.S. without any kind of health insurance — with 16.8 percent of the population lacking coverage. "My worry is that we have already had Zika cases here in South Texas but they are not seeking medical attention. These are people who don't have access to healthcare," Hotez said.
"I am worried they are just going to ride it out, tough it out at home."
Dr. Ann Barnes, chief medical officer for Legacy Community health, a non-profit health network, agrees.
"We are definitely worried that what will happen is that individuals will be bitten. They will not recognize that they are at risk for the virus and will go undiagnosed and untreated," she said.
If even some are pregnant women, they risk having children nine months from now with severe birth defects such as the brain damage that causes microcephaly, a small and deformed head.
"Potentially, we could have a lot of children born with these conditions," Barnes said.
But by then, the November election will have passed and a new Congress will be in place.
"You really could see the whole thing play out in a tragic way after the election. You may see things play out in the spring," Shah said.