Florida health officials are checking on the latest case of Zika virus there — in someone who doesn't appear to have traveled to an affected zone and who doesn't appear to have been infected sexually by a traveler.
This may turn out to be the first instance of Zika spreading locally in the continental U.S.
If so, it will fulfill predictions made by the head of the Centers for Disease Control and Prevention and the top infectious disease doctor at the National Institutes of Health, as well as countless experts in mosquito-borne diseases.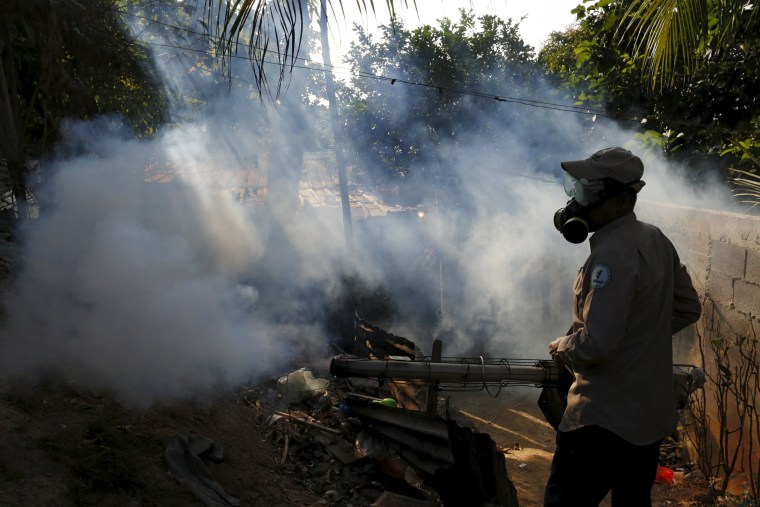 But Congress went home last week for a seven-week summer break without appropriating the money that top health officials have asked for.
The failure to approve the funds has flabbergasted top public health officials, doctors in the trenches and academic researchers alike.
Now Florida is trying to track down the virus with its own resources, and with $2 million from the CDC — much less than it would normally need for the effort. President Barack Obama called Florida Governor Rick Scott Wednesday to talk about the case, and to promise another $5.6 million from the CDC.
Related: Zika Mystery in Utah
But it's far short of the money Florida should already have had, health officials say.
"This is a disturbing yet predictable development that is precisely why Congress needed to approve emergency funding," said Florida Rep. Vern Buchanan, a Republican who fought for the funding.
"They leave with impunity. They don't care."
"Washington's failure to approve emergency funding was a national disgrace that needs to be corrected as soon as Congress returns from its summer recess."
CDC director Dr. Thomas Frieden has said it's a matter of when, not if, the virus will start spreading in parts of the U.S. It's already at epidemic proportions in Puerto Rico, a U.S. territory, and thousands of travelers have come to U.S. soil infected.
All it will take is for an Aedes mosquito to bite someone who's infected, and then bite someone else. If that someone else is a pregnant woman, it could be disastrous for her baby.
"It really is outrageous," said Rep. Rosa DeLauro, a Connecticut Democrat who's been fighting for the funding for months.
"I think it's criminal neglect," she said.
President Barack Obama started asking for $1.9 billion to fight Zika back in February. Unusually, Congress balked, for months.
Related: White House Shifts Funds for Zika Fight
Republicans said they wanted accountability, but Frieden and others say they have provided a detailed accounting for the money. Democrats overwhelmingly support the funding, but say they were forced to vote against a bill offered by Republicans in late June that was loaded with provisions they couldn't support – an age-old tactic known as "poison pills".
But it's unlikely voters will hold Congress accountable, said DeLauro.
"We are off for seven weeks. And they leave with impunity. They don't care," she told NBC News.
The seven-month standoff has astonished public health experts and politicians alike.
Related: Your Questions About Zika, Answered
"This funding issue has created the crisis," said James Hodge, director of the Public Health Law and Policy Program at Arizona State University's law school.
"We have got all the tools. We have got all the personnel, we have got reasonably good information about the Zika virus, what it is what it does. We just don't have the resources to fight it."
Health experts have pointed out several times that Zika causes a delayed disaster. The virus doesn't make most people sick. The biggest damage is to developing babies.
And if Zika's just now starting to arrive in the U.S., its effects may not show up for months. Studies show that microcephaly—the abnormally small heads that are a result of profound brain damage – are just the most obvious of the many birth defects the virus can cause.
"We had a chance to do something about this and we didn't."
"It's really about a potential Zika generation of infants," Hodge told NBC News.
"We are talking about a generation of kids whose potential disabilities will not be showing up for years.," he added. "Who's really going to be held accountable for this?"
The November elections will be over by the time babies born by home-grown Zika are born in the U.S.
"We had a chance to do something about this and we didn't," Hodge said.
"The tragedy runs deeper than the number of babies who will be harmed and the spread of disease that Congress has ignored," said American Public Health Association executive director Dr. Georges Benjami.
"It doesn't make sense. It's irresponsible and it will place tremendous strain on public health departments and communities. Even when Congress comes back, the situation will be worse and require more resources to appropriately combat."
"There is no advantage to ignoring a public health threat like this."
DeLauro sputters with anger when she talks about it.
"They don't do that in a military emergency. They don't do that in a disaster," she said.
"If we can declare a hurricane, a flood…as an emergency, why can't we do it for public health? It is a politics that is beyond belief. Why? Why?"
Hodge says Republicans fear they are being asked to spend money unnecessarily. "They think CDC and perhaps others have cried wolf," he said. Ebola did not actually threaten the United States, although it was a disaster in West Africa, killing 11,000 people.
Related: NBC Full Coverage of the Zika Virus
Public health experts point out Congress appropriated $5 billion for Ebola in 2014 and much of it was used to help stop the epidemic and screen travelers before they could carry the virus to the U.S.
And eventually, Hodge and DeLauro both predict, Congress will OK the money for Zika, although it may be too late for many babies.
"There is no advantage to ignoring a public health threat like this," Hodge said.