An elderly patient who died with a Zika virus infection in Utah appears to have infected another person and doctors said Monday they are not sure how it happened.
Zika's normally transmitted by mosquitoes and it can also be transmitted sexually. But neither appears to have been the case in Utah, officials in Salt Lake City said.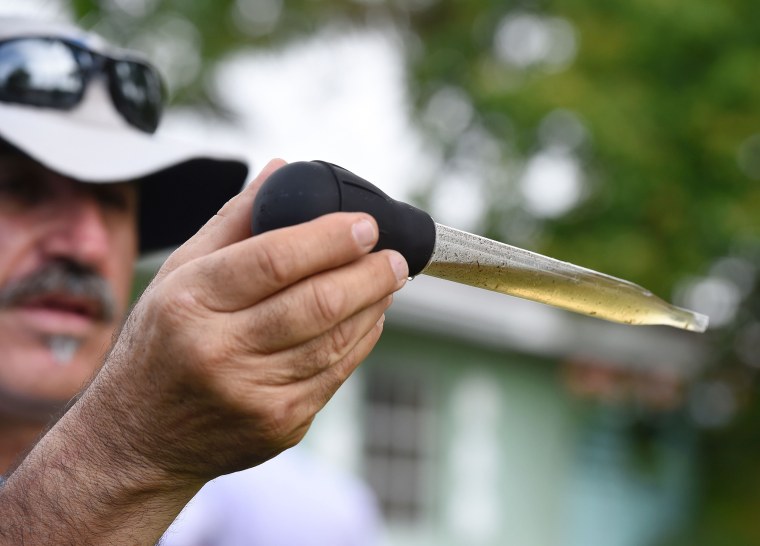 They're not releasing very much information to protect the privacy of the patient and family, only identifying the new case as a "family contact." But it's another new twist in an epidemic that seems to be flummoxing medical experts over and over.
"The new case in Utah is a surprise, showing that we still have more to learn about Zika," said Dr. Erin Staples, a Centers for Disease Control and Prevention epidemiologist who's helping in the investigation.
"Fortunately, the patient recovered quickly, and from what we have seen with more than 1,300 travel-associated cases of Zika in the continental United States and Hawaii, non-sexual spread from one person to another does not appear to be common."
Related: Zika is a Tricky Virus
The CDC says it's helping investigate, but it doesn't appear to mark an alarming new method of transmission for Zika.
"We don't have evidence that Zika can be passed from one person to another by sneezing, coughing, by hugging or kissing," Dr. Satish Pillai, the CDC's incidence manager for the case, told reporters.
The first patient's death was reported July 8 and it was the first Zika-related death in the continental U.S. An elderly man died from a Zika infection in Puerto Rico in April.
"The new case is a family contact who helped care for the individual who died from unknown causes and who had been infected with Zika after traveling to an area with Zika," the Salt Lake County Department of Health said in a statement.
"We do believe this is a unique situation," said Dr. Angela Dunn, deputy state epidemiologist at the Utah Department of Health.
"We do believe this is a unique situation."
The patient had an unusually high level of Zika virus in his blood, Dunn told a news conference.
"The deceased patient had traveled to an area with Zika and lab tests showed he had uniquely high amounts of virus—more than 100,000 times higher than seen in other samples of infected people—in his blood," the CDC added.
"Our knowledge of this virus continues to evolve and our investigation is expected to help us better understand how this individual became infected," Dunn said in a statement.
"Based on what we know so far about this case, there is no evidence that there is any risk of Zika virus transmission among the general public in Utah."
Related: Woman Infects Man With Zika
Zika is not normally deadly and it usually is not even very serious. By most reports, only about 20 percent of patients even notice their symptoms, which at worst are rash, fever and muscle aches.
Zika is most dangerous to developing fetuses. When a pregnant women is infected, the baby can develop horrendous birth defects. Like many other infections, Zika can also cause a rare paralyzing condition called Guillain-Barré syndrome.
"It has got to be a body fluid type of transmission event here."
Utah officials say they will be testing mosquitoes in the area just to be sure none of them could be carrying the virus, but Utah is not known to have the Aedes aegypti mosquitoes that usually transmit Zika.
They are also testing other close contacts of the patient.
It will be important to get more details about the case, said Dr. Amesh Adalja of the University of Pittsburgh Medical School Center for Health Security and a spokesman for the Infectious Diseases Society of America.
"It has got to be a body fluid type of transmission event here," Adalja told NBC News.
"Was this person drawing blood? Was she assisting in blood draws? Was she exposed to urine? Was she exposed to saliva?" he asked. It's possible it was a so-called needle-stick accident -- when someone administering drugs or drawing blood with a needle gets a puncture and becomes infected.
What the case does demonstrate is the importance of good hygiene and protection when caring for any patient, the CDC and the American College of Obstetricians and Gynecologists both said.
"I think this is a good example of why we should never take chances," the CDC's Dr. Michael Bell told reporters in a telephone briefing.
"Health care professionals who provide care to women during labor and delivery should be aware of the potential for transmission of the virus through bodily fluid," ACOG said in a statement.
Related: Answers to Your Zika Questions
"It's hard to know but we don't know all the details of how this man died," Adalja added.
"He was discovered to be positive for Zika post-mortem. We don't know how it contributed to the person's death."
Zika has been unusually confusing because until last year, few considered it a dangerous or even an interesting virus. It wasn't until it hit Brazil that it was considered a big threat -- when it began to make many people noticeably ill and then started causing an increase in birth defects.
"When you have this sort of large-scale outbreak with so many cases, you are going to find out a lot about the virus," Adalja said.