The Zika virus was spreading in northeastern Brazil for as long as a year before anyone noticed, and for weeks and months in places like Miami and Honduras, new genomic studies show.
Their findings show that new infections can get a good foothold before alarm bells sound, but also demonstrate that keeping a closer watch can pay off.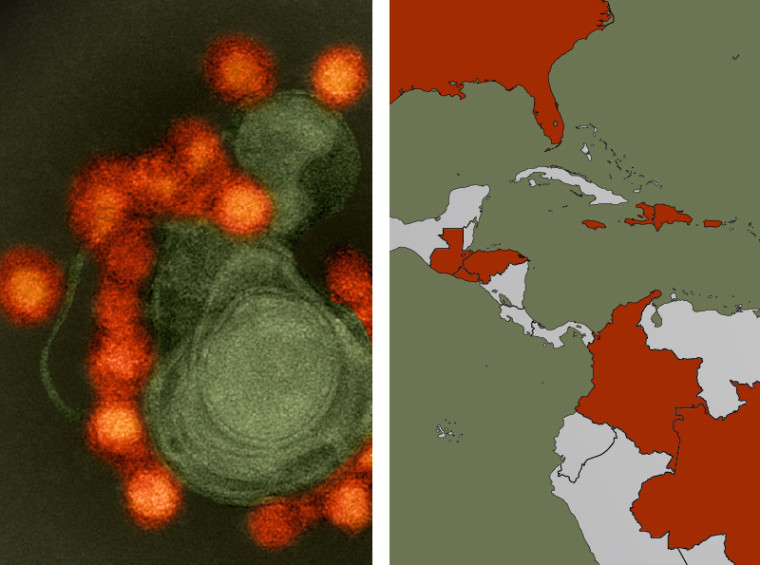 And there's some reassuring news for the U.S. — the virus does not seem to be able to spread in Florida as effectively as it does in Brazil, and using pesticides to kill mosquitoes worked to stop it.
But travelers from affected areas will almost certainly continue to bring it into the U.S. as they have been doing, the researchers noted.
Three international teams of researchers sequenced and studied the genomes of the mosquito-borne virus to trace its origin and spread across the Americas. It was first noticed in Brazil in 2015, and spread quickly.
"The virus appears to have been circulating long before the first cases were reported," said Pardis Sabeti, whose lab at the Broad Institute of MIT and Harvard University conducted much of the work in one study.
They used a genetic clock to calculate this, taking samples from people and mosquitoes and looking carefully at the DNA.
"We were way behind the curve on Zika."
"Different organisms have different mutation rates," Sabeti told NBC News.
"They often have a pretty predictable pattern and timing. The more we understand them, the more we can use the accumulation of mutations as a tick of a clock to understand how long a virus has been around."
Sabeti's team authored one of three studies published in the journal Nature Wednesday showing that Zika was flying under the radar for some time in the Americas.
Zika appears to have taken hold in people and mosquitoes in Brazil in late 2013 or early 2014, and in Colombia, Honduras, Puerto Rico and other Caribbean nations as long as nine months before the first cases were reported in each place.
It's not a surprise that the virus — never before seen outside Africa, Asia and the Pacific — would go undetected. Zika doesn't cause symptoms in four out of five people and, even when it does cause symptoms, they are not usually serious.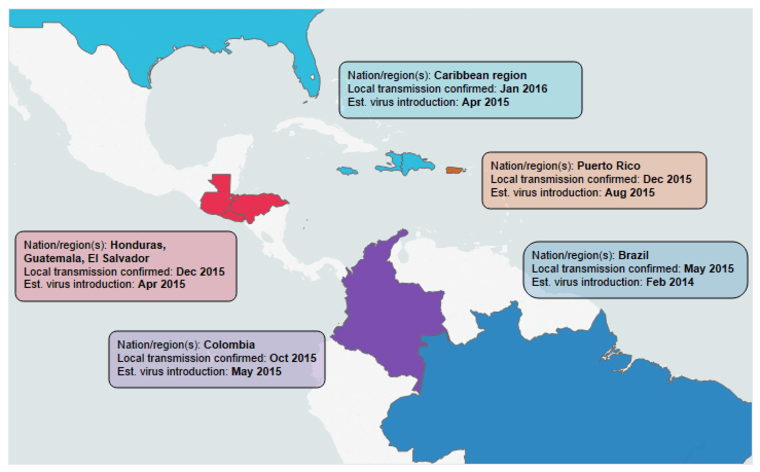 And it looks a lot like other infections, notably its close relative dengue, which is also carried by mosquitoes.
But since it hit Brazil, doctors have learned that it can cause devastating birth defects and sometimes life-threatening reactions in a few people.
"We were way behind the curve on Zika," said the Broad Institute's Bronwyn MacInnis. "We need to be well ahead of the next emerging viral threat, and genomics can have a role in achieving this."
A team at the U.S. Army Medical Research Institute of Infectious Diseases (USAMRIID), The Scripps Research Institute, Oxford University and elsewhere found evidence Zika had been in Florida since the spring of 2016. The first locally transmitted cases were reported in July.
Related: Miami Fights Zika Outbreak
"We show that at least four introductions, but potentially as many as 40, contributed to the outbreak in Florida and that local transmission likely started in the spring of 2016 — several months before initial detection," they wrote in their report in Nature.
The genetic lineage shows that whoever carried the virus in their bodies to Florida mostly came from infected areas of the Caribbean — probably the Dominican Republic and Guadeloupe — and some from Central America.
"Combining the infection rates with travel capacities, we estimated that around 60-70 percent of Zika-infected travelers arrived from the Caribbean," they wrote.
The virus spreads when an Aedes aegypti mosquito bites an infected person and then bites someone else. In Brazil, there were enough infected people and enough mosquitoes for this to mean that each infected person infected about three other people. But in Miami, with fewer mosquitoes, air conditioning and screens, not everyone infected even one other person. So the virus was easier to control.
Just this week, a congressional committee heard complaints that U.S. officials struggled to properly diagnose people at the beginning of the outbreak, in part because there were not good tests and they were not calibrated well.
Related: U.S. Women Not Getting Zika Followup
But one international team developed a portable, fast, hi-tech genomics test and took it on the road across Brazil.
They got a boatload of Zika samples from 1,300 patients.
"We developed a new protocol that allows for real-time genomic sequencing — something of vital importance when managing viral outbreaks as it can provide real insight into how a virus is spreading, transmitting and evolving," said Nick Loman, of the University of Birmingham's School of Biosciences, who worked on that study.
"The responses to the recent Ebola and Zika outbreaks ... have looked too much like valiant bucket brigades organized after the fire is out of control."
"We also found that northeast Brazil, which was the region with the most recorded cases of Zika and microcephaly, was the nexus of the epidemic in Brazil and played a key role in its spread within Brazil to major urban centers, such as Rio de Janeiro and São Paulo, before spreading across the Americas," added Oxford University's Oliver Pybus.
Michael Worobey, an expert on the evolution of viruses at the University of Arizona, who was not involved in the studies, said they show it is possible to be on top of new disease outbreaks.
"Such work is possible mostly through the sustained efforts of a fairly small number of scientists supported by modest grants from a few enlightened funders," he wrote in a commentary.
Governments could pay to do far more, he suggested.
Related: South Texas Has a Yellow Zika Zone
He compared it to fire watch efforts in the dry U.S. West, where lightning strikes are tracked and teams are sent to tackle small fires immediately.
"This mentality needs to be applied to emerging infectious diseases," Worobey wrote.
"The responses to the recent Ebola and Zika outbreaks undoubtedly involved great courage and ingenuity, but they have looked too much like valiant bucket brigades organized after the fire is out of control."