Officials for the Rio Olympics committee tried to reassure athletes and visitors on Tuesday that Zika will not be a big risk to the games in August.
Health officials say they expect much less activity by the Aedes aegypti mosquitoes that carry Zika as the weather gets cooler and drier.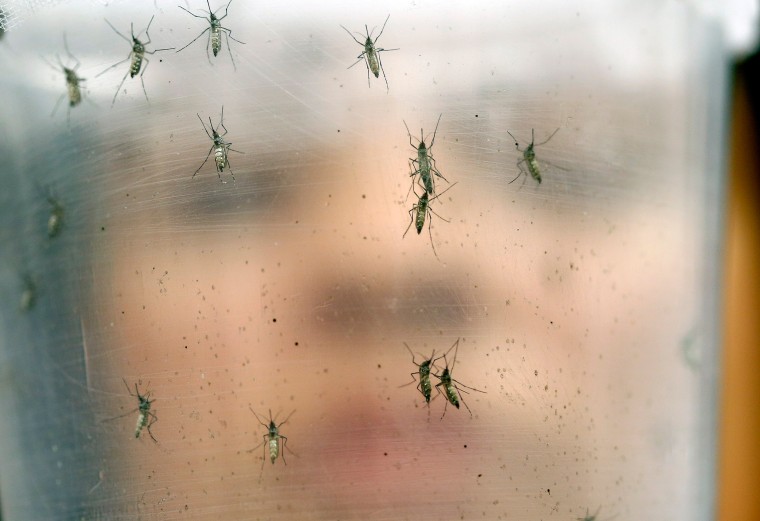 "It is worth knowing that the incidence of the mosquito that transmits the virus is extremely low in August and September, which is winter in Brazil and the period in which the Rio 2016 Games will take place," Dr. João Grangeiro, Rio 2016's chief medical officer, told a news conference.
"Furthermore, we have conducted 44 test events this year, the majority of them in the summer, the peak period for Zika," Grangeiro added.
"One pregnant woman infected is too many."
"With more than 7,000 athletes, 8,000 volunteers and 2,000 staff participating, there was not a single case of contamination (infection)." It was not immediately clear if everyone had actually been tested for Zika – the virus doesn't cause any symptoms in most people infected, experts have reported.
Studies back up the claims that 500,000 athletes and fans scheduled to attend the Olympics will not be at an unusually high risk of infection.
Researchers at the University of Sao Paulo reported in the journal Epidemiology & Infection last April that the Olympics would result in no more than 16 additional cases of the disease.
Related: Zika, Pregnancy and Sex Questions Answered
And there is already a huge amount of international travel to and from Brazil and other affected countries. "Based on current assessment, cancelling or changing the location of the 2016 Olympics will not significantly alter the international spread of Zika virus," the World Health Organization says.
Zika virus started sweeping across Brazil last March, and the country raised the alarm last November. WHO declared Zika's renewed spread a global health emergency when it started becoming clear that the mosquito-borne virus was causing severe birth defects.
It's still not clear what the risk is to a pregnant woman, but Brazil has documented a big increase in the number of cases of microcephaly — caused by severe brain damage — and other birth defects in newborns. The virus has now spread to 39 countries in Latin America and the Caribbean and is also spreading in southeast Asia and the Pacific.
As with many other infections, it can also cause paralyzing conditions such as Guillain Barre syndrome.
Zika's a close relative of dengue virus, which is also circulating in Brazil and is carried by the same mosquitoes. Brazilian health officials have watched dengue outbreaks wax and wane and say its pattern supports their argument that there will be little risk to visitors in Rio in August.
Related: If I Get Zika, It's Not the End of the World
The committee is also working to control mosquitoes, said Mario Andrada, executive communications director for Rio 2016. That includes daily patrols to eliminate the standing water that the insects breed in.
"One pregnant woman infected is too many," Andrada told the news conference.
"But we understand that protections can be achieved with information. Athletes and tourists will be briefed before getting to Brazil and briefed once they get here on how to protect themselves."
A handful of athletes have said they're not going to compete in Rio because of Zika fears, and TODAY host Savannah Guthrie announced Tuesday she was pregnant and thus would not go.
"The doctors say that we shouldn't because of the Zika virus, so I'll miss it," she said on the show Tuesday.
"Athletes and tourists will be briefed before getting to Brazil and briefed once they get here on how to protect themselves."
WHO and the U.S. Centers for Disease Control and Prevention have both advised pregnant women or women planning to become pregnant soon to stay away from Zika-affected areas. And because the virus can be sexually transmitted, they've cautioned men to take care not to infect any woman who might be or become pregnant.
Andrada said Zika fears had not greatly affected ticket sales.
"We had a moment where everybody felt that ticket sales were going slow," he said. There's been an increase in sales over the past six to eight weeks, he added.
"I think this is not a competition between athletes who are coming and athletes who are not coming," he said. "Our job and our mission is to make sure that athletes who come find Rio a safe city."
Next week WHO has scheduled a Zika emergency committee to assess the latest status of the virus.