Apple on Monday unveiled its most ambitious hardware effort since the iPhone: a $3,499 headset that features virtual reality and augmented reality technology.
Apple announced the headset, called Apple Vision Pro, at its Worldwide Developers Conference held at its Cupertino, California, headquarters. The company also announced new versions of its Macbook laptops and updated operating systems for most of its hardware.
Apple CEO Tim Cook introduced the headset at the end of a lengthy presentation using the "one more thing" phrase that co-founder Steve Jobs liked to toss in when dropping major new products.
"This is a day that's been years in the making," Cook said.
The headset becomes the most recent entry into the wider VR market, which includes Meta's Quest, Valve's Index and a handful of other competitors. Apple said it will be available early next year.
Apple showed a variety of uses for the headset: 3D apps, immersive movies, educational content, web surfing and video games. In business settings, it can replace monitors and use many of the same web browsers and applications used in the workplace, including Microsoft and Adobe applications.
Apple's Vision Pro immediately becomes the priciest and most advanced VR headset on the consumer market, with a variety of different features including the ability for the headset to adapt to a user's environment.
The headset also allows users to look through the headset and change the display using their eyes, hands and voice. The display on the headset adapts to a user's surroundings, but can also extend into an immersive environment, adjustable by the user. Unlike other AR headsets, the technology uses a feature called "eyesight" allowing a user's eyes to be visible and detect when others are approaching the user.
During the event, Disney CEO Bob Iger announced the company would collaborate with Apple to ensure its streaming platform Disney+ would be equipped with new Vision Pro features from the headset's launch. In a short video, users were seen using the device to get live game stats, bring Disney characters like Mickey Mouse to life, and bring Disney World's Magic Kingdom into their home.  
Hundreds of apps for the iPhone and iPad will be adapted for Vision Pro, as well as new apps exclusive to the Vision Pro App Store. A few new apps shown in the presentation included an app that created an educational 3D model of a heart to help students learn, alongside some entertainment apps like "DJ," which allows users to access a DJ set in their living room.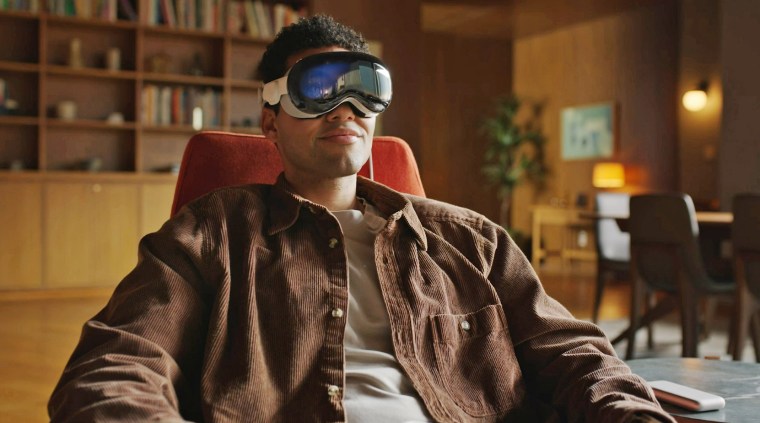 Many longtime Apple features found on an iPhone have been adapted to the device including FaceTime. In order to use FaceTime, users will scan their faces using the headset's cameras, which will then create a "persona." This persona will be shown on FaceTime calls. The headset will detect the user's face and hand movements to also move the persona. Other video conferencing applications like Zoom, Teams and Webex will also be available on Vision Pro. 
The cameras on the device allow users to take photos and videos using the headset, as well as access photos and videos taken on the users' other devices.
The headset comes at a pivotal time for both Apple and virtual reality technology. Apple remains a behemoth in the tech world, valued at almost $3 trillion. But in spite of products like the iPad, Apple Watch and AirPods, technologists and industry analysts have wondered for more than a decade whether Apple can make another category-defining product on the order of the original iPhone. 
VR tech, meanwhile, has been around for decades without ever breaking through to mass mainstream appeal. More recent investments by other tech companies into VR experiences — sometimes called the metaverse — have generally been regarded as middling at best. No company has managed to create a must-have case for headsets, a truly irreplaceable daily need that only that technology can satisfy.
Still, Apple has a proven ability to push the public to adopt new technologies. The iPhone was not the first smartphone, but Apple made having one at first a mark of status, and eventually the way tens of millions of people conduct the logistics of work, romance and travel. And its products have catalyzed and occasionally reinvented whole industries. Its smartphone put social media at the world's fingertips, the App Store launched millions of companies, and iTunes upended the music business.
Now it has to fight it out with Google and Meta for dominance. Meta, named for Facebook co-founder Mark Zuckerberg's ambition to usher in a virtual-reality metaverse in which people will socialize and work, is the market leader at the moment. But that market is unproven. While Apple sells more than 200 million iPhones each year, the entire market for headsets comprises fewer than 9 million units per year.
If Apple's headset proves capable of succeeding where other VR headsets have not, it would give the company a major foothold in what some tech analysts still see as an area of future growth. The consultancy McKinsey & Company said in a report that the metaverse could create $5 trillion in value by 2030. 
This is a developing story. Please check back for updates.