They're killing off traditional features left and right at Apple.
First, it axed the traditional headphone jack in the iPhone 7 and now, the new MacBook Pro introduced today is missing a row of function keys.
In their place is a touch bar that adapts to whatever app a person is using. If you're in Safari, you can swipe through and press a button to get to your favorite site. If you're typing an email, it will suggest quick type responses. And if you're editing a video, the controls are there too.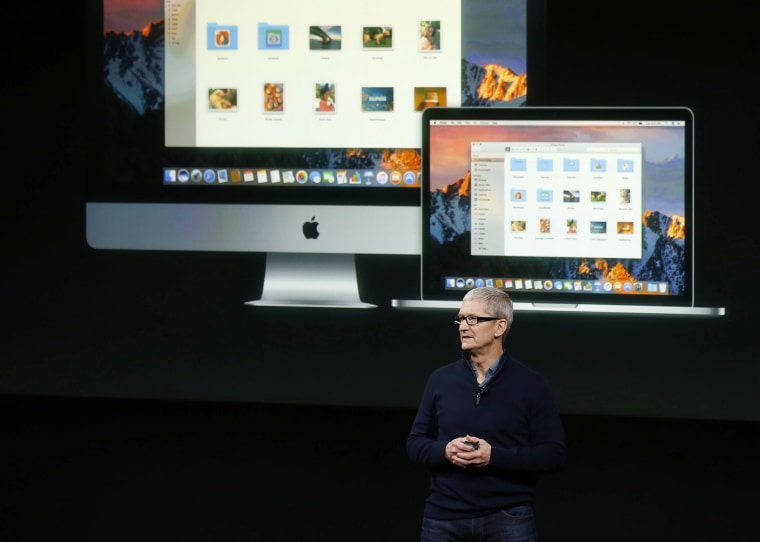 Apple's senior vice president of marketing, Phil Schiller, gave a eulogy for the missing function keys, but there's no need to shed too many tears for them — there's still a way to bring them back, with the push of a button, Apple's senior vice president of software Craig Federighi said.
Related: Apple Says AirPod Shipments Will Be Delayed
This is the first major design refresh for the MacBook Pro since 2012.
The new MacBook Pro comes in two sizes — 13-inch and 15-inch. Apple is also releasing a third computer, a 13-inch MacBook Pro, that comes with the traditional "F" row.
The touch bar comes with an additional perk: a Touch ID sensor that allows a user to log into their computer with just a fingerprint. Microsoft introduced a similar feature for supported devices in Windows 10 last year.
While the touch bar is the star feature of Apple's updated line, the new computers are also thinner, lighter, and faster than their predecessors, according to Apple.
The new releases come 25 years after Apple released its first notebook.The MacBook Pro sans touch bar is available for $1,499. The 13-inch MacBook Pro with a touch bar retails for $1,799, while the larger version is $2,399. The computers are available for pre-order starting today.
Apple also unveiled a new app that will work for Apple TV, the iPhone, and the iPad. It's a one-stop shop for keeping track of game, movie and television purchases, making it easier to watch what you want, when you want.
"Now there is a unified TV experience… across all of your devices," said Apple CEO Tim Cook.
Apps are the centerpiece of Apple TV and there are now more than 8,000, said Cook. Two of those new experiences will include live video experiences with Twitter integration, allowing users to watch the big game and get all of the reactions they love from Twitter all on one screen.
Related: Flashback: Peek inside Steve Jobs first PC
Gamers were already psyched when it was announced last month that Super Mario would be coming to the iPhone. Cook followed it up today by announcing Minecraft will be coming to Apple TV.
In other product news, Apple today announced a new website allowing people with disabilities to explore the ways in which its products are accessible. Last month, the company launched an Apple Watch update that enables people who use a wheelchair to better track their activity.