Apple has halted all sales of its products in Russia due to the country's invasion of Ukraine, a company spokesperson said Tuesday.
Apple does not have any physical stores in Russia and normally ships its phones, computers and tablets through its online stores, and also sells products through third-party retail stores there.
The company had recently stopped Apple Pay service in Russia after the United States sanctioned Russian banks.
Apple has also restricted the apps for Russian state news outlets RT and Sputnik to only be visible in Russia, according to Fred Sainz, an Apple spokesperson, and Apple Maps is no longer showing traffic in Ukraine to help protect people in the country.
The App Store will still function and users in Russia will still be able to update their software. 
Apple's announcement came shortly after Ukraine's minister for digital transformation, Mykhailo Fedorov, posted on Telegram that Apple had stopped selling its goods in Russia, along with a message of thanks to Apple CEO Tim Cook. 
Apple's announcement adds to a growing list of companies that have distanced themselves from Russia, including Disney and shipping companies UPS and FedEx. Oil giant Shell said Monday that it is exiting all Russian operations, following BP's announcement Monday to split from the Russian oil giant Rosneft. Automobile manufacturers General Motors and Volvo have suspended vehicle exports to Russia.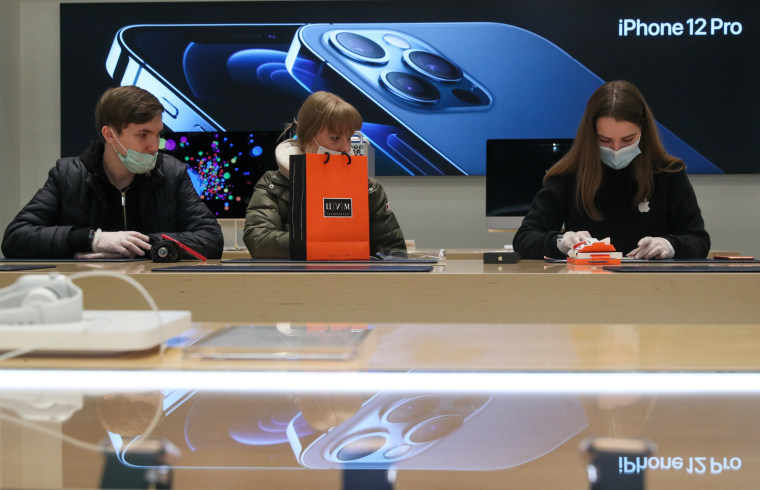 Other tech companies have also made changes related to Russia's invasion. Google has disabled its live traffic tools in its maps, while Facebook and YouTube have limited the reach of the Russian state media in the European Union.
"We are deeply concerned about the Russian invasion of Ukraine and stand with all of the people who are suffering as a result of the violence," Sainz said in an emailed statement. "We are supporting humanitarian efforts, providing aid for the unfolding refugee crisis, and doing all we can to support our teams in the region."
This is a developing story. Please check back for updates.