The crypto giant FTX and its affiliated companies have started the process of filing for Chapter 11 bankruptcy, with founder Sam Bankman-Fried stepping down as CEO.
The filing represents a staggering turn for the cryptocurrency exchange, once reportedly valued at $32 billion and seen as the face of the industry thanks to its voluminous marketing and advertising efforts.
The resignation of Bankman-Fried, 30, is stunning. He was a crypto wunderkind who graced the cover of Forbes and Fortune and had emerged as a major Democratic donor and a leader of what has been dubbed the "effective altruism" movement, which sought to reshape philanthropy.
Over the past week, the exchange faced the equivalent of a bank run as observers and customers called into question whether the exchange was both liquid — meaning it could come up with currency on demand to pay customers looking to withdraw funds — and solvent, meaning its loans and investments were worth more than its debts.
"I want to ensure every employee, customer, creditor, contract party, stockholder, investor, governmental authority and other stakeholder that we are going to conduct this effort with diligence, thoroughness and transparency," John J. Ray, the new CEO of FTX Group, said on the company's verified Twitter account.
Bankman-Fried sent out a series of tweets on Friday stating his hope that FTX would be able to continue as a going concern following its bankruptcy.
"I'm piecing together all of the details, but I was shocked to see things unravel the way they did earlier this week," he said.
Chapter 11 bankruptcy allows a company to come up with a plan to reorganize itself and keep its business alive while it works to pay back its creditors.
Media outlets have reported that the Securities and Exchange Commission and Justice Department are now investigating FTX.
The fallout from the crisis has also cascaded into Bankman-Fried's philanthropic group, Future Fund. Late Thursday, the fund's team announced it was resigning.
"We are so sorry that it has come to this," the team said in a letter, adding: "To the extent that the leadership of FTX may have engaged in deception or dishonesty, we condemn that behavior in the strongest possible terms. We believe that being a good actor in the world means striving to act with honesty and integrity."
Bitcoin, which had already been in a recent slump, declined further on Friday to as low as $16,500. It traded at around $22,000 in September.
FTX emerged as one of the most recognizable brands of the recent crypto boom, with sponsorship deals that put its logo on the Miami Heat arena and on the shirts of every MLB umpire.
Founded in 2019, FTX had within two years grown to 1 million worldwide users, with an average of $10 billion in daily trading volume. In 2021, it attracted $900 million in financing from big-name venture capitalists and hedge funds, including SoftBank Group and Sequoia Capital.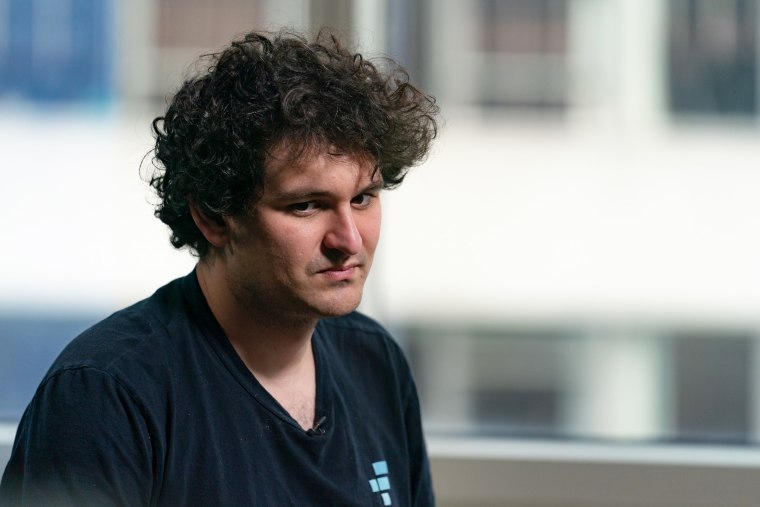 The exchange was able to leapfrog competitors thanks in part to the presence of Bankman-Fried, an unassuming physics graduate of the Massachusetts Institute of Technology who'd done a three-year stint at a Wall Street quantitative trading company and who was devoted to the philosophy of effective altruism, which dictates that charitable giving should be conducted for maximum impact.
The unraveling of FTX was precipitated by a Nov. 2 news article on the crypto news website Coindesk.com, which published a leaked balance sheet showing that assets of an affiliated trading firm run by Bankman-Fried called Alameda Research were heavily dependent on FTX's proprietary token, FTT. NBC News has not independently verified that report.
In the days following the report, rival crypto exchange Binance announced it was liquidating its FTT holdings. Despite reassurances from Bankman-Fried about the financial health of FTX, within two days, FTX was swamped with customers asking to withdraw their holdings in FTT, causing its value to plummet by 72%.
As FTX faced a sudden crisis, Binance was briefly in talks to take it over. But Binance ultimately withdrew, stating: "As a result of corporate due diligence, as well as the latest news reports regarding mishandled customer funds and alleged U.S. agency investigations, we have decided that we will not pursue the potential acquisition of FTX.com."
By Thursday, Bankman-Fried found himself looking for outside financing to rescue the platform. He also published a set of tweets that admitted to some mistakes. "I'm sorry. That's the biggest thing. I f---ed up, and should have done better."
The same day, the Securities Commission of the Bahamas, where FTX was domiciled, announced it had frozen FTX's assets.
"The Commission is aware of public statements suggesting that clients' assets were mishandled, mismanaged and/or transferred to Alameda Research," the commission said. "Based on the Commission's information, any such actions would have been contrary to normal governance, without client consent and potentially unlawful."
Unable to find an out, FTX announced its bankruptcy filing Friday morning.