Sam Bankman-Fried was back in Manhattan Federal court in New York on Thursday, pleading not guilty to five new charges, including one count of conspiring to bribe at least one Chinese government official
Bankman-Fried now faces 13 criminal counts related to the collapse of FTX, previously one of the world's largest cryptocurrency firms, which he co-founded, as well as his hedge fund, Alameda Research. 
Prosecutors on Tuesday revealed a superseding indictment alleging that Bankman-Fried successfully bribed at least one Chinese government official with a $40 million payment in 2021.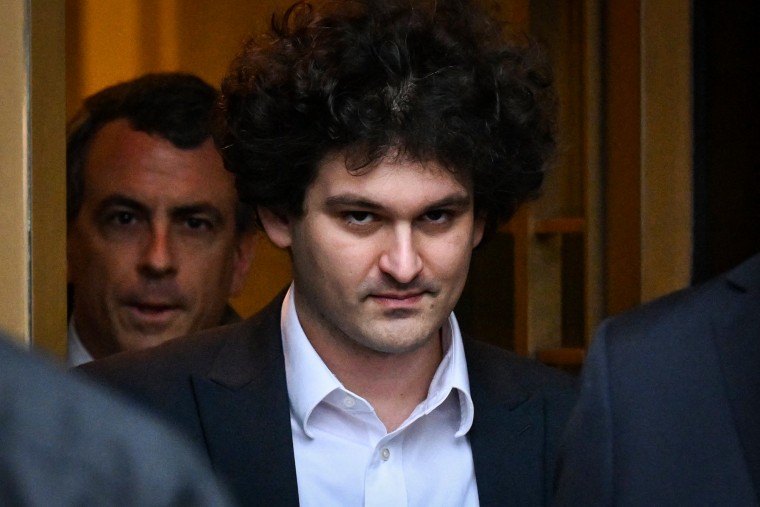 A spokesperson for Bankman-Fried declined to comment. A spokesperson for China's embassy in Washington, D.C., declined to comment.
After Chinese authorities froze several Alameda accounts worth more than $1 billion, Bankman-Fried directed an employee to make payments to at least one government official, the indictment says. The Alameda accounts were held in two major Chinese cryptocurrency exchanges.
"After confirmation that the Accounts were unfrozen, BANKMAN-FRIED authorized the transfer of additional tens of millions of dollars in cryptocurrency to complete the bribe," the filing says.
The alleged bribe appears to have been a last resort.
Bankman-Fried initially tried several other methods to unfreeze the funds, the indictment says. Those tactics included hiring attorneys to lobby for him in China and opening accounts on those Chinese exchanges using the personal information of several unnamed people who were unaffiliated with his companies.
Bankman-Fried was arrested in December by U.S. authorities and extradited from the Bahamas to the U.S.
He was indicted by a grand jury in the Southern District of New York in connection with a variety of crimes as part of what the Securities and Exchange Commission called "a yearslong fraud."
He has also been charged with making illegal campaign contributions.
Under new leadership, FTX declared bankruptcy and is in the process of unwinding the business and recovering its remaining assets.
Bankman-Fried already had pleaded not guilty to the eight criminal charges in the original indictment. He is released on bail.
U.S. District Judge Lewis Kaplan approved new bail conditions on Tuesday, allowing him access to a new phone and a laptop with limited functionality, according to court documents. 
On the new phone, Bankman-Fried will be able only to send SMS text messages and make voice calls, documents said.  
He also must turn over his existing laptop to his lawyers for a "new laptop," which restricts his usage to pre-approved websites, like DoorDash and Amazon, according to court documents. 
The judge ordered that Bankman-Fried is "prohibited from using any other cellphones, tablets, computers, video games (including video game platforms and hardware) that permit chat or voice communication, or 'smart' devices with Internet access (collectively, 'Prohibited Electronic Devices')."  
Bankman-Fried's parents, meanwhile, agreed to sign sworn affidavits not to bring prohibited electronic devices into their home or share passwords to their electronic devices with their son, court documents show.
On Thursday, Bankman-Fried departed from his usual ultracasual attire, wearing a dark navy suit with a white button-down shirt and a tie. His hair also appeared shorter and more styled than his typical mop of curly hair.
In a discovery update, Assistant U.S. Attorney Nicolas Roos told Kaplan his team and the FBI are extracting information from seven devices, including laptops and phones, from Bankman-Fried and cooperating witnesses. So far, Roos said, 6 million pages of documents have been produced in the case.
The judge responded, chuckling, "Bedtime reading." Roos responded, "Bedtime reading.
After the hearing, Bankman-Fried didn't respond to questions.  
CORRECTION (March 28, 2023, 9:45 p.m. ET): A previous version of this article misstated Sam Bankman-Fried's role with FTX. He is one of two co-founders, not the sole founder.