In our opinion, LEGO is the greatest toy ever made. If you have the skills, you can turn simple LEGO bricks into just about anything you can imagine. As a kid, I used LEGO pieces to make other toys. As an adult, all I want LEGO to do is open beers for me and file my taxes. I've got the first part nailed down, but I'm still working on second.
Star Wars LEGO organ
This amazing LEGO creation is built from more than 20,000 bricks and was part of a German promotional campaign for "Star Wars: The Phantom Menace in 3-D." Two professional LEGO builders constructed miniature scenes from the movie around the drum, positioned in such a way that they play out the Star Wars theme on a keyboard as the drum rotates. The only way this could be any more awesome is if the drum was housed inside a giant player piano (shaped like a TIE fighter) that was also made out of LEGO. Lorenz Lnggrtnr via Nerd Approved
LEGO Gears of War Lancer assault rifle
LEGO artist PLUM B created this life-sized Lancer Assault Rifle from Gears of War that features a motorized saw blade and a clip-fed firing mechanism that shoots rubber bands. As impressive as this weapon is, I fear that taking it into battle against Locust forces will result in a swift and embarrassing demise.  MOCpages via Nerd Approved
LEGO pancake robot
Using LEGO Mindstorms and some standard LEGO bricks, Mexican Viking created a pancake bot that is basically a 3-axis CNC that uses the Z coordinate as the dispenser control — allowing it to serve up your breakfast in preprogrammed shapes. Here we see it making Mickey Mouse-shaped pancakes, but I wonder if it could handle making a pancake shaped like a dinosaur getting attacked by a UFO — because that's what I want for breakfast every morning. Makermig via That's Nerdalicious
LEGO 3-D milling machine
In this video, Arthur Sacek's LEGO milling machine prints a 3-D face from a block of foam. It proves that the things that you can create with LEGO are truly limitless. Perhaps one day the ultimate goal can be reached — creating an advanced LEGO milling machine that produces more LEGO bricks. Arthur Sacek via Nerd Approved
LEGO Sandcrawler
This highly detailed LEGO Sandcrawler required 10,000 bricks and nine months to build. It features interior lighting, a fully functioning crane, conveyor belt and motorized ramp. It even has a remote-controlled drive system. In short, it's the ultimate Jawa action-figure transport vehicle. Marshal Banana via Nerd Approved
More craziness from Nerd Approved: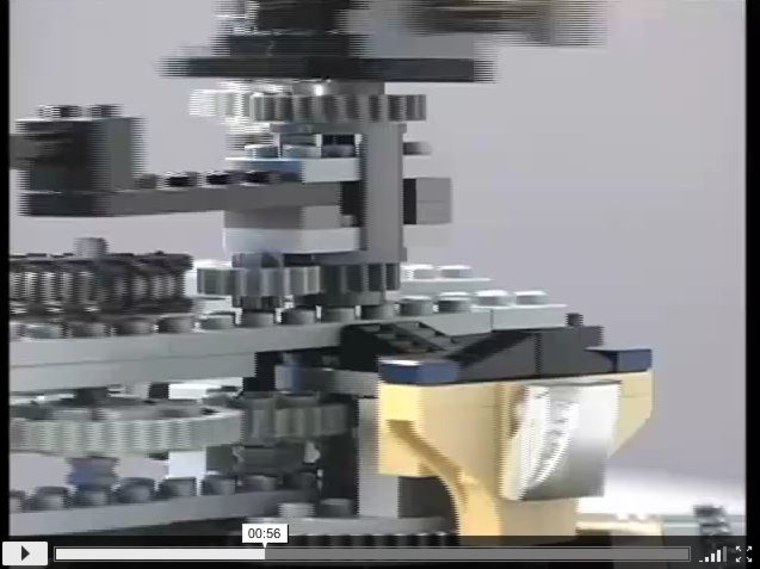 LEGO orrery
While the cycles and planets in this LEGO orrery by Guy Himber are fantasy based, it is still a marvel to look at. Just don't go using it for any science projects, because you will fail miserably. See video here. VA Steamworks via Nerd Approved
LEGO Super 8 projector
Friedemann Wachsmuth's Lego Super 8 projector employs two LEGO technic motors to drive the projection and rewind mechanisms and a bright LED flashlight as a light source. When all is said and done, it can play crisp video at 24 frames per second. It's the filmmaking method of choice for tiny LEGO men with painted-on thick black glasses and skinny jeans. Peaceman via Nerd Approved
LEGO beer machine
Using LEGO Mindstorms, YouTuber Nxt1engineer created a beer machine that is capable of serving two kinds of Dutch beer via Bluetooth commands, opening each bottle and cooling it to drinking temperature. So now we have LEGO making us pancakes and serving us beer. It seems like the next step should be to make a fully functioning LEGO robot butler. That's Nerdalicious
LEGO television
Rod Gillies built a handsome retro TV out of LEGO, then went the extra mile and actually made the background scroll. Impressive, but it definitely needs a LEGO cable box to go with it since it seems to be stuck on the Superman channel 24/7. Rod Gillies via Nerd Approved

The world's most useless LEGO machine
YouTube user Invisibules re-created the famous "most useless machine" — LEGO style. You turn it on, it turns itself off — and that's pretty much it. Clearly, this is the pinnacle of LEGO engineering.

More craziness from Nerd Approved: