Looking to terrify trick-or-treaters? In the digital age, fake cobwebs and plastic skeletons probably won't do the trick.
With a little bit of effort, a smartphone, tablet or PC, and some free time, you can use modern technology to conjure up some genuine screams on Halloween night.
Project your fears
Finally, an excuse to buy a digital projector. The recently released Sony Pico Mobile Projector ($350) is tiny, has a powerful battery, and can connect to phones and tablets via Wi-Fi. It's perfect for hiding near the driveway and streaming scary HD movies on the garage door.
Make a drone ghost
Have an extra bed sheet or old Halloween costume? How about a drone? Then you have the ingredients for the most awesome fake ghost ever. Of course, crashing into a trick-or-treater isn't fun for anyone, so some caution is probably a good idea.
Quadcopter drones are relatively affordable these days, with many of them available for under $100.
Open a virtual haunted house
Don't go through the hassle of building a haunted house. Instead, order a Google Cardboard kit for less than $30 and take guests through virtual experiences such as "11:57" and "Catatonic," which promise to add another dimension to the horror movie experience.
Play spooky tunes
Scare passing kids with creepy sound effects, classic Halloween songs or podcasts about the dangers of eating too much processed sugar.
The UE MINI BOOM from Logitech ($95) packs a lot of power in a small, Bluetooth-connected body, perfect for playing scary playlists from your Spotify or Apple Music account.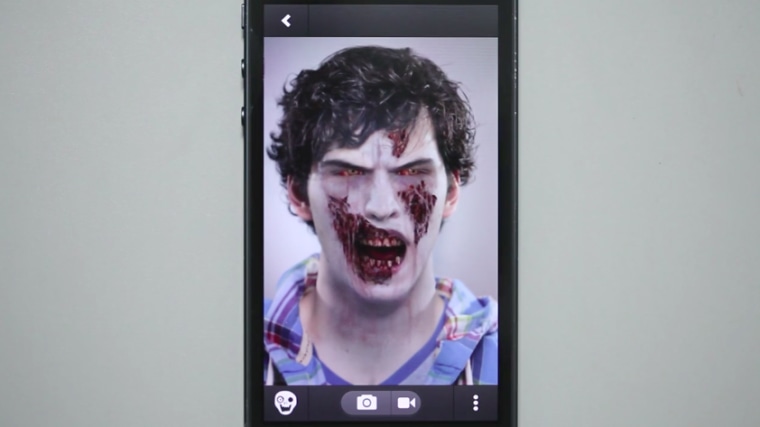 Turn your phone into a zombie photo booth
Zombie make-up is fun, but it can be a pain to clean the next day. Skip the mess and download ZombieBooth 2 for iOS or Android, which transforms selfies into photos of the undead.
Love the "The Walking Dead?" You can download an app similar to Zombiebooth made specifically for fans of the show. Even if you don't scare the kids in your neighborhood, your Instagram followers are going to be terrified.