Pictures acquired by tech blog BGR allegedly show Amazon's much-rumored mobile phone — complete with its also much-rumored six cameras.
It has been suggested for years that Amazon might be working on its own smartphone, and perhaps its own cellular service. The rumors have intensified lately with the company's increasing dedication to its own hardware, such as the Fire TV and tablets.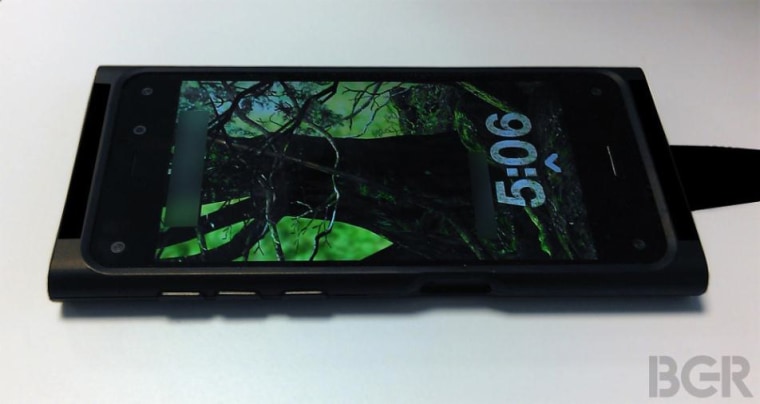 The leaked pictures, which show the phone disguised in a thick case, indicate that the most recent whispers, of multiple cameras and a 3-D interface, appear to be correct. In addition to a normal selfie camera, the front bezel has cameras at every corner, and it is these that reportedly track the hands and face of the user.
Supposedly this 3-D tracking is integral to a similarly 3-D interface — but don't worry, you don't need to wear special glasses to view it.
No name for the phone was leaked, though if previous products (Kindle, Fire) are any indication, there's a good chance something like "Ember" or "Flame" will be used. Specs are reportedly mid-range to high-end, with a 4.7-inch HD screen, respectable internals and 13-megapixel rear camera. A cheaper version is also supposed to be in the works.
NBC has contacted Amazon for comment, and will update this post if we hear back.