Thirty years ago, on July 23, 1985, Commodore took to the stage in New York to reveal the Amiga 1000, a personal computer with unprecedented multimedia capabilities and an intuitive interface that leapfrogged — though it would later succumb to — its IBM and Apple competitors.
The Amiga's hardware and software were well ahead of the PCs on the market at the time (including Commodore's aging but still popular C64), and aimed squarely at creatives and artists. Its specs made the competition look prehistoric: 4,096 colors and a window-based UI ahead of its time, customized internal hardware, an early pen and tablet interface, and a suite of powerful tools for editing photos and print.
The lavish announcement event featured appearances by Andy Warhol and Blondie's Debbie Harry, artists keen to enthuse about the powerful graphical ability of the Amiga. Warhol did some computer portraiture on stage, and later even created dozens of "digital experiments," pieces that were lost until the floppies they were stored on were found last year.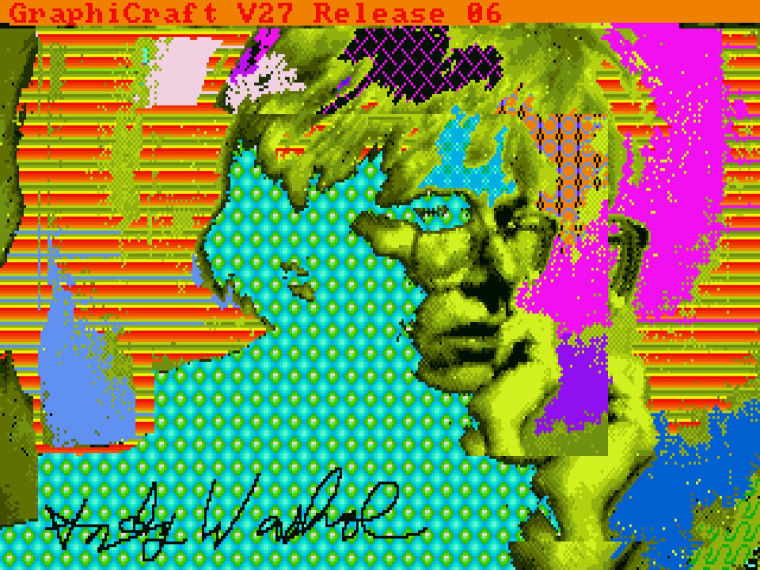 Unfortunately, the Amiga's troubles began pretty much as soon as it was announced. Commodore was short on cash, and couldn't ship enough computers to stock the usual retailers for the big holiday rush. It also didn't show up to gather buzz at the Consumer Electronics Show in January. By the time the Amigas were actually on shelves, they were already being outsold by new Ataris, IBM PCs, and the now-iconic Macintosh.
After this mismanagement and floundering at the start, the Amiga picked up a bit of steam over the next two years as its status as a revolutionary computing and gaming platform became clear — but Nintendo's popular NES and cheap, all-purpose PCs running DOS and Windows were outpacing it.
Related: Commodore PET Phone Puts Retro Computing Style in Your Pocket
Today the Amiga 1000 and its successors are remembered fondly by those who used them, and while the brand itself is all but gone, its influence on computing history can hardly be denied.
If you're one of the Amiga's many fans, and you happen to be in the San Francisco Bay Area, this weekend is an Amiga anniversary celebration over at the Computer History Museum in Mountain View, California.