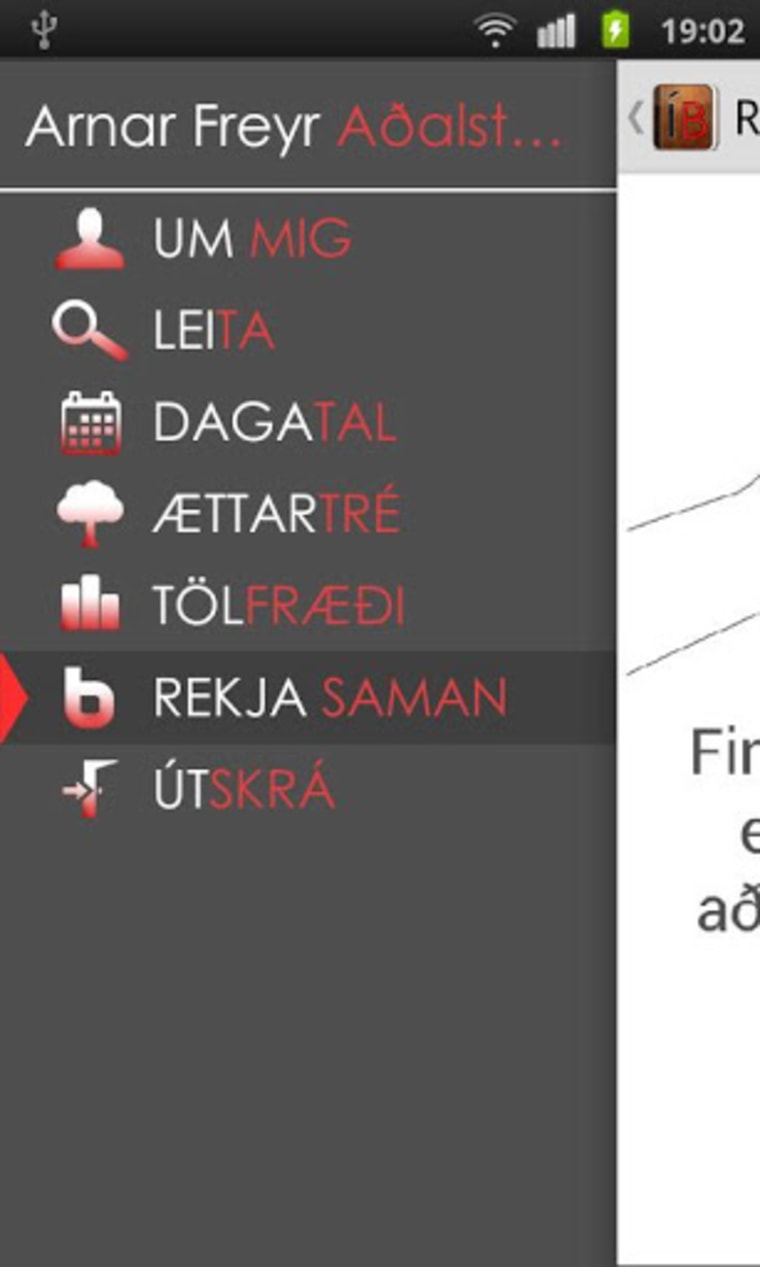 A group of students at the University of Iceland in Reykjavík have created an Android app that prevents Icelanders from accidentally dating their cousins.

The app draws information from the Íslendingabók database, a national record of Iceland residents and family trees dating back into the Middle Ages.
Arnar Aðalsteinsson, Alexander Helgason and Hákon Björnsson, in their final year at the University of Iceland, entered and won an app-building contest sponsored by the tenders of the Íslendingabók database.
When you tap phones with someone who has the app, it brings up an alert if the owners of the two phones share a grandparent. (Of course, if you don't already know who you share a grandparent with, incest may be the least of your problems, but the team says it is looking into functionality for spotting common great grandparents, too.)
The feature is called "Sifjaspellsspillir" which directly translates to "Incest Destroyer," though the team prefers the phrase "Incest Spoiler."

The app has been downloaded 3,651 times at their last check, the team told NBC News. An app for the iPhone is very likely on the way, they say.

"Genealogy is the kind of the national hobby of Iceland," Friðrik Skúlason, a software engineer who first started building the Íslendingabók database in the 1980s, told NBC News. "On average if you pick two people on the street at random you will find they are related 6 or 7 generations back."

The database was taken over by genetics company DeCode. Íslendingabók is now a free database for anyone with an Iceland national identification to use online, where they can trace relatives and their contact information.
"[Iceland] is a small community with extensive records gong back centuries, and everybody is related to everybody else," Skúlason told NBC News. "The database contains every single person who is currently alive or that we have been able to find any information about for the past 1,100 years."
He hasn't used the app himself, but Skúlason imagines it will make for good pickup lines at a bar. "My phone would really like to know if it's related to your phone … there are possibilities," he says. Although, he adds, most people already know each others' close relatives well.
About two-thirds of the country has accessed the database at least once, he says, with spikes in activity during Christmas, "I guess when people are writing Christmas cards and trying to remember what is the name of Uncle Joe's third child and so on," and during the summer, when people plan the traditional family reunions.
Nidhi Subbaraman writes about technology and science. Follow her on Twitter and Google+.