"Education is deep in our DNA, and it has been since the very beginning."
With those words, Apple senior vice president of worldwide marketing Phil Schiller kicked off the company's invitation-only education event on Thursday, according to Technologizer's Henry McCracken. At this event, Apple introduced the newly interactive iBooks 2, a first wave of $14.99 school textbooks from the top educational publishers and a new tool for educators to make their own textbook. The company also revamped its iTunes U program for sharing multimedia educational material.
After his opening remarks, Schiller went on to explain that Apple is "proud to help students learn" and that it has noticed that iPads are finding their way into classrooms.
"It's not a big surprise that students get excited to learn on the iPad — it was No. 1 on teen's wish lists this holiday," Schiller said, quoted by The Verge's rapid-fire liveblog. Between the 20,000 education apps on the iPad and the sheer volume of content in the iBookstore, it's certainly understandable that there are over 1.5 million iPads being used in education.
But Apple wants to make things even easier and better — by taking two actions.
The first, says Schiller, is reinventing the textbook. Textbooks, he explains, aren't the most ideal learning tool. They can be cumbersome, they get dogeared, they suffer from wear, they're not interactive, and they're certainly not easily searchable. 
The iPad, on the other hand, is pretty darn portable, durable, and searchable.
So the natural step to take — raise your hand if you didn't see this coming — is to put textbooks onto the iPad. Apple intends to do this with the brand new iBooks 2.
iBooks 2 — the second generation of Apple's popular app — will bring movies, multitouch gestures, links, lightning-fast searches, photo galleries, visual Q&A sections, 3-D models and other interactive elements to textbooks. iBooks 2 will be available for download today (and, like its predecessor, the app itself will be free).
Now we've established that the snazzy new interactive textbooks will be used in iBooks (and downloadable through the iBookstore), but where will they come from? How are they made?
Easily, says Schiller. A free Mac app for authoring books will be made available. The app will be named — all too obviously — iBooks Author.  iBooks Author offers templates, drag-and-drop controls, auto-formatting and allows for custom elements. The Verge describes it as looking like "Keynote mixed with Pages."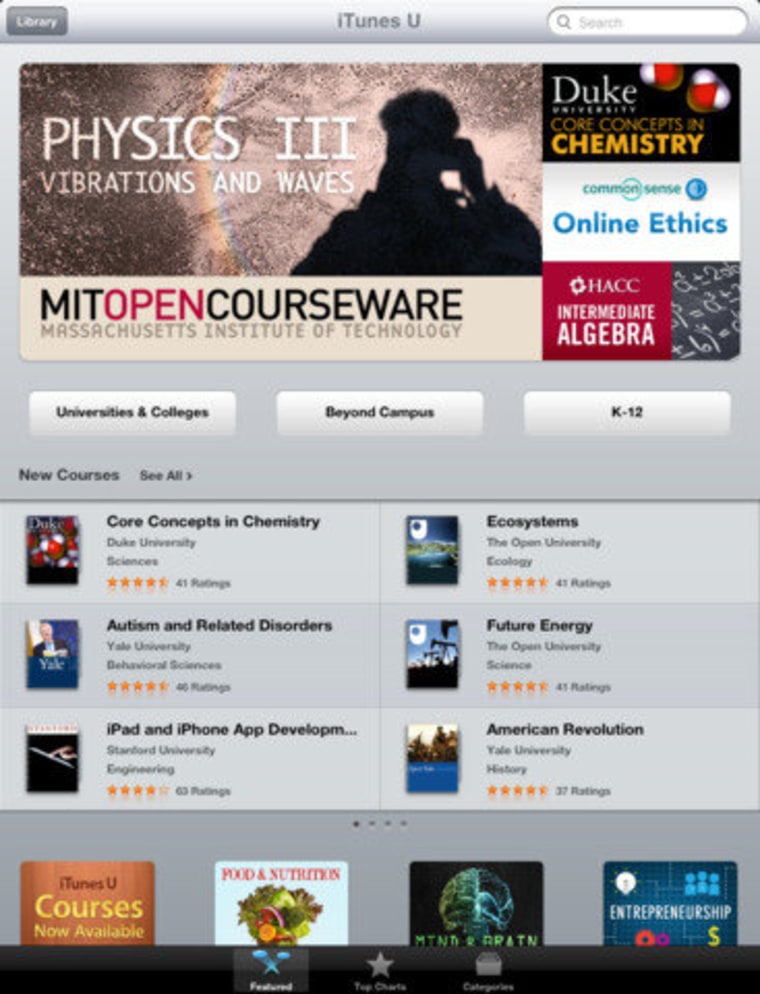 This clever tool aside, Apple's got plenty of partners lined up as well — so that it can offer textbooks priced at $14.99 or less. In fact, it's got three major textbook publishers — Pearson, McGraw-Hill, and Houghton Mifflin Harcourt — on its side. "These companies make 90 percent of the textbooks available," says Schiller.
But all of this isn't enough — Apple wants to do more for education. Which brings us to the second part of Apple's presentation: A new iTunes U, previously a collection of free videos and podcasts. This new version of iTunes U will feel very familiar to those who have used iBooks, says Eddy Cue, Apple's senior vice president of Internet software and services. It "lets teachers do everything on their iPad," he added.
The new app will offer customizable topics, have room for things such as office hours, allow teachers to post messages or list assignments, and make lectures streamable or downloadable.
The new iTunes U app will be free and is no longer limited to universities — K-12 schools will be able to use it as well.
Related stories:
Want more tech news, silly puns or amusing links? You'll get plenty of all three if you keep up with Rosa Golijan, the writer of this post, by following her on Twitter, subscribing to her Facebook posts, or circling her on Google+.