After a week filled with complaints about the new Maps app found in iOS 6, the latest version of Apple's mobile operating system, the company's CEO, Tim Cook, has issued an apology to customers along with a list of alternative apps.
A link to the apology appears on the Apple website, plainly labeled as "[a] letter to our customers regarding Maps."
Cook begins the note by explaining that while Apple strives to "make world-class products that deliver the best experience possible," it "fell short on this commitment" with the launch of its new Maps app.

"We are extremely sorry for the frustration this has caused our customers and we are doing everything we can to make Maps better," Cook writes before explaining that the reason a new version of Maps needed to be created was so that Apple could offer its customer features such as turn-by-turn directions, voice integration, and so on. "The more our customers use our Maps the better it will get and we greatly appreciate all of the feedback we have received from you," he adds.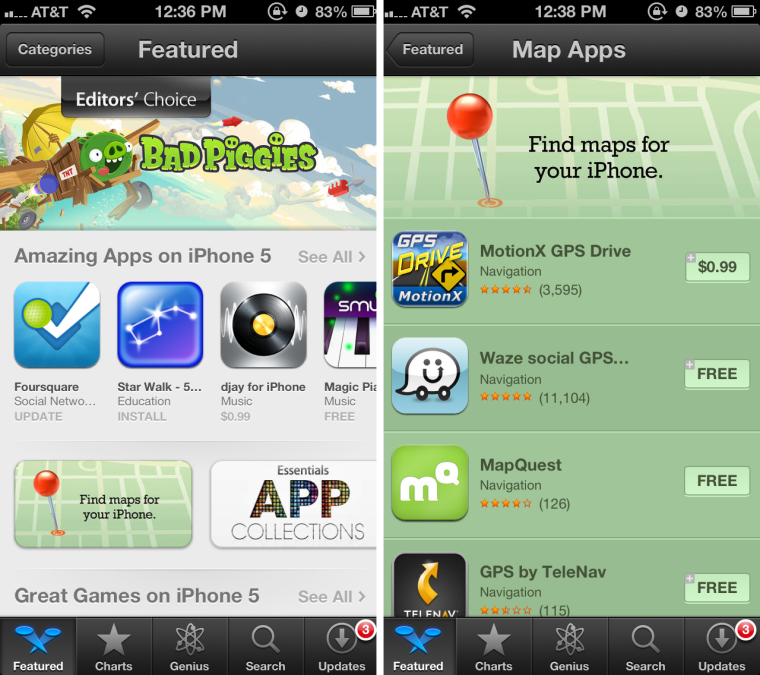 While Apple's improving its own Maps app, you can use something else, Cook suggests. "You can try alternatives by downloading map apps from the App Store like Bing, MapQuest and Waze, or use Google or Nokia maps by going to their websites and creating an icon on your home screen to their web app."

One can only imagine how much it pains Cook to suggest that the over 100 million folks who are using iOS 6 at this time should just try a product made by Apple's competitors for a while.
Want more tech news or interesting links? You'll get plenty of both if you keep up with Rosa Golijan, the writer of this post, by following her on Twitter, subscribing to her Facebook posts, or circling her on Google+.