As phones and computers become sleeker, thinner, and ever more futuristic in how they're operated, some cameras have gone the exact opposite direction: led by the likes of Fujifilm and Leica, today's hottest digital models look like they just walked out of the '60s.
Is it a fad, or can the future of photography really be found in its distant past?
Going retro has been a welcome change of pace for camera manufacturers that are still reeling from the massive drop in sales that's come with the ubiquity of high-quality smartphone cameras. Point-and-shoots have all but disappeared, replaced by iPhones and Android devices.
"Vendors of traditional cameras have been looking for any advantage to counter the disruption caused by mobility," said Chris Chute, Research VP at analysis and tracking firm IDC. "One focus is on high-end cameras, and segmenting that space by features, but now also by design."
The X Factor
Perhaps the best recent example of that is Fujifilm's ever-expanding X-series, heralded by the handsome X100, announced in late 2010. The magnesium top plate and faux leather grip would alone recall the classic designs of the '60s and '70s, but the fixed dials for shutter speed and exposure bias make for more than a passing resemblance. Then there's the fact that it's a rangefinder, meaning the eyepiece looks out from next to the lens, not through it — a vintage format rarely seen in digital cameras.
Rarely, that is, except in Leicas, which have been using this general look and feel for decades. Its rangefinders are iconic, having been used by some of the most influential photographers of the 20th century.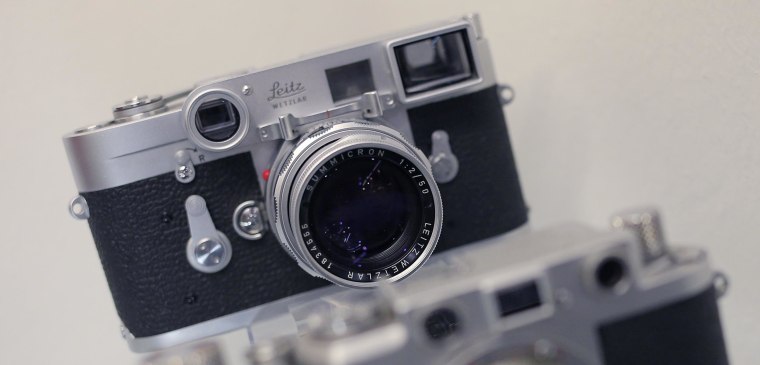 The difference, of course, is that the Fuji costs a fraction as much. Leica cameras, relegated to use only by the wealthy or dedicated camera aficionados, existed separately from the tumultuous world of sinking point-and-shoot sales and ever-more-powerful DSLRs. So the elegant yet reasonably-priced ($1,200 at launch) X100 struck the camera industry like a lightning bolt.
"The Fujifilm X100 Series might have helped people remember that there is a good reason why the analogue cameras were designed that way," Yuji Igarashi, Fujifilm's director of Business and Product Development, said in an email to NBC News.
"Moreover," he said, "these cameras might have brought interest to the photographers who have always wanted to shoot like their film cameras, and it could have been something new for those who have shot digital for their whole life."
"Getting back to that Leica-like feel of a camera is something that's compelling on an emotional level," said Robert Brunner, founder of Ammunition, the design group behind Beats headphones and the new Polaroid Cube. "Things are always cyclical. When you look at the progression of products, there's always that point where people look back and they say, 'You know, I miss that.'"
Pint-size powerhouses
The X100 sold like hotcakes, but not just because of its cool looks. The X100 and its competition had begun to put real photographic chops in a small package when everyone was switching to bulky DSLRs.
"This is enabled by smaller sensors, as well as new architectures like mirrorless/compact system cameras," said Chute. That is, the parts that make up a serious camera — a large sensor, quick shutter, good lens and lots of control over the image — have been shrinking for years.
In an effort to distance their products from point-and-shoots, camera makers used the shrinking electronics to pack more and more features into big camera bodies that stayed mostly the same size. Fujifilm's engineers realized that the time had come, however, when DSLR-level power could be packed into a Leica-size device.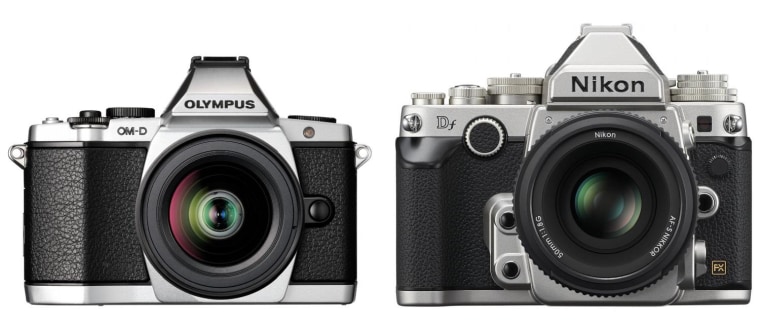 And they weren't the only ones. Olympus put out the excellent OM-D E-M5 in 2012, another silver-and-black body, this one with a bump at the top more than a little reminiscent of old SLRs. Panasonic and Pentax got into the fun in 2013. Nikon, not to be outdone, put out the Df, a dial-studded homage to its FM and FE series 35mm cameras from the '70s and '80s.
Leica, for its part, seems unconcerned with the melee. It has lent its caché to a few mid-range products, but its real flagship cameras continue to sell for many thousands of dollars.
The results have been heartening. The X series has sold over 700,000 units — not a lot compared with leading models from Canon and Nikon, but Fujifilm is a niche player; Chute said the company "has had the most success from the retro craze. They've managed to grow share in a tough market. Olympus credited the OM-D E-M1 (successor to the camera shown above) with cutting its 2013 losses by some $25 million. But those numbers have to be put in context: camera sales are down across the board, which means the industry is divvying up a smaller pie.
Still, the new category has promise, and manufacturers are pursuing it earnestly. Despite an overall dip in camera sales, Fujifilm said in its latest annual report that it intends to double down on the "particularly beloved" X-series, and several cameras revealed at this year's Photokina trade show also fit the bill.
These dials aren't for show
Some of these retro influences are only skin deep, but others ended up challenging trends affecting the whole electronics industry. Touchscreens, for example, are part of what make smartphones so versatile. Why not embrace those?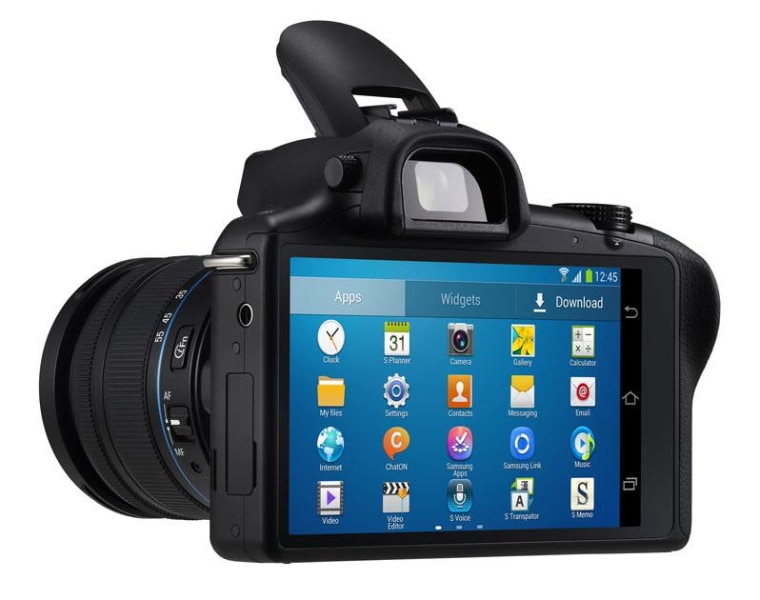 "There are benefits of capacitive touch display interfaces, and we do not deny that," said Igarashi. But there are benefits to having real physical controls as well.
"Changing the setting is very easy while looking through the viewfinder. Furthermore, when the camera is turned off, the settings remain exactly as you left them, and you can see them at a glance with the dials."
Olympus, going further, uses physical dials that can be programmed via the camera's touchscreen, using the best aspects of both. Repurposing the tools of yesterday for the cameras of today seems to inspire very practical interfaces.
"Doing retro well is a very difficult thing to do," said Brunner, "but that method of holding a camera and taking a picture is still one of the best, the most functional."
Ultimately, Igarashi said, gripping the camera tightly with both hands, controls at your fingertips, is "a more personal experience."
And that seems to sum up the whole trend. As devices become more alike in the ways they are operated, a personal and stylistic choice like a manually controlled camera that a photographer operates with good old-fashioned muscle memory may be a welcome escape.