A drone fell from the sky during a triathlon in western Australia, resulting in an injury to a runner and raising questions about who is legally responsible when an unmanned aerial vehicle comes crashing down on someone.
On Sunday, Raiji Ogden (pictured below on the right) was running in the Endure Batavia Triathlon in Geraldton, Australia, when a small drone filming the race plummeted to the ground from 10 meters (33 feet) in the air. Ogden claimed that the drone struck her and caused her head to bleed.
The owner of the drone, Warren Abrams of New Era Photography and Film, told the West Australian that footage from the aerial vehicle shows that Ogden looked back at the falling machine, got scared, and fell and bumped her head, an account that she — and several witnesses — disputed. He also claimed that he had seen evidence that the drone had been hacked.
According to Australian media reports, Ogden was was taken to hospital where she received stitches.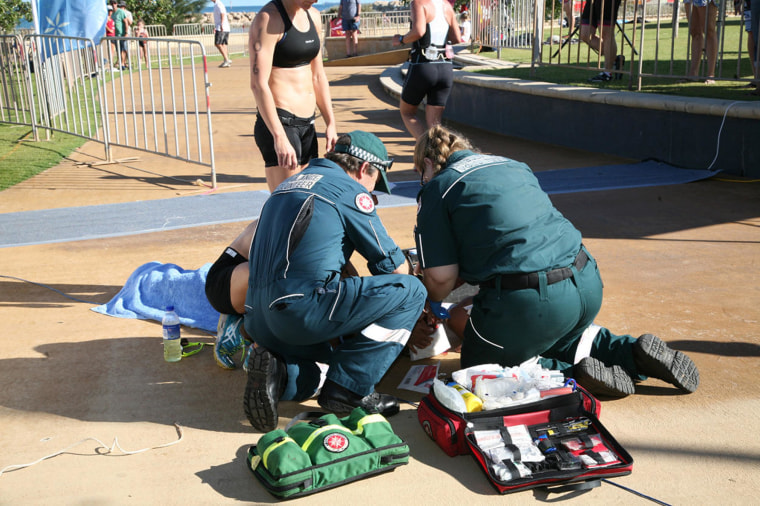 It's easy to imagine a similar situation in the United States. In August, multiple people were treated for minor injuries after a drone fell into the stands at the Great Bull Run in Virginia.
In the United States, someone injured by a small drone would have a strong case against the person remotely flying it, even if the injured party was simply startled by the drone and fell down, Ryan Calo, an assistant professor of law at the University of Washington, told NBC News.
It's not that different from lawsuits involving any other product. The story might be different, however, if the drone was hacked.
"Then the person who hacked the drone would be responsible, not the operator," Calo said. "The person flying it could be off the hook then. But it would be the operator's obligation to prove it."
The big question is whether the person who designed the software used to fly the drone would be liable. Developers usually aren't held legally responsible when their software is hacked. The exception? When hacking leads to physical harm, Calo said, like if software at a nuclear power plant were to be compromised.
Regardless, as drones dominate the headlines and PR stunts by companies like Amazon and Domino's, it's likely that lawsuits will increase — even if the number of people actually getting hurt is small.
"I don't know if it's growing problem, but we are are definitely going to see more drone cases," Calo said.