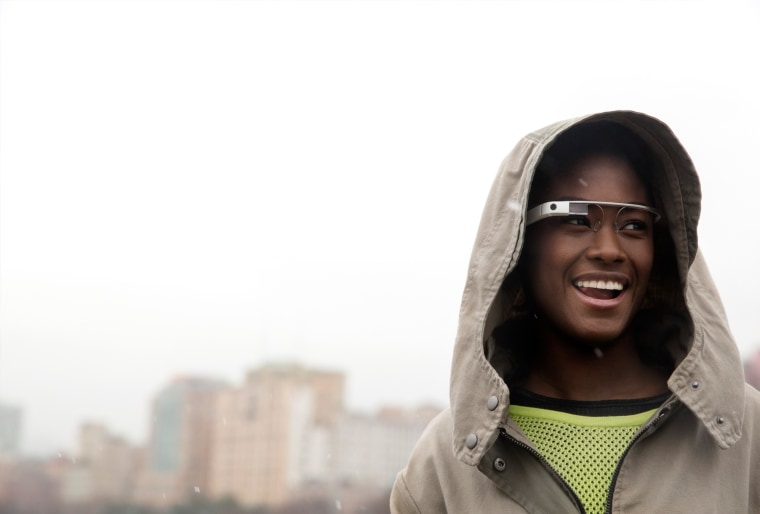 Ever since Google first showed off Glass, there's been speculation about the futuristic headgear's specifications. Now we've finally got some official details, straight from the tech deities of Mountain View, Calif. — right down to the fact that Glass software will be called "Glassware."
The Google Glass display — that strange square that sits just above eye-level — is described as being the "equivalent of a 25-inch- high definition screen from eight feet away." Glass can take 5-megapixel photos and shoot 720p video. There'll be 16GB of flash memory, 12GB of which is deemed "usable memory." (Glass syncs with Google's cloud storage service, of course.) As we've known for a while, there's support for Bluetooth and Wi-Fi.
If fully charged, Glass will run for a full day (assuming "typical use"). Google cautions that "some features, like Hangouts and video recording, are more battery intensive," though, implying that you might not always Glass it up all day long without needing a power outlet. You'll charge Glass using the included micro USB cable. ("While there are thousands of Micro USB chargers out there, Glass is designed and tested with the included charger in mind," Google explains. "Use it and preserve long and prosperous Glass use.") Along with the micro USB charger and cable, a protective pouch is also included with Glass.
Glass is compatible with "any Bluetooth-capable phone," but MyGlass — a companion app which enables GPS and SMS messaging — does require Android 4.0.3 (Ice Cream Sandwich) or higher.
In case you had hope that Google Glass might be water-resistant and handle a quick dip in the pool, I've got bad news for you. "Don't let the Glass device or battery come in contact with liquids," Google's Glass help pages warn. "Liquids can get into the electronic components, leading to corrosion."
So much for jokes about a Glass full of water.
Want more tech news or interesting links? You'll get plenty of both if you keep up with Rosa Golijan, the writer of this post, by following her on Twitter, subscribing to herFacebook posts, or circling her on Google+.