Google announced Thursday at its I/O developer conference in San Francisco that its popular Chrome browser was coming to iOS devices. It has just gone live in Apple's App Store and we've gotten a chance to test out its capabilities.
The general look and feel will be familiar to anyone who has used the desktop version of the browser: the tabs are on top, with the URL bar below and the usual navigation buttons to either side. A menu button on the right brings up handy options not found in Safari, the iPad's default browser.
You can create Incognito tabs for anonymous browsing, switch to the desktop version of the site if you've been served a mobile one, and of course edit your settings.You can also search for text on the page you're looking at, which is extremely useful. Touching the URL selects the whole thing, too; no need to hunt around for the little "x" to erase it before typing in a new one.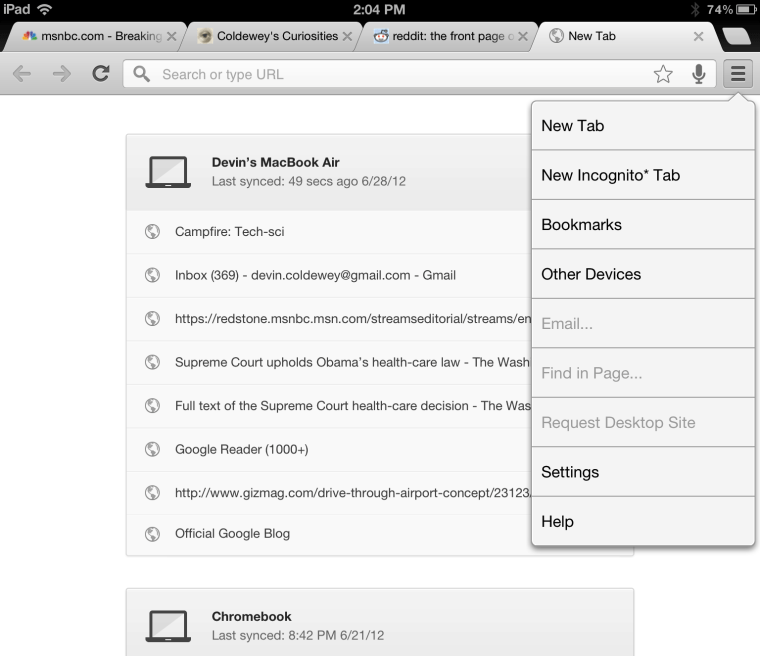 There's also an "Other Devices" option that loads up current and recent tabs on any other device you own that's signed into Chrome. As you can see in this screenshot, it is detecting both my Mac and the Chromebook I was using last week. Opening a new tab can go either to this screen, your bookmarks (also synced), or frequently visited sites.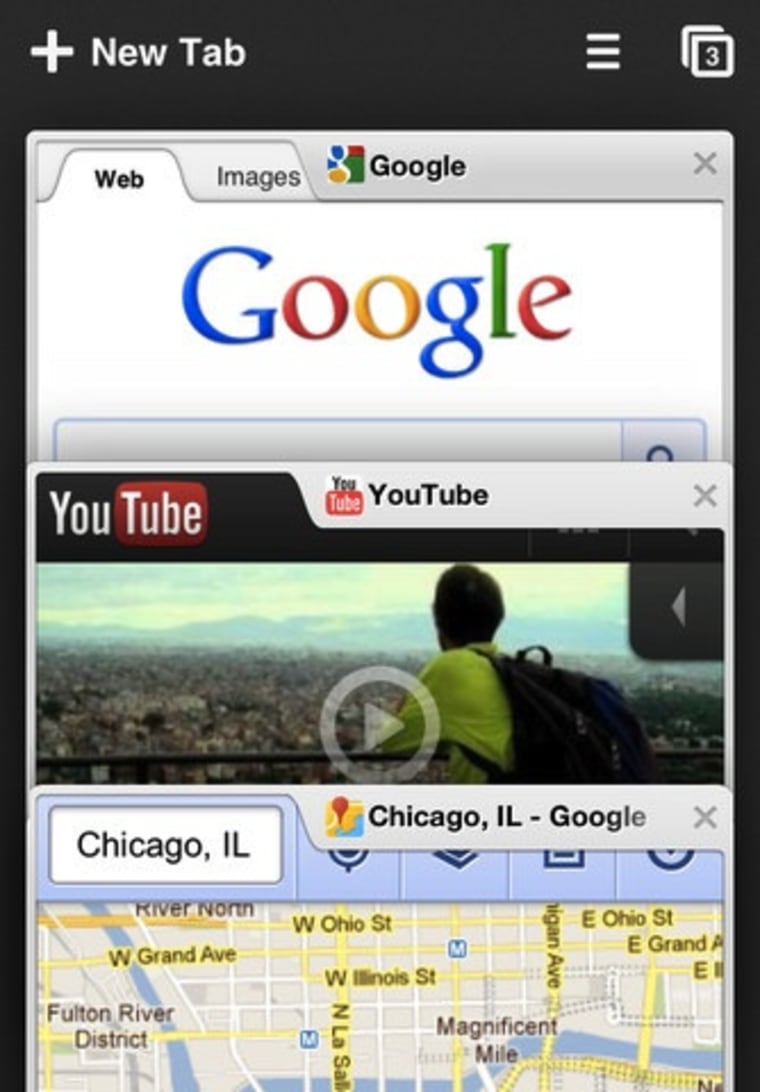 You can open as many tabs as you want, and navigating through them is accomplished by swiping your finger from the side of the screen, which hops between tabs, showing a black-and-white preview of tabs that may have changed since you last looked. It's handy when you have more than four or five tabs open and don't know which is the one you're trying to find. On the iPhone, the tabs are spread out like cards and you sort of shuffle through them.
Chrome isn't as full-featured as other browsers in the sharing department: the only option at the moment is to email the current page. No Facebook, Twitter, or anything else. There is also no way to install extensions like ad-blockers, interface customizations and add-on services. A Google representative said the company has no further details to share at this time, but it's likely that making extensions available for a platform like iOS is difficult when they're designed with the desktop in mind.
Web pages look identical to Safari, probably because they use the same engine to render them — a restriction Apple places on browsers on iOS. And unfortunately, you can't set Chrome as your default browser — again, Apple won't let that happen. But for day-to-day browsing, Chrome appears to be a stronger candidate than Safari, especially if you're already using it on other devices.
You can download Chrome for free from the App Store here.
Devin Coldewey is a contributing writer for msnbc.com. His personal website is coldewey.cc.