Emoticons may have just been the beginning. The loving messages of the future could be much more intimate — and much stranger.
When Apple introduced its first smartwatch on Tuesday, Chief Executive Tim Cook highlighted some new features, including that the watch can send — among other kinds of messages — the wearer's heartbeat to someone else wearing an Apple Watch. But could wearing your heart just under your sleeve ever really catch on?
It's certainly possible. Analysts at IDC estimate that 2014 will see 19 million wearables shipped globally — and that number is expected to blow past 100 million in the next three years.
Apple's not the only one in the wearable game — in fact, it's late to the party. With devices from Samsung, Motorola, Nike, FitBit and half a dozen others, the wearable market is blowing up in both size and variety.
A human touch
"We're moving from a sort of inhuman kind of tech, reading text on a display, to something that fits the way human beings are designed — we feel things through our senses," said J.P. Gownder, analyst at Forrester, in a phone interview with NBC News.
These devices started out as glorified pedometers, but the Moto 360 shows they can be fashion items, and the Apple Watch may demonstrate how they can be incorporated into the most intimate parts of our lives.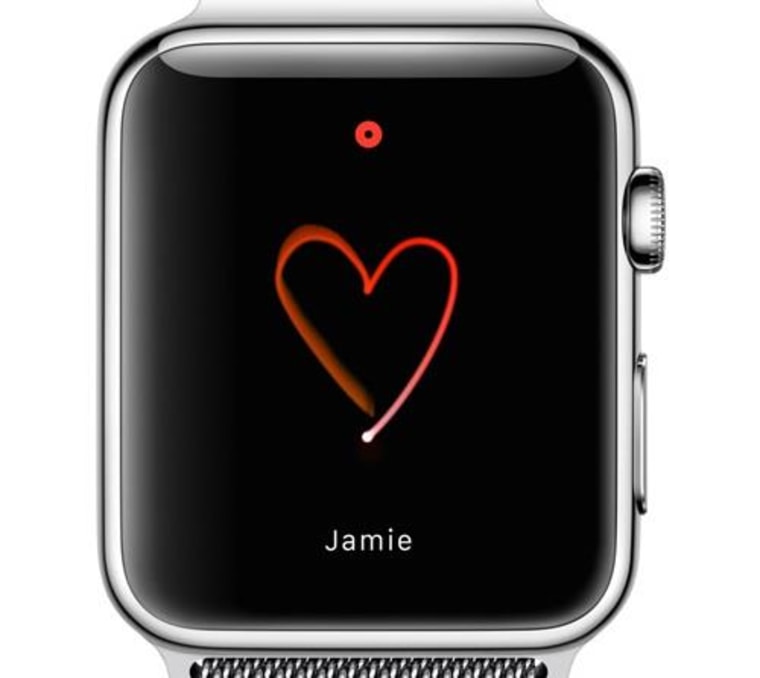 "Apple Watch is the most personal device we've ever created," Cook enthused on stage while introducing the device. "It's an intimate way to connect and communicate."
The Apple Watch has what the company calls the "Taptic Engine" inside, a fancy way of describing the watch's ability to produce a slight tap on your wrist. This can be used for notifications from apps, but you can also tap other people. It's not hard to imagine the amount of tapping that might take place between two teenage lovebirds equipped with the devices.
"You're giving someone probably very close to you a physical touch," Gownder said. "It's really more like an embrace."
Oleg Kostour, co-founder and CEO of Tenthbit, which makes a sort of private social network for you and your partner called Couple, felt the same way. "It gives you a sense of almost holding someone's hand, a sense of physical touch that right now doesn't exist."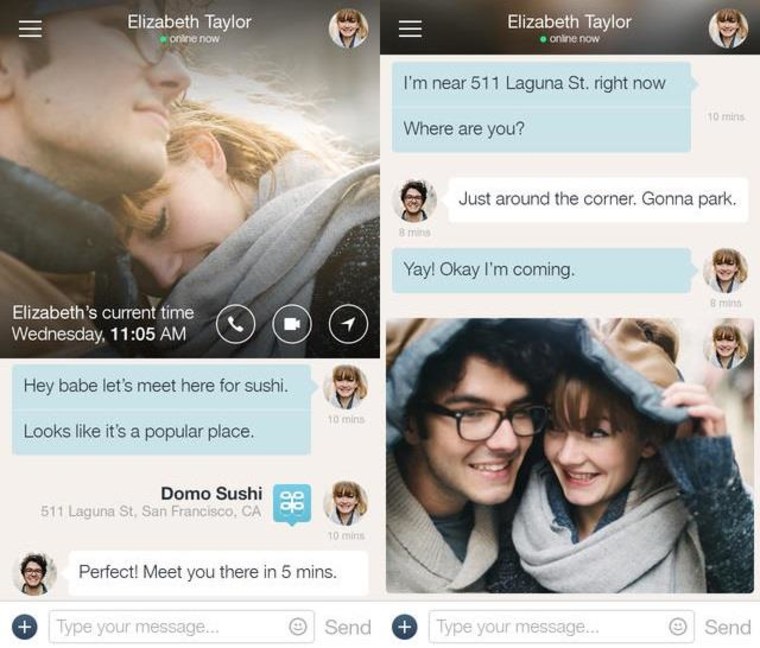 "A lot of people do things symbolically — like the ring, something that symbolizes their relationship," he says. "I wonder if we'll see people buying a pair of these together."
This level of digital love may make some roll their eyes, but connecting online is a major part of many relationships these days.
Making a real connection
Not everyone is convinced, however.
"People say 'OK, it's innovative, it's cool.' But it'll last a very short time," said Ramon Llamas, research manager at IDC, in an interview. "Let's face it, once you've felt one heartbeat, you've felt them all. We're going to have to move this to much richer experiences."
"Open, honest, detailed sexual communication face-to-face will always do more for your relationship ... and for your sex life."
Sari Locker, sexuality educator and developmental psychologist at Columbia University, concurs: "While the most poetic of partners may love this new twist on sexting, most lovers will have more to say than what can be expressed in a heartbeat."
She added: "Open, honest, detailed sexual communication face-to-face will always do more for your relationship ... and for your sex life."
And while the novelty of pulsing each others' wrist may wear off quickly, the reality is that wearables and the "Internet of Things" have already wormed their way into our lives.
How much is too much?
"All the things we love and hate about cellphones will be even more so," said Justin Reich, an educational researcher and a fellow at Harvard University's Berkman Center for Internet and Society. "When they are attached to your wrist it will be even harder to ignore those messages. You can leave your cellphone in your pocket, but you can't leave the watch in your pocket."
Not everyone wants a device that tethers them to their phone and their contacts, but at the same time the convenience of a smartwatch or wearable is hard for some to deny.
"The market is still trying to figure out what everyone wants to have," said Llamas. Part of that may be divorcing the wearable from the smartphone, which he points out is necessary for nearly every function on nearly every smartwatch.
Gownder, at least, is optimistic. Wearables, he says, "keep your tech invisible until you really need it. I actually think this is a step forward in keeping people socially engaged."
In the end, it's up to you to make sure the newest way to connect doesn't just leave you more disconnected.
Julianne Pepitone and James Eng contributed to this story.