Intel roped in device makers such as Samsung and Hewlett Packard on Thursday in San Francisco to showcase tablets powered by its new "Atom" processor — a chip it hopes will help it break into that crowded market.

Intel initially brushed off any threat from tablets such as Apple's iPad, but now hopes the combination of a low power consuming processor with touch-friendly Microsoft Windows 8 software will win over enterprise customers looking to deploy tablets, but keep PC-based software and hardware.
The world's largest chip maker says the "Atom Z2760" — formerly code named "Clover Trail" — is tailored to work with the latest version of Microsoft's operating system, due in late October. Tablets that use both the Atom and Widows 8 will be able to run widely used software such as Word and Excel, while connecting to peripherals such as printers.

It also lengthens battery life, enabling tablets to run 10-plus hours of streaming high-definition video, said Intel applications processor division chief Eric Reid.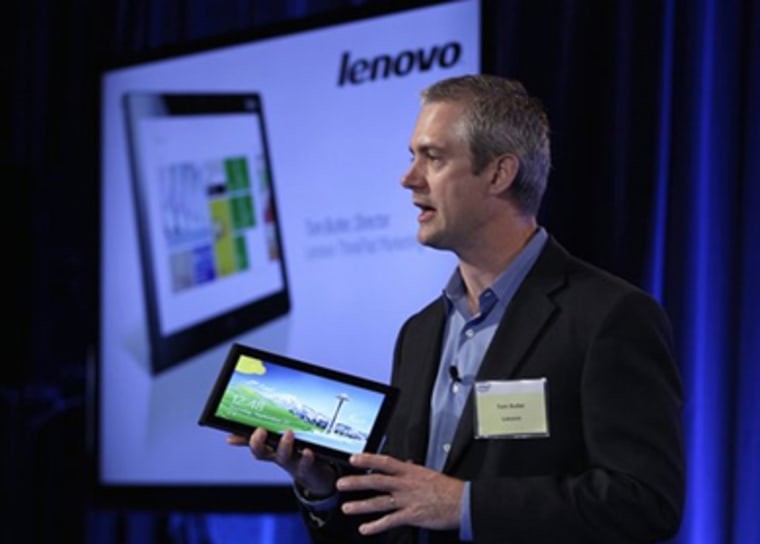 Targeting corporations and government agencies means the first wave of Intel-powered tablets and tablet-laptop hybrids will avoid the worst of the consumer war now raging between Google and Amazon.com.

"These new Atom-based tablets have been targeted at spaces where Intel and Microsoft can win, the enterprise market, and as an alternative to a notebook," said Patrick Moorhead, head of Moor Insights and Strategy.
Dell, Acer, Asustek and ZTE round out the half-dozen PC makers that trotted out their upcoming tablets, some of which sport a detachable keyboard or stylus designed to support free-form drawing and writing.
"Every tablet shown today does what neither an iPad or Kindle Fire HD does well, which is creating content and controlling via a keyboard and trackpad," he said. "This provides differentiation while not going head to head with Apple and Amazon."
With PC sales expected to stagnate over the next year or two, Intel hopes to make up for lost time and regain market share ceded to rivals such as Qualcomm, Texas Instruments and Nvidia, whose applications processors now power most tablets except the iPad.
Although the "Intel Inside" sticker remains affixed to 80 percent of the world's PCs, the Santa Clara, California, company has been slow to adapt its chips for smartphones and tablets.
Analysts say the semiconductor industry leader has woken up to the tablet threat only in the past year. It is now rushing into the mobile market, motivated in part by slowing PC sales across consumer, businesses and even the emerging market segments it once relied on to propel sales.
This month, it cut its third-quarter revenue estimate by a more than expected 8 percent and withdrew its full-year outlook entirely.
Intel's tablet strategy so far has focused on Windows 8 and its "x86" architecture found in most of the world's PCs. But executives said this month that tablets running their processors and based on Google's Android software are also in the works.
Microsoft's main assault on the tablet market involves Windows RT, a version of Windows 8 that works off the ARM Holdings chip designs that now dominate the market and drive the iPad and other mobile devices.
(Reporting By Edwin Chan. Editing by Andre Grenon) 
(c) Copyright Thomson Reuters 2012. Check for restrictions at: http://about.reuters.com/fulllegal.asp