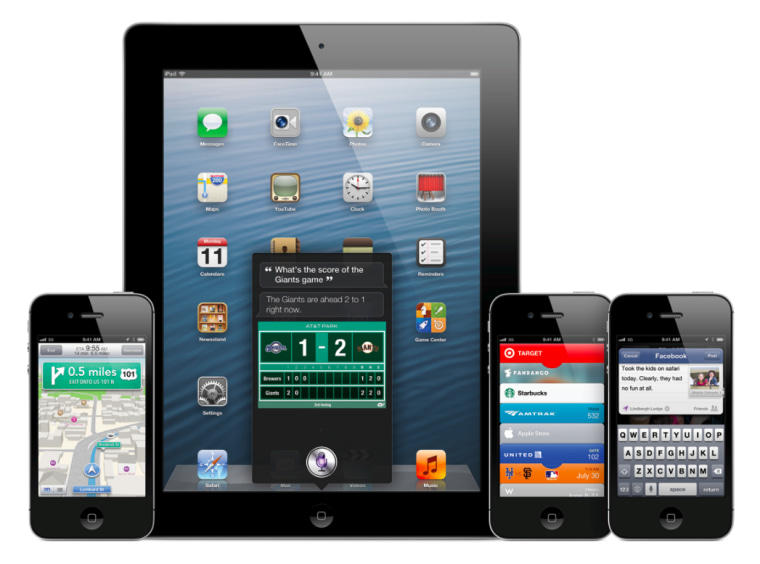 We first heard about iOS 6 during the Worldwide Developers Conference (WWDC) in June, but on Thursday, Apple's senior vice president of iOS Software Scott Forstall finally shared more details about the latest version of the company's mobile operating system — and revealed that we're getting it on Sept. 19.

The new iPhone 5 will ship on Sept. 21 with iOS 6 preloaded, but folks who own an iPhone 3GS, an iPhone 4, an iPhone 4S, a fourth-generation iPod Touch, an iPad 2 or a third-generation iPad will be able to download the software update for free on Sept. 19.
As we've learned during WWDC, iOS 6 will bring over 200 new features to customers. "We think you're going to love it," Forstall says.
Siri
Siri's gotten a lot smarter in iOS 6. She's learned a lot of new languages (Italian, Mandarin, Cantonese, and more) and become friends with a lot of new services (such as OpenTable, Yelp, Rotten Tomatoes, and others).

The personal assistant can now offer significantly more information when asked about sports, restaurants, movies and more. You can make restaurant reservations or get movie reviews. Thanks to better support for Twitter, you can also ask Siri to tweet for you.
It is now also finally possible to launch apps using Siri. Just tell her you want to "play Angry Birds" and see what happens. 
Facebook
The folks at Apple integrated Facebook into iOS 6 in the same way they integrated Twitter into the last major version of iOS. There's now a neat "tap to post" option in the Notification Center  (and there's a "tap to tweet" button as well, of course).
Facebook is deeply integrated into the Calendar app as well, meaning that Facebook events (and birthdays listed on Facebook) will appear on your device's calendar.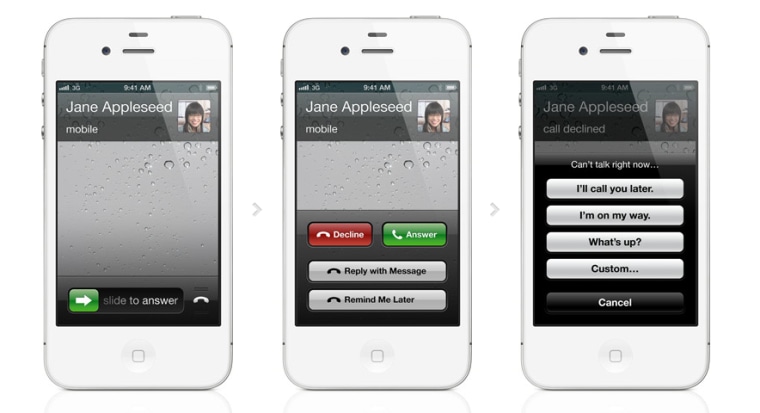 Reply with message or remind me later
If you find yourself in a situation where you're unable to take a call, you can now instruct your iPhone to send a pre-set message to the caller or to remind you to call the person back. This is incredibly handy if you're in a rush and not in the mood to pick up a call just to say "I'm busy. I'll call you back."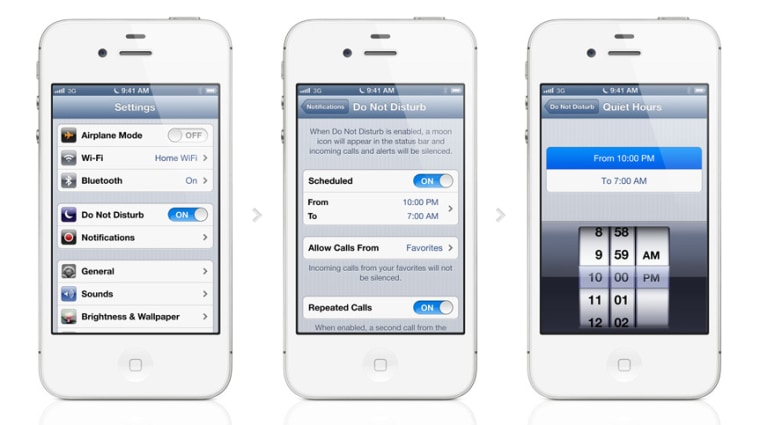 Do not disturb
A "do not disturb" feature was added in iOS 6. It means that you can tell your phone that it should silence alerts or incoming calls for a while, so that you can sleep in peace or enjoy a quiet, interruption-free evening with someone special.

This do not disturb feature allows for a lot of fine-tuning, meaning that you can make sure that people in your "favorites" list or contacts will always ring through or that your phone should ring if someone calls twice within three minutes.
FaceTime
FaceTime now works over 3G, not just over Wi-Fi. And you don't have to worry about whether you're selecting someone's phone number or Apple ID when placing a FaceTime call — because the two are now united.
Photo Stream
You can now easily share your Photo Streams with friends or family. All you have to do is choose a photo and an album to share — your pals will receive a notification and the photos will appear in an album where they can comment.

Mail
The Mail app got some nice new tweaks. The VIPs feature will allow you to mark individuals as important, so that their emails will be starred and appear in a "flagged" mailbox. You can adjust alert settings for VIPs separately as well.
Oh, and it's now even simpler to add photos or videos into emails and the inbox can be refreshed with a pull. Not bad!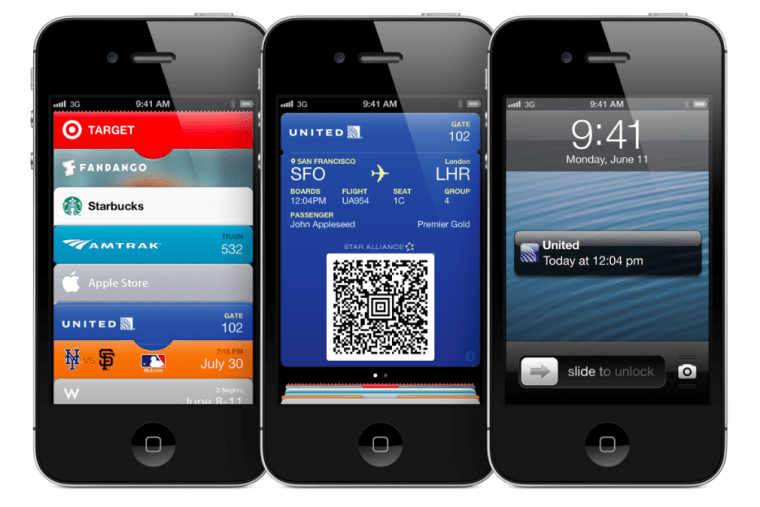 Passbook
A new app called Passbook allows you to collect and store boarding passes, discount cards, movie tickets, and all the things you'd normally have to print out and scan once you arrive at a business. 

Thanks to location support, the app will even pull up the relevant card once you are near the place where you'd use it. (This means that if you're near a Starbucks, Passbook would pull up your Starbucks card automatically, if you're at an airport, Passbook would pull up your boarding pass automatically, and so on.) 
As a bonus, the cards in Passbook are live-updating, meaning that your boarding pass will always have the latest boarding information.

Guided access
Apple's adding something called guided access to iOS 6. This tool will allow you to disable certain controls in order to make your device a bit more kid-friendly.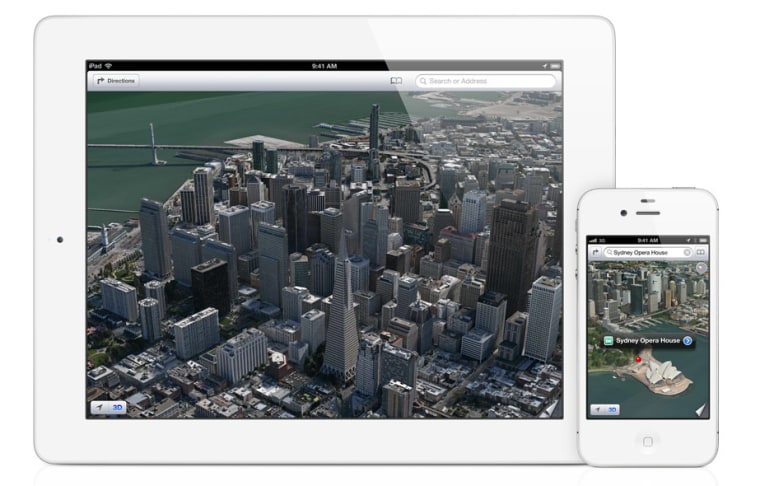 Maps
As confirmed in June, Apple's ditching Google Maps in iOS 6. It will use its own mapping solution now. There's Yelp integration, traffic information (with real-time crowd-sourced data), automatically re-adjusting routes, and the ability for Siri to answer the age-old "are we there yet?"

Apple's also adding something called "Flyover" to Maps. This feature makes the whole world look a bit like a Sim City game by showing 3-D models of geographical features and buildings.
The best part though, is the fact that there are now turn-by-turn directions in Maps. Siri is now able to guide you to and from places. Downside is that there appear to be no public transportation directions in iOS 6, based on rumors.
Lost mode
The Find My iPhone feature now includes something called "lost mode." This mode will allow you to send a phone number to a missing device in order to allow whoever found it to call you. (This is, of course, assuming that someone is interested in tracking you down and returning your beloved iDevice.)
Safari
Safari now has iCloud tabs — which allow for browsing sessions to be synced across your devices — as well as an offline reading list. You'll now also be able to upload photos right from Safari to your favorite websites. Talk about time saving!

What else?
It's tough to cover all 200 of the new features found in iOS 6, but let's just say that there are plenty more little tweaks and gems to be found in the new mobile operating system. We'll give you a more thorough rundown soon.
Want more tech news or interesting links? You'll get plenty of both if you keep up with Rosa Golijan, the writer of this post, by following her on Twitter, subscribing to her Facebook posts, or circling her on Google+.