As expected, Apple is holding an event at 10 a.m. PT/1 p.m. ET, Wednesday, Sept. 12, at the Yerba Buena Center for the Arts in San Francisco.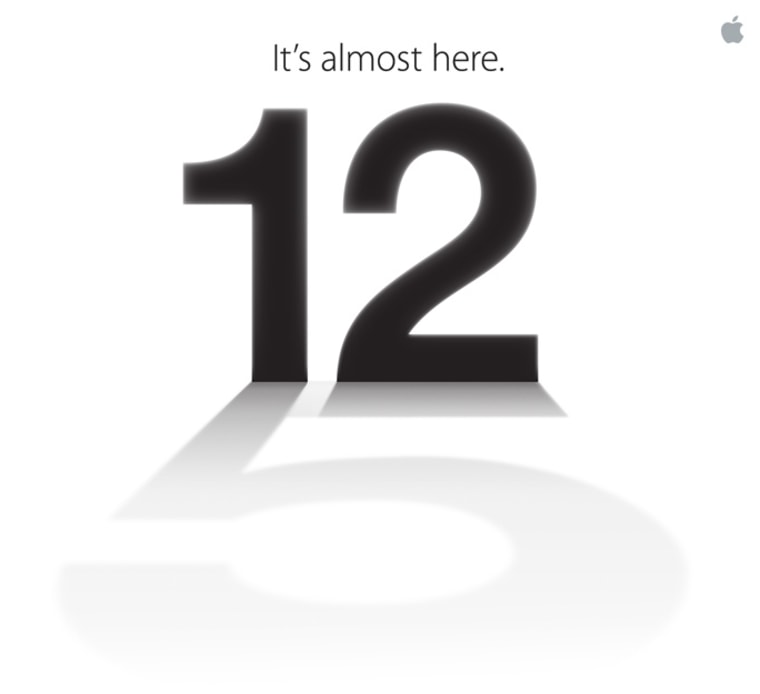 The Cupertino-based company has just invited members of the press to the event, where they will likely be the first to hear about the next-generation iPhone — which, if you're reading things into the shadow on the invitation, may be called the iPhone 5. (Even though that name would make very little sense.) 
Based on the latest rumors, the next-generation iPhone will look pretty darn similar to the iPhone 4S, but with a  slightly thinner and larger screen and a two-tone body. The device's display is expected to be 4 inches instead of 3.5 inches in diagonal, and elongated (so that its aspect ratio is wider).

As far as the device's guts go, 9to5 Mac's Mark Gurman says that prototype version of the next-generation iPhone is rocking 1GB of RAM (which would double what is believed to be the current device's amount of RAM). iMore's Rene Ritchie adds that the device will be 4G LTE compatible — just like the latest iPad.
Both reports, as well as more recent part leaks, suggest that the next iPhone will use a smaller 19-pin port rather than the wider 30-in port found on current iPhones, iPads and iPods. (Say goodbye to your old chargers — or hello to some awkward adapter — if that's the case.)
iMore's Rene Ritchie — who nailed the date for the upcoming press event — suggests that the new smartphone will ship nine days after it is announced, on Sept. 21. This date lines up with what we've been hearing for a while, so we're keeping it circled on our calendars for the time being.
Keep in mind that all the details, other than those gleaned from Apple's invitations, are guesswork. We try our best to assess rumors by using a magical formula which relies on the track record of a source or reporter, the habits of the folks in Cupertino, plain ol' logic, and experience. But until Sept. 12, anything could happen. So feel free to keep daydreaming until we officially discover which rumors started out with kernels of truth.
Want more tech news or interesting links? You'll get plenty of both if you keep up with Rosa Golijan, the writer of this post, by following her on Twitter, subscribing to her Facebook posts, or circling her on Google+.