In less than six months since it became available, Amazon's Kindle Fire has become the leading Android tablet in the U.S., representing a 54.4 percent share of tablets using Google's operating system.
"Within the Android tablet market, Kindle Fire has almost doubled its share in the past two months from 29.4 percent share in December 2011 to 54.4 percent share in February 2012, already establishing itself as the leading Android tablet by a wide margin," said research firm comScore in a report Thursday.
"With Amazon's well-known brand name, marketing muscle and widely used distribution channel, it's not surprising to see the Kindle Fire take a leadership position in the Android tablet market," Sarah Radwanick of comScore told msnbc.com. "What is impressive is that it reached this position so quickly after its debut."
The Kindle Fire came out last November and immediately caught fire with consumers for a variety of reasons, including its $199 price and the already known Kindle e-reader brand. No other Android tablet is holding a candle to Apple's iPad, which is the leading tablet being sold. Worldwide, the iPad is projected to account for 61.4 percent of tablet sales this year; Android tablets, 31.9 percent, says Gartner Research.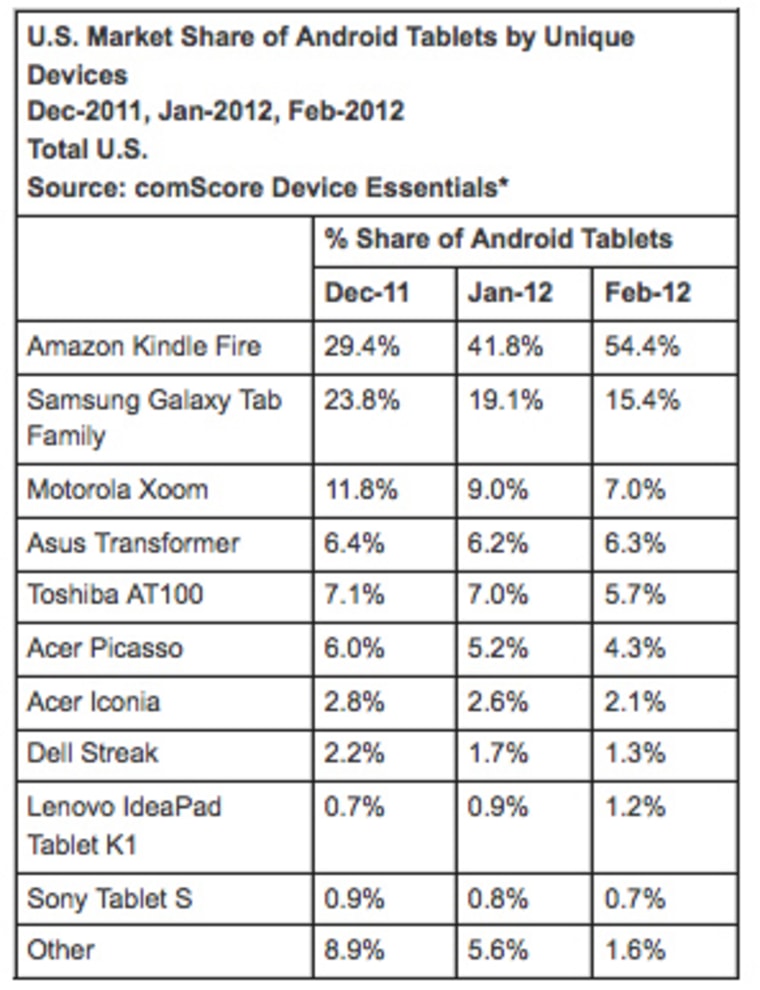 Until the Kindle Fire came out, Samsung's Galaxy Tab was the leading Android tablet; comScore notes how sales of the Galaxy Tab have declined since December, when it had 23.8 percent of Android tablets, and February, when its share dropped to 15.4 percent. 
Motorola's Xoom was in third place, going from 11.8 percent in December to 7 percent in February.
Tablet adoption by consumers "continues to climb as more devices appealing to various price and feature preferences are introduced to the market," comScore said. One of the most important differentiators is screen size, with those tablets with bigger screens, not surprisingly, have more "page view consumption," the firm said.
"Specifically, 10-inch tablets have a 39 percent higher consumption rate than 7-inch tablets and a 58 percent higher rate than 5-inch tablets." (The Kindle Fire has a 7-inch screen; the iPad, 9.7 inches.)

And size makes a difference for good reasons, comScore said: "With the emergence of a growing number of smaller-sized tablet devices, advertisers and publishers will need to understand whether these devices limit the opportunity for advertising compared to their larger-screen counterparts, or if they are able to build incremental reach and engagement by presenting different use cases."
Check out Technolog, Gadgetbox, Digital Life and In-Game on Facebook, and on Twitter, follow Suzanne Choney.–