Got a hankering to sit down with your iPad and read the last few decades of comics? Now you can do it easily and for a surprisingly decent price. Marvel's Digital Comics Unlimited service is now on iOS, with access to thousands of older comics for $60 a year.
The Unlimited service has been around for a while, but has was only available through Web browser access — not the worst problem in the world, but its original Flash app was inaccessible to tablets, and the newer version was decent but still lacking.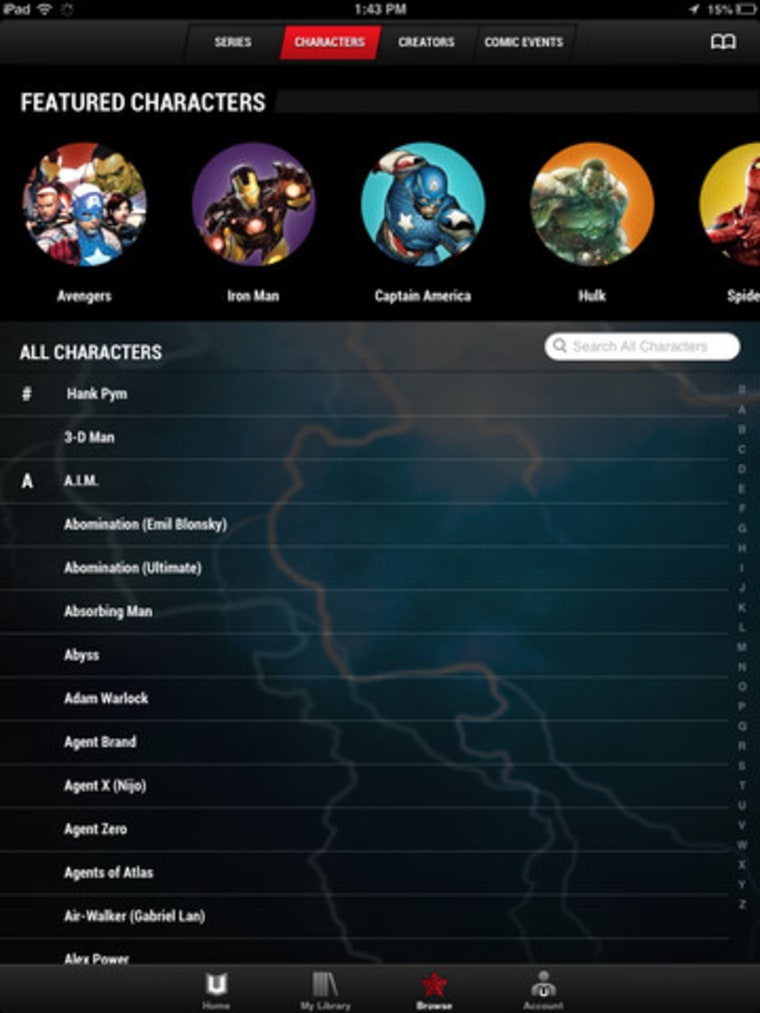 The new app is built on the browser-based reader, so it's going to be a less-snappy experience than competing apps from arch-enemy DC, multi-publisher platform Comixology or Marvel's own iOS app. The main draw is the back catalog and bargain price — a tempting bargain, but not without drawbacks.
More than 13,000 comics are available through the Unlimited service, stretching back to the earliest days of Marvel. Want to read Iron Man or Captain America from their humble beginnings half a century ago? Go right ahead. For some, that capability alone may be worth the $10 a month or $60 a year (for a limited time) that the service costs.
But aficionados will be disappointed in a few major ways: First, new comics will only appear on Unlimited after about 6 months, meaning they'll have to buy new issues in Marvel's other app or, at the newsstand to keep current.
Second, only 6 issues at a time can be kept in the app for reading offline. This is problematic: for a paying customer, and with files no more than a couple dozen megabytes, it doesn't seem logical to restrict the app to such a low number. Any serious comics reader could plow through 6 issues in an hour or two, to say nothing of a long plane ride or day at the beach.
Last, while the archive is extensive, it's not complete. A quick search for "Dr. Strange" comics found only a few dozen, not the hundreds expected, and appeared to be missing decades' worth of stories. Potential subscribers would do well to check if what they are looking for is actually available before shelling out for the app.
Interested readers had better move fast: The $60 deal for a year is only being offered for a limited time, after which the price will be $120 or so. More info is available at the Marvel Unlimited site.
Devin Coldewey is a contributing writer for NBC News Digital. His personal website is coldewey.cc.