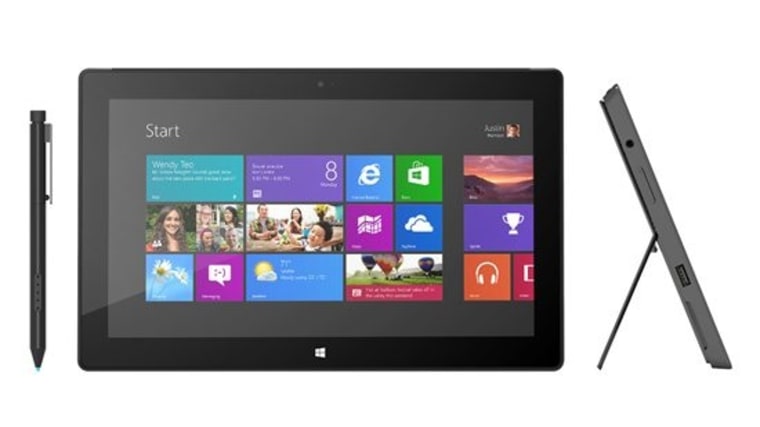 Microsoft finally released pricing and availability details for the Surface Pro tablet, which looks like the Surface RT but runs a full version of the Windows 8 operating system. Its starting price is $899, and it will appear in January 2013.
While we found the Surface RT to be a sleek, well-engineered product, it runs Windows RT, an OS that doesn't support traditional Windows applications. The Surface Pro will technically allow the installation of legacy apps, that, when launched, would run in a classic Windows environment called the "Desktop."
The price was announced Thursday by Microsoft's general manager of the Surface program, Panos Panay, who took time to explain some other differences between the Pro and the RT. The $499 RT uses a mobile processor, and shares some under-the-hood attributes with an iPad or Android tablet. The Pro, however, is closer to a full-fledged notebook computer. Panay writes:
Surface with Windows 8 Pro will come with Intel's next generation Core i5 processor. This chip will give Surface with Windows 8 Pro a graphics boost for its 10.6-in. 16:9 ClearType display that runs at a 1920x1080 full HD resolution. Surface with Windows 8 Pro also includes a full-size USB 3.0 port. Its Mini DisplayPort can drive an external display up to 2560x1440 resolution. And, as I mentioned above, Surface with Windows 8 Pro will support Pen input.
As the tech blog Engadget points out, Panay didn't mention battery life in the blog post, but the Surface team tweeted that the battery life of the Pro would be "approximately half the battery life of Surface RT." Somewhere between 4 and 5 hours, that's about what we expected, because the more traditional laptop configuration has greater power demands. The question will be how well the Pro manages power when the device is not in use, or if it can stretch out battery life when you're doing things that are not high in energy demand.
As expected, the higher pricing is in line with Microsoft's earlier statements that the Pro version would cost about the same as an ultrabook.
The price includes a stylus, but the touch-sensitive keyboard cover is sold separately (as it is in the case of Surface RT). The Touch Cover with printed, non-moving keys costs $120 while the Type Cover with mechanical keys is priced at $130.
The Pro version of Surface will come with Intel's Core i5 processor, which the company says gives it a graphics boost compared with the RT version. The $899 version will have 64GB of flash memory. For another $100, there's a 128GB version.
Microsoft's first attempts to build its own computer products have been met with mixed reviews, in part because while the hardware itself is pleasantly better than expected, the Windows 8 and Windows RT software can be confusing to use.
The Associated Press contributed to this report.