Beep, a new gadget that turns any speaker into a "smart" device, wants to make it a lot easier for users to stream music.
Imagine walking through your front door while playing the latest Beyonce album on your smartphone, and then simply hitting a button to switch the music to your home speakers — none of which were originally equipped with Wi-Fi or Bluetooth capabilities.
"We really wanted to bring back that experience of people sitting around their hi-fi and listening to music together," Daniel Conrad, co-founder and CEO of Beep, told NBC News. "Today, people listen to their music on their smartphones or their laptops. It's a very individual experience."
The idea is simple: Plug your Beep into any speaker with an aux-in port and start streaming music. It's available now for pre-order for $99, with units expected to ship in next fall. (The price will eventually jump to $149). Initially, it will only be compatible with Pandora, but the idea is to eventually expand to other music streaming services.
Of course, Beep — which counts Reddit co-founder Alexis Ohanian and Zappos CEO Tony Hsieh as investors — has plenty of competitors. The wireless speaker market hit $950 million in 2013, a 144 percent increase from the year before, according to Ben Arnold, executive director of market research firm NPD. That number should climb to nearly $2 billion by the end of 2014.
"As we stop listening to things on discs and move to streaming, the hardware in our homes will start to reflect the way that we actually listen to music," Arnold told NBC News.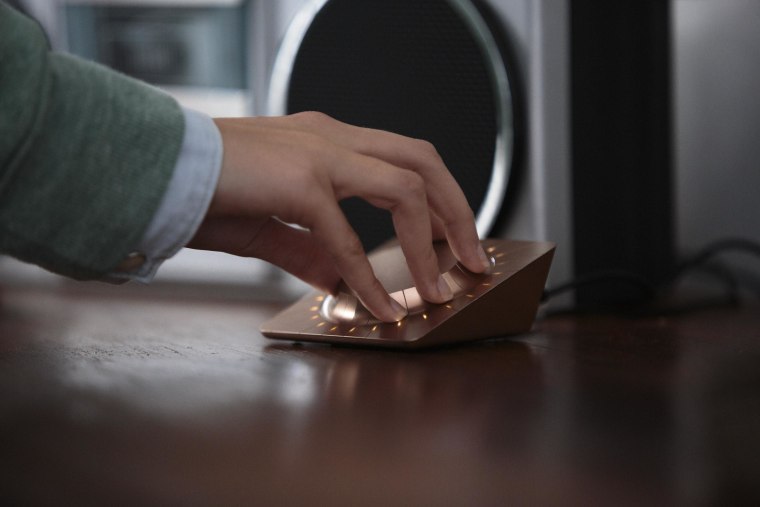 Unlike around 90 percent of wireless speakers, including Jambox, Beep uses Wi-Fi to control speakers. Bluetooth has limited range and, as Arnold explained, is "basically a one-device-to-one-speaker" system that gets interrupted if you get a phone call.