Between point-and-shoots and DSLRs is a hot new category of cameras that's not so bulky, but uses interchangeable lenses. Panasonic, Olympus and Sony have been raging in this category for a while. Now Nikon joins the fray with the Nikon 1 system with the super-fast J1, and the pro-friendly V1.
The J1 ($649.95 with 10-30mm kit lens) is the flagship of the line, while the V1 is its amped-up brother, with high-resolution electronic viewfinder, mic jack and accessory port ($899.95 with same lens).
Besides the new form factor, Nikon's key boasts center around shooting. "The new advanced hybrid AF system is the world's fastest autofocus," says the press release. The hybrid system uses two different types of detection that ought to maximize autofocus in different light conditions.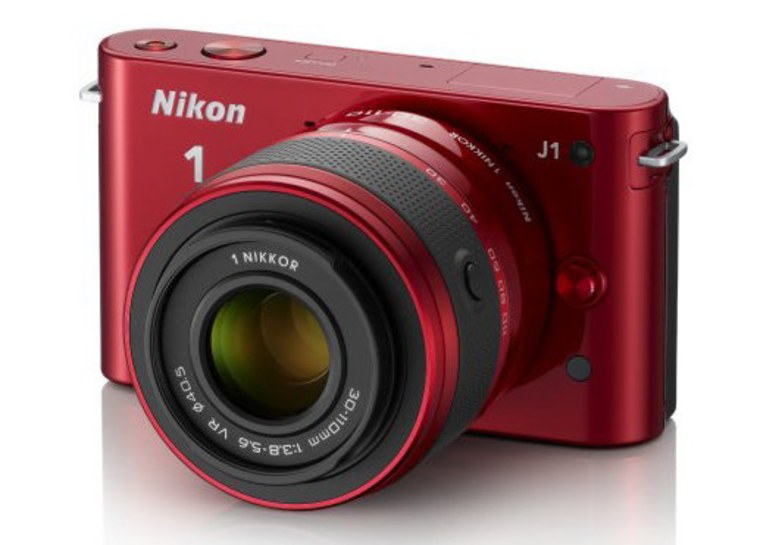 The cameras can do all kinds of things while shooting, not gimmicks but genuinely useful tricks: "Motion Snapshot" takes a frozen still image and a slow-motion shot of the same thing, merging them together with an audio soundtrack for "a portrayal of an occurrence with maximum impact." Think flowing hair, crashing waves, etc. Sounds haunting, and a little bit Harry Potter, but I want to check it out.
The other exceptional shooting feature has been seen on other cameras before, but is welcome on a model like this: If you're shooting a fast-moving object, say a honeybee, cat or kid at bat, you set the camera to "Smart Photo Selector," and it begins shooting before you press the shutter. The camera analyzes the images and delivers the best photo, or a selection of the top five for your choice.
The sensor inside the cameras sounds like a real champion. It's not as big as the ones in DSLRs — or the ones inside the competing Panasonic/Olympus Micro Four Thirds format — but it is substantially larger than the sensor found in point-and-shoots. A 10.1-megapixel CMOS, it's capable of super fast shooting: 1080p video at 30 frames per second, 1080i at 60fps, and can reach speeds of up to 1200 fps for super slow-mo effects.
As I mentioned, while the J1 is the smaller, more wide-audience version of the camera system, complete with a selection of colors (and even matching lenses!), the V1 is aimed more at pros, or at least enthusiasts who value adding their own microphone, a speedlight mountable flash and even GPS. The most distinctive feature on the V1 is its 1.4-million pixel electronic viewfinder, which activates when you stick the camera up to your face. The $250 premium for the step up from J1 to V1 is steep, but some people won't settle for less.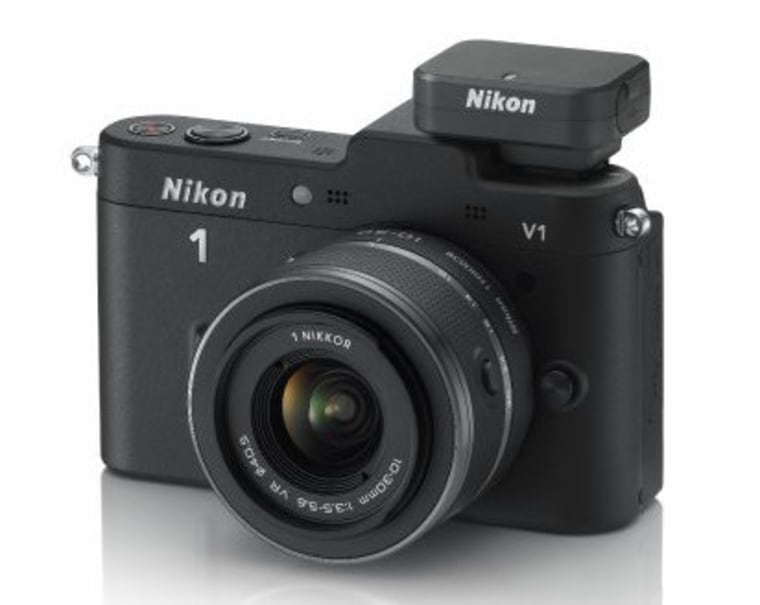 It makes sense that Nikon is entering the mid-range interchangeable lens category. Unlike its chief rival, Canon, it has not had such great luck with its point-and-shoots. Leveraging the popularity of its DSLRs is a smart move, and capitalizing on one of Nikon's core strengths, its lenses, is a good way to put it ahead of the competition from Olympus, Panasonic and Sony.
However, the cameras won't natively support the galaxy of Nikon and Nikon-compatible F-mount SLR lenses. There will be an adapter coming, the as yet unpriced FT-1, but in the meantime, there are some potentially awesome lenses that support the 1 Nikkor mount on the V1 and J1:
Kit lens: 10-30mm VR f/3.5-5.6 (comes with either camera)
Pancake lens: 10mm f/2.8 lens ($249.95)
Zoom lens: 30-110mm VR f/3.8-5.6 lens ($249.95)
But the coolest lens capitalizes on this format's popularity among low-budget filmmakers. It's a 10-100mm zoom (f4/5-5.6), but it's Nikon's first motorized lens, one that "provides smooth and silent changes in focal length while recording movies," according to the company's press release. And at $749.95, it's still less expensive than a lot of entry-level film gear.
Other accessories include a speedlight (SB-N5; $149.95) and a GPS adapter (GP-N100; $149.95).
The only company missing from this suddenly exploding category is of course Canon. Will they launch their own version soon? Odds are good that they will.
More on cameras from msnbc.com's Gadgetbox:
Catch up with Wilson on Twitter at @wjrothman, or on Google+. And join our conversation on Facebook.