"Uh ... well, I just buy regular books. Sometimes I'll use my iPhone or iPad, but ... uh ... there's something nice about real paper and — HEY! LOOK! What's that over there?"

That's basically what happens every time someone asks me, a tech reporter who happens to be a huge bookworm, about what gadgets I use to read books. It's embarrassing, really. I've tried more e-book readers than I can count, but in the end I keep coming back to regular books and devices — a heavy iPad and a tiny iPhone — which aren't all that well suited for long lazy reads. 
So based on my personal history with e-book readers, I didn't exactly feel all that optimistic when I unpacked a Nook SimpleTouch with GlowLight. The device's name caused me to roll my eyes and the bright strip of light at its top irritated me as soon as I turned it on.

But two books later — Sophie Kinsella's "I've Got Your Number" and Sanjay Gupta's "Monday Mornings," in case you're curious — my feelings about the e-book reader have changed significantly.
The Nook SimpleTouch with GlowLight — which, for the sake of my own sanity, I'll call just the GlowLight from now on — isn't particularly different from its sibling, the Nook Simple Touch. It's basically the same device — except that it's an imperceptible half-ounce lighter and has built-in lighting technology. 

If you're reading this review, odds are that you're familiar with the basics of e-book readers — so I'll just focus on what makes the GlowLight different: The fact that it glows in the dark.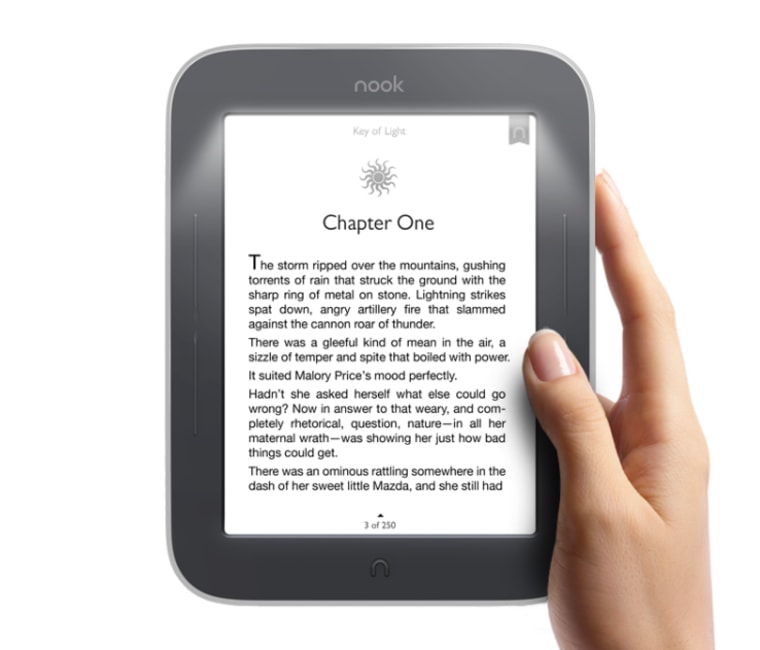 Keep in mind that when I say that this gadget glows in the dark, I'm not saying it's even remotely similar to the stars you used to stick to your bedroom ceiling. The GlowLight has a tiny light strip built into the top edge of its display. This tiny little light source makes the whole screen easily readable in even the darkest of rooms.

Despite what Barnes & Noble would like though, the GlowLight's display isn't lit perfectly evenly. The top of the device definitely winds up being brighter, an effect which is more prominent if you've got the brightness settings high. But, despite being initially irritated by this oddity, I found myself not even noticing it after reading a couple of pages. The GlowLight offered me a comfortable reading experience in bright sunlight, under fluorescent lights, underneath the flickering lights of a subway car, in a dimly lit restaurant, and even in a completely dark bedroom.
I finally managed to read in places where I hadn't been reading in ages. In bed, where my iPad would be too heavy to hold. In a dimly lit restaurant, where regular books would require lamplight. In a sunny park, where I'd squint at my iPhone's tiny and glare-filled screen.

Sure, I could've used another e-book reader — but right now all of the GlowLight's closest competitors require accessories to simulate a similar light effect. And who wants to carry extra accessories (or pay for them, for that matter)?
At this point, the GlowLight is definitely worth a look if you're in the market for a new e-book reader. Though if you've got a lot of money invested in a library of Kindle-compatible books, I'd say that it's worth holding off until Amazon reveals the glow-in-the-dark gadget it's rumored to have in the works.
Want more tech news, silly puns, or amusing links? You'll get plenty of all three if you keep up with Rosa Golijan, the writer of this post, by following her on Twitter, subscribing to her Facebook posts, or circling her on Google+.