Cameras are always getting new features, but one photographer decided they weren't advancing quite fast enough — so he attached a tiny but functioning computer to his DSLR.
It's actually a little strange to think how few cameras offer such simple features as Wi-Fi backup, integrated time-lapse and remote operation. A few do, but even expensive DSLRs require accessories and updates to do these things. Still, they'll pair with iPhones and laptops using certain programs, so David Hunt, a photographer in Ireland, thought "what if there was a computer mounted right on the camera?"
To some extent, there already is, the powerful image processors and the CPU that runs the displays and camera operating system. But there's nothing close to a full-on PC. So Hunt bought a tiny Raspberry Pi computer, small enough to fit inside a gutted battery grip, and got to work.
The result: a fully-featured Linux PC with Wi-Fi and two USB ports, able to snap pictures, send them to other devices, convert images to different formats and anything else you like.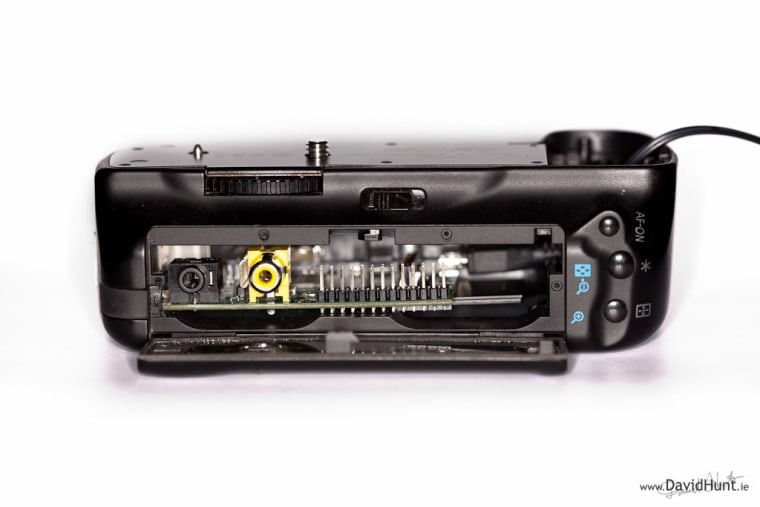 It's still very much in prototype form: It connects using a wire to the external USB port of the camera, and there are software glitches that still need to be ironed out. But with a little time, this cheap modification could give his camera more capabilities than any other, without the need to lug around a heavy laptop or constantly remove the SD card to back up the pictures.
Hunt detailed the project here and will continue posting updates on his blog.
Devin Coldewey is a contributing writer for NBC News Digital. His personal website is coldewey.cc.